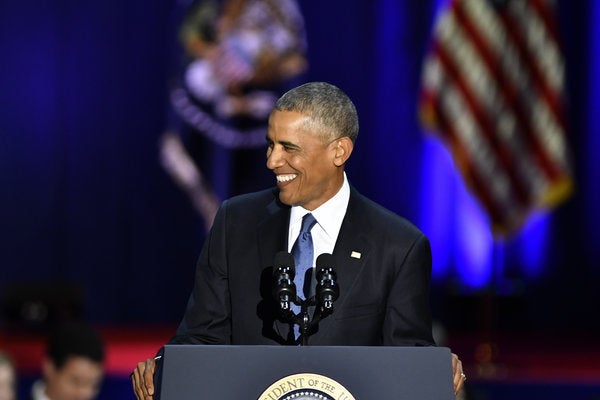 Last week, I joined in Chicago with thousands of current and former White House staffers, the alum of Barack Obama's two presidential campaigns, and ordinary Chicagoans in coming together with the president for his "Farewell Address" to the nation. The moment was deeply emotional for Americans from coast to coast – but particularly for those of us who had been with Barack Obama since he began his journey to The White House in 2007.
In a letter sent to President Obama during the holiday season, I told the president that he had faithfully kept his baptismal vows as a Christian while navigating challenging political and military crises. We are not called to be perfect but to do our best to strive to be moral people who follow Jesus. President Obama sought to set a moral tone in often trying circumstances with few perfect answers.
It does not take much to remember the dark days of 2008 as the economy came close to plunging off that proverbial cliff. Now we are stronger, in large part due to the Recovery Act, and even poverty rates have dropped as more Americans have gained health insurance and jobs because of the policies put forth by his administration.
President Obama made fighting climate change a centerpiece of his national and international agenda. He took on the NRA and gun manufacturers who profit off violence in our schools and streets. The president made it a priority to force local police bureaus to do better on civil rights while standing up for police officers too often under fire while on the line of duty.
Not every goal was accomplished. The unprecedented obstructionism of the GOP Congress was disheartening. GOP leaders put politics before all else – even defeating the American Jobs Act, which would have created even more good family wage jobs. We can be thankful the GOP failed in their attempt to undermine efforts to protect future generations from war by opposing the successful Iran Deal. This Congress has been one of the most partisan since the Civil War.
President Obama said in Chicago:
Yes, our progress has been uneven. The work of democracy has always been hard, contentious and sometimes bloody. For every two steps forward, it often feels we take one step back. But the long sweep of America has been defined by forward motion, a constant widening of our founding creed to embrace all, and not just some."
That is a vision of America that I believe in despite results of the Electoral College vote, which for the second time in my life, will install the loser of the popular vote into the Oval Office. Where President Obama worked for an expansive America where all were invited to do their part, the new president campaigned on a white supremacist agenda that cuts at the very fabric of what it means to be American in this century.
Ultimately, despite this step back in late 2016, I have hope that the United States will move forward and embrace once again a moral vision that sees the inherent worth and dignity of all humankind.
As a minister, university chaplain and professor, and as a father, I will work with people of good will regardless of party to challenge our country to be the exceptional nation that, as President Obama noted in Chicago, has not "been flawless from the start" but that has "shown the capacity to change, and make life better for those who follow."
May God bless the 44th President of the United States of America, Barack Obama.
Calling all HuffPost superfans!
Sign up for membership to become a founding member and help shape HuffPost's next chapter
This post was published on the now-closed HuffPost Contributor platform. Contributors control their own work and posted freely to our site. If you need to flag this entry as abusive,
send us an email
.