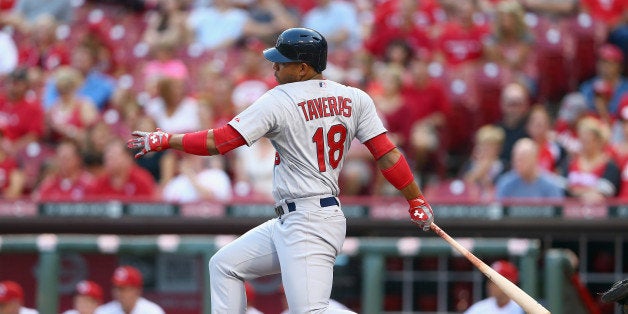 Oscar Taveras, the St. Louis Cardinals' prodigy. The rising star. The young phenom.
The Cardinals' outfielder went by many names, including "Minor League Guy" and sometimes, simply "Oscar."
That name carried a lot, especially considering that it belonged to a mere 22-year-old.
The addition of the treasured top prospect's name on the big league roster was long awaited. When he stepped up to the plate for the first time in his debut on May 31, 2014, fans were elated. The latest championed son of the Cardinals' farm system had arrived.
He didn't disappoint, either. His first Major League hit, showing up in the second at-bat of the day, was a solo home run to right field. It came complete with a towering swing that quickly became a signature characteristic of Oscar and his grandeur. It was a swing that will be permanently etched in the minds of those who have witnessed the mightiest of them, those who saw the future in his stance and heard the potential in the crack of his bat.
Simply, Oscar had the larger than life appeal, from the ever-present smile to the magnificence of every play, hit, and celebration.
He was robbed of this promising life when it was taken in a car wreck in the Dominican Republic on October 26. His girlfriend, Edilia Arvelo, also lost her life in the fatal accident.
Cardinal Nation was robbed, too -- of words, of coherent thought, of an extraordinary person who was just beginning to find his way in the chaos of bright lights and thousands of cheering fans. Together, we have mourned. As Mike Matheny, Cardinals' manager, said in his statement:
In my opinion, 'love' is the most misused, and misunderstood word in the English language. It is not popular for men to use this word, and even less popular for athletes. But, there is not a more accurate word for how a group of men share a deep and genuine concern for each other. We loved Oscar, and he loved us. That is what a team does, that is what a family does. You will be missed, Oscar.
Oscar had an unadulterated fervor for the game of baseball and life itself, as Daniel Descalso shared:
I think, for me, I'll always just think of him as a young kid who was excited to be in the Majors and who was excited every day to be at the park and excited every day to live his dream. He played the game and had fun doing it. You always knew he loved what he did.
At 22, his potential was limitless. "I can't believe I was even blessed to play with someone with such great talent," Xavier Scruggs, Oscar's longtime minor league teammate, wrote. "For we all know that it is impossible to be perfect in this game, however he found a way to make it seem tangible."
Oscar's life was cut too short. Those of us who watched him grow will always remember the anticipation of bigger and better from the youthful star as the years progressed. We will remember the dazzling smile and beautiful swing, but more importantly, we will remember the person whose love for life itself was contagious.
Thank you for sharing your brilliance, Oscar. You will be missed.
Popular in the Community