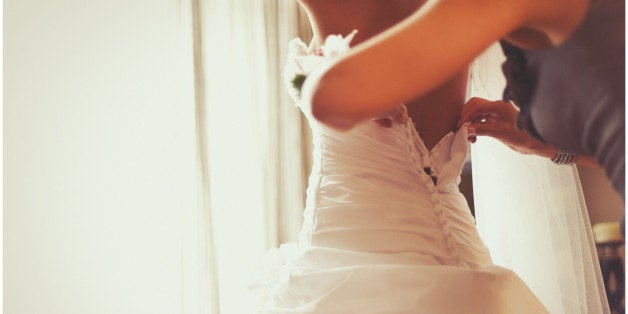 My wedding is in one week.
And like most brides, I'm focused on the final little details. The rehearsal dinner guest count, gifts for my beautiful bridesmaids, DIY centrepieces... and getting rid of those last 10 pounds.
But the truth is, weight is the last thing I want to be thinking of in the days leading up to my wedding. What I want to be thinking of is my beautiful fiance and the important commitment we're making. I want to be focusing on the loved ones that will surround us on that day. And I want to be fully present for the awesome party we'll be throwing.
Despite this desire, those last few pounds do nag at me, and it isn't just because I'm a bride. By my calculations, I've been obsessing about my weight for the past 16 years. That's more than half my life.
And honestly, I am so angry about that.
I'm angry with a society that has made me think "thinner is better" since I was a teenager.
I'm frustrated that brides face enormous pressure to look perfect, so much that the notion of "sweating for the wedding" is no longer a suggestion, but an assumption.
And I'm sad that even with the recognition that I've been culturally influenced to feel this way, it is so deeply ingrained that I struggle with it even now, and did even before I said "Yes" to my fiance. And I'm certainly not alone.
Do I want the next week to be about crash dieting and killing myself at the gym? Or do I want to take stock of this special time in my life and truly enjoy it?
I choose the latter. I will look beautiful at my wedding. And not because my body is slightly smaller, unnoticeable to anyone but me. No. I will radiate joy because I let myself treasure my life and fully embrace this experience of getting married. And because I have a body that I love and treasure, in spite of (or perhaps because of?) its imperfections.
This doesn't mean I will stop my healthy eating habits or cease any and all exercise. Instead, I'll find joy in pursuing what is healthy and pleasurable. I'll dance because I want to dance, not because shedding those last few pounds is going to make a meaningful difference in my life. I'll eat what tastes good and what will give me the energy to face the day.
I want to revel in life, not in the number on a scale.
As a matter of fact, I don't just want to behave this way in the days leading up to my wedding. I want to view my life in this way now and always.
In addition to making a lifelong commitment to my fiance, maybe I need to say "I do" to myself, and to my body. To appreciate it for all it has given me, to respect its strengths and its flaws, to treat it kindly even when it makes me angry and irritated, and to love it even when it lets me down.
Maybe with this attitude, I will be able to focus on really living my life, on my own terms. Instead of being defined by what the scale says or what the mirror reflects, I'll focus on this beautiful crazy world, and the limited time I have on this amazing planet.
I'll sip frothy, steaming lattes while getting lost in a fantastic story. I will share a bottle of Riesling, laughing amongst the company of friends. I'll eat baguettes in France and curry in India. I'll dance the salsa in South America and swim with the sharks in Australia. I'll be active and I'll be lazy. I'll be happy and I'll be sad. I will find meaning and richness in my relationships and my experiences, not in the size of my body.
Even when it is difficult, I will show it love, always. That's what I'll do.
In sickness and health, for richer or poorer, til death do us part.
Amy is a freelance writer and travel blogger. Alongside her soon-to-be-husband Nathan, she publishes Two Drifters, a couples travel blog about traveling farther and loving better. While her next big adventure is marrying the love of her life, upcoming travels include Canada, Italy, and Slovenia.

Keep up with Amy on Instagram (@two_drifters_) Twiter (@two_drifters_) and Snapchat (twodrifters)
Support HuffPost
A No-B.S. Guide To Life
Related
Popular in the Community