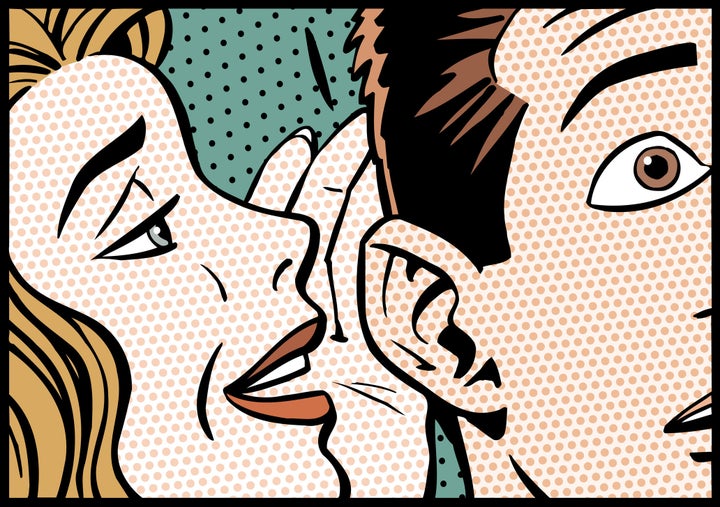 Saying "I love you" for the first time is a vulnerable moment, to say the least. You never know how your declaration will be received. With a polite "thank you"? A dumbfounded look? Or the coveted "I love you too"?
The good news is that if you've had an awkward "I love you" moment, you're not alone. We asked men and women for their most amusing (in hindsight, anyway!) stories and here's what they told us.
A Mother's Love
"The first time I told my now-husband I loved him, we were spending one of those long nights on the phone early in our dating relationship. Back when people actually talked on the phone. Delirious with sleepiness, I told him that I wanted to tell him I loved him, but didn't want to scare him off. 'Don't worry,' he told me. 'Saying 'I love you' isn't a big deal to me. I love my Mom. I love my friends. I love you, too.' Great. He loved me like his MOM. So romantic. Fortunately, he must have grown to love me in a romantic way, because we've been married for almost 10 years." ― writer Samantha Taylor
Uh, Thank You?
"It was Valentine's Day about four months into our relationship. My then-boyfriend planned a romantic candlelit dinner: champagne, chocolate-covered strawberries, the works. About halfway through the evening, he surprised me with those three magical words, 'I love you.' And I literally started choking on my own saliva. I managed to cough out a very awkward, 'Um ... thank you.' It wasn't exactly the response he was hoping for. Ten years of marriage later and he still teases me about that night." ― writer Lauren Lodder
The Naked Truth
"My now-husband said 'I love you' while we were naked in a Las Vegas bathtub taking a bubble bath during the World Series of Poker. Not how I imagined the future father of my children saying 'I love you,' but turns out, he's the most respectful and kind guy I've ever dated. You never know!" ― Laura Lane, co-host of "This Is Why You're Single" podcast
Merry Christmas To Me
"I was dating my wife, who was my then-girlfriend, for a couple of months when one night during sex I looked at her and said, 'I love you.' This was the first time either of us said those words. My wife looked at me for what felt like eight and a half minutes and finally said, 'OK.' I didn't see or hear those words until a few months later — I say 'see' because the first time they came out of her was in a Christmas card. Merry Christmas to me. We still laugh about it." ― comedian Dan Regan
Uber Awkward
"I really wanted to say 'I love you' to my current boyfriend after we had been dating for a few months, but was waiting for him to say it first. But one night it came out unexpectedly. I said 'I love you,' but quickly added, 'But I don't want you to say it back right now just because I said it. I want you to say it when you feel the moment is right for you.' I didn't really mean that, though. I had heard someone else say it once and it sounded very graceful and mature and I figured he would still say it right back and he didn't and I cried and then we shared a very awkward Uber ride home. He said it a couple days later." ― Angela Spera, co-host of "This Is Why You're Single" podcast
High School Not-So-Sweetheart
"The first girlfriend I ever had lived in Pennsylvania and I lived in New Jersey. It was a two-hour commute so we didn't see each other a lot. We never told each other that we loved each other. About six months into our relationship I visited her; she was going to her prom with her ex and I was staying with her at her parents' house. She cheated on me, in a car out front of her parents' house, while I was half-awake waiting for her to come home. She eventually told me and I stayed with her because I was young and dumb. Then I'm pretty sure she did it again and I ended things with her on a phone call. She was crying and then said, 'But I LOVE you.' I was like, 'Um, no you don't.' We never spoke again. Then she tired to add me on Facebook a few months ago. WTF?" ― Anthony Bonazzo, comedian and actor
Drunk In Love
"A man I was dating told me he was in love with me in the back of his truck. We were drunk, but I was so happy. I told him I loved him too. The next day, I asked if he meant what he said. He then took it back. Said he really liked me. I later found out that he thought that I was looking at him weird when I asked if he meant it, so he was really embarrassed. Really unfortunate mishap there." ― Hilary Campbell of @Cartoonsbyhilary

Your Timing Could Use Some Work
"My ex and I were in the process of moving in together (for the record, I was 23; I definitely don't recommend moving in with someone who hasn't said they love you yet). He'd been super laid-back about packing up his place, but I was a total wreck in mine. I was on the phone with him, hyperventilating over how much I had to do, almost in tears, and this guy actually LAUGHS and says, 'I love you.' I was so pissed that he was laughing while I was having a level-10 meltdown and shocked that he said that, I hung up on him. As I mentioned, he's my ex, but we were together 10 years and that conversation set the tone for our whole relationship." ― Kate Cartia, blogger at As Kate Would Have It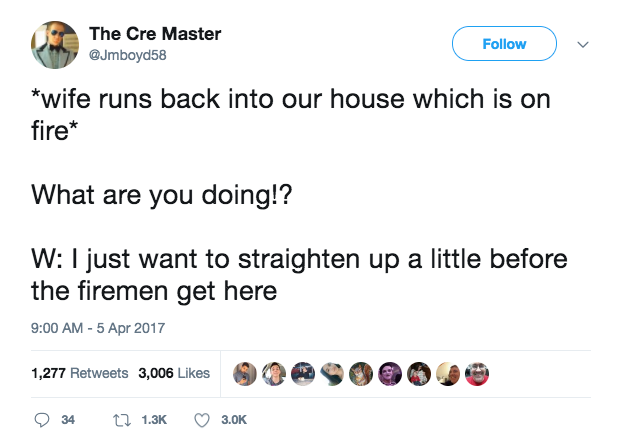 Hilarious Tweets That Sum Up Married Life