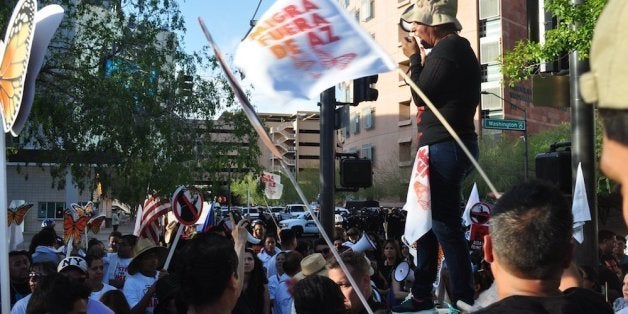 PHOENIX -- Hundreds of protesters rallied before the Arizona state Capitol on Thursday, demanding that state police stop collaborating with Immigration and Customs Enforcement.
The march from the Capitol to the 4th Avenue Jail was timed to coincide with the fifth anniversary of SB 1070, the Arizona law cracking down on illegal immigration that has become emblematic of conservative-led efforts to use state power to expel the undocumented.
Carlos Garcia, director of Puente Movement, a human rights group that helped organize the protest, issued a statement in which he urged President Barack Obama to "stop collaborating with police forces that are so biased they launch an investigation into his own birth certificate."
"The only way to restore our trust is for ICE to no longer be inside the jails," Garcia told The Huffington Post. "Police and ICE collaboration has been shown to be a failed experiment. Instead of making communities safer, it's done the opposite. It's destroyed them."
The protest highlighted how controversial SB 1070 remains. The Supreme Court stuck down some provisions of the law in 2012, but left intact the most contentious part -- a provision instructing police to check the immigration status of those they suspect are undocumented.
Cities across the country have challenged ICE's ability to request that police to detain undocumented immigrants for reasons unrelated to their immigration status. In November, the Obama administration announced that it would rethink policies aimed at obligating local police to turn undocumented immigrants over to federal authorities.
But many jurisdictions continue to collaborate with ICE, increasing the likelihood that undocumented immigrants will face deportation, even after minor run-ins with the law.
Protesters, who traveled from all over the country to attend the rally, met at the state Capitol grounds, where they played music and rattled off a series of chants. Some of the rallying cries -- like "sí, se puede," or "yes, we can" -- are mainstays of Latino political protests. Others had been crafted for the occasion: "Arpaio, sin nada, se va a la chingada," the protesters chanted -- Spanish for "Arpaio, with nothing, go to hell."
When they arrived at the 4th Avenue Jail, protesters broke in to a sustained chant of "jail Arpaio, not our people!" They then poured out into the street, where four of them sat down, fists raised, as the crowd chanted "aquí estamos y no nos vamos" -- "here we are, and we're not leaving." Police arrested the four seated protesters, who refused to move.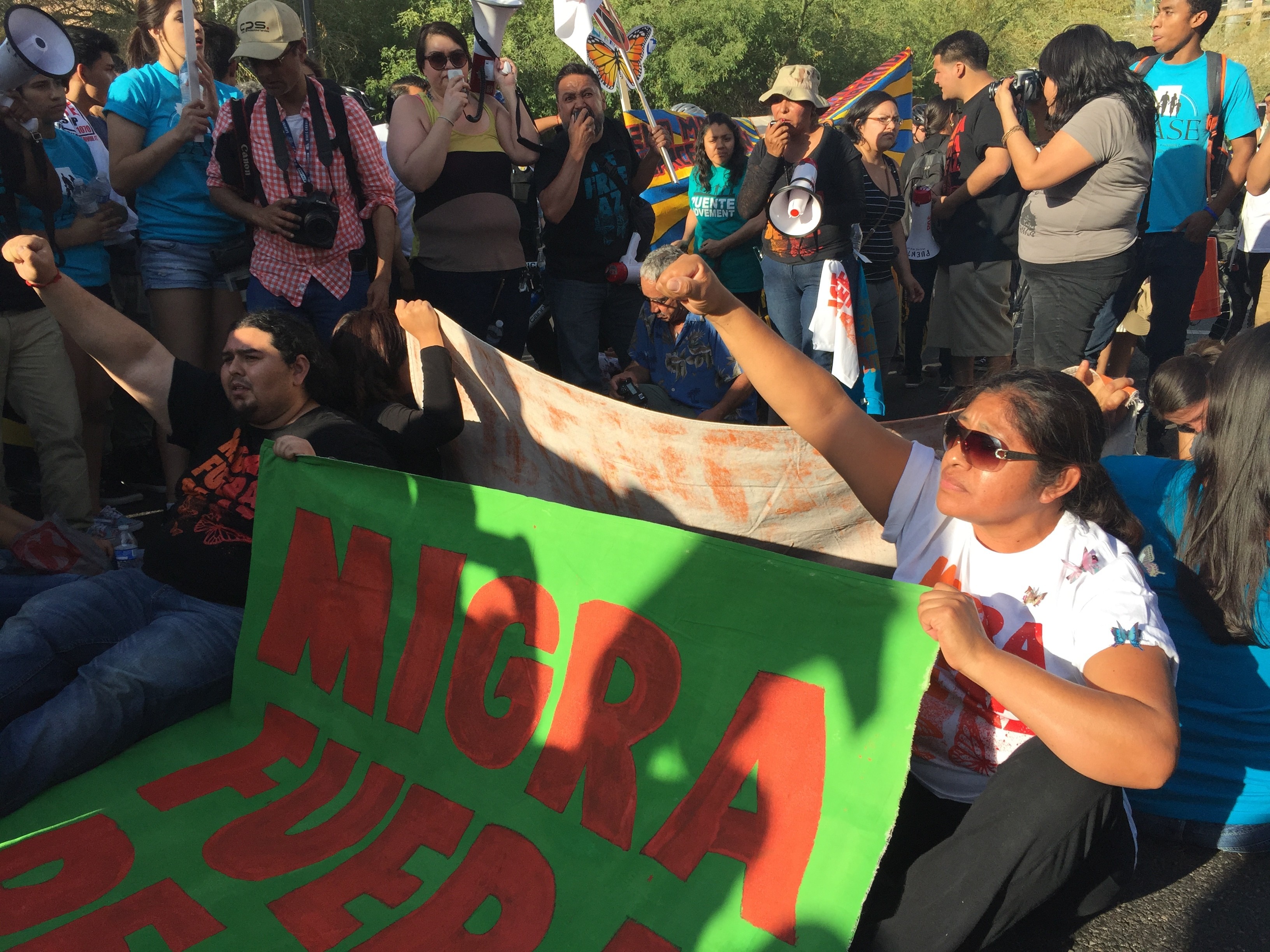 Four protesters sat in the street and refused to move.
Many of those who joined the protest know firsthand what it feels like to be deported, or to have a loved one expelled to another country.
Maria Rodríguez, 38, told her story to the crowd on the Capitol grounds before the march.
Rodríguez originally came to the United States from Chilacachapa, a town in the state of Guerrero, Mexico, when she was 14. She finished high school in the U.S., and had her first child here.
She later returned to Mexico with her daughter. She had another child in Mexico, but became disillusioned with the opportunities her children might have there and returned to the U.S.
In 2011, she said ICE agents appeared at her door to deport her back to Mexico.
She returned in April of 2014, asking for a humanitarian visa to reunite with her family. She spent six weeks in detention, and was released after her daughter staged a hunger strike in Washington, D.C.
Rodriguez's husband is a legal permanent resident who is about to become naturalized as a U.S. citizen. Once he does, the couple's son will be able to become a citizen as well.
"My son will become a citizen and my daughter was born here," Rodríguez told HuffPost. "I'm the only one left."
Before You Go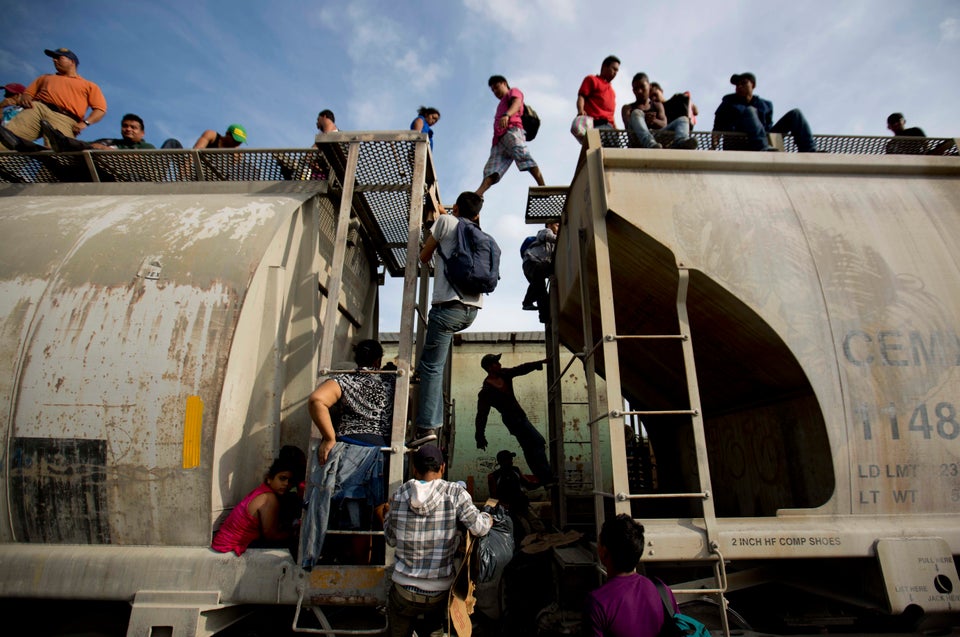 Why Latin Americans Really Come To The U.S.
Popular in the Community