Sports website SB Nation on Wednesday took down a long, sympathetic article about Daniel Holtzclaw, the college football player-turned cop who was convicted in December of serial rape, after criticism that began immediately after it was published.
An editor for the Vox-owned website issued a note apologizing for the story's existence and called it "tone-deaf, insensitive to the victims of sexual assault and rape, and wrongheaded in approach and execution."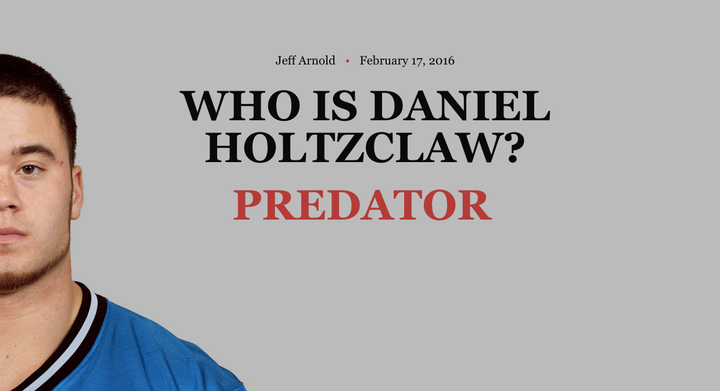 The 11,000-word article explored Holtzclaw's high school and college football past and the reaction of family and former teammates after he was sentenced to 263 years in prison for raping and sexually assaulting 13 women while an officer with the Oklahoma City Police Department.
In the several hours that the story appeared on the SB Nation site, it drew a storm of criticism on social media, mostly for its sympathetic treatment of its subject. Critics noted that the article relied on Holtzclaw's parents and former teammates and that the author -- who wrote that he covered Holtzclaw's "entire Eastern Michigan football career" -- may not have had a neutral perspective on the convicted rapist.
The article suggests football-induced brain trauma, steroids or Holtzclaw's failure to play in the NFL may help explain why he preyed on women who were poor and black -- or, as the author describes them, women with "troubled pasts."
(See more of the reactions to the SB Nation story below.)
SB Nation did get one thing right. In contrast to sports sites like Grantland that botched explanations for problematic stories, SB Nation editorial director Spencer Hall's note was unsparing in its criticism of the Holtzclaw article.
The publication of this story represents a complete breakdown of a part of the editorial process at SB Nation. There were objections by senior editorial staff that went unheeded. It was tone-deaf, insensitive to the victims of sexual assault and rape, and wrongheaded in approach and execution. There is no qualification: it was a complete failure.
Reporter Jeff Arnold did not immediately respond to requests via social media for comment and switched his Twitter account to private once the article was removed. Glenn Stout, the story's editor, referred requests for comment to Hall.
Here are some of the critical responses readers, journalists and others shared about the story:
ESPN reporter Kevin Van Valkenburg:
Deadspin Editor Barry Petchesky:
ProPublica Reporter Madi Alexander:
Popular in the Community