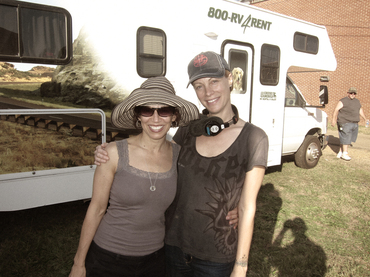 Two very talented childhood friends, Anthea Anka, Writer, and Alison Eastwood, Director, came together to make the independent feature, "Battlecreek." Eastwood and Anka "went to the same school and have known each other since we were 7 or 8." They both attended the Santa Catalina School in Monterey, that has both a lower school and a high school (one of the top all girls boarding schools in the U.S.). I, also, happened to go this great school so word travelled fast that all of us Catalina girls would be at the Santa Barbara International Film Festival! I wanted to hear their story of how they made this film together.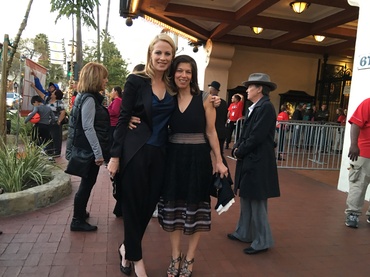 Anthea said,"We had stayed in touch over the years, went horseback riding together. As we got older, we had intertwined paths."
Both of them had grown up in entertainment worlds. (Anthea shared the stage with her father, Paul Anka, singing duets). Before she discovered her passion for writing, Anthea had worked for a record company. "Writing was always in the background. A dear friend suggested to take a crack at screenwriting. He sat me in a chair and said,'write something!' He was something of a mentor. I took classes at UCLA. I did the Santa Monica Writer's Boot Camp where the whole goal is to have a script in 6 weeks. I got a first option off that draft. I wrote for years." Anthea's first script, Across the Pond, was optioned by Jerry Weintraub productions and Warner Bros. Studios.
Meanwhile, Alison's career had included modeling and acting before she went into directing. Alison had grown up "a set brat" as daughter to Clint Eastwood. "If we were going to see him, we went there. I was doing the clapboard. It has always felt natural. I love being around the crew. Everybody loves to joke. Below-the-line can be very cool." Alison is comfortable on set, it's familiar childhood territory. She made her directorial debut in 2007 with the film, "Rails and Ties," starring Kevin Bacon and Marcia Gay Harden. Eastwood found that script through someone she knew in high school. "I read the script and worked at it, then became obsessed with it. It was the last independent film that came out of Warner Independent." After that she "directed a television project, did a lot of animal rescue work, and sold a show to National Geographic." Alison is a passionate animal advocate and is currently working on film/tv projects to raise awareness for animal welfare.
Anka got the idea for her screenplay, "Battlecreek," because she had been reading a book about a character who had a skin condition. "I had been writing comedies and was sick of it. I wanted to see a story that almost was all shot at night, that felt like a novel." Connie Hoy, the film's producer, who, also, joined a group of us who met for a drink at The Globe bar in Santa Barbara, said, "It was very visual when I read it." Connie is a 25 year veteran industry producer who has worked with the Coen brothers, Jim Jarmusch and Kathryn Bigelow.
Anthea, by chance, saw something about Alison on social media. Alison said,"We had not seen each other and she reached out to me, saying,'I saw that you directed a film and I write screenplays.' Something about, 'Battlecreek,' really interested me. I love movies that remind me of our humanity, through emotional, mental and physical struggles, that is what I gravitate towards." Anthea was thrilled because her friend understood what her screenplay was about,"Alison just got it."
"Battlecreek," was four years in the making. They experienced a lot of ups and downs in the production process and with the financing. "We were almost on the brink of throwing in the towel. Connie, through a connection, led us to our Executive Producer, Mike Wallace of Red River Studios," and he made all the difference.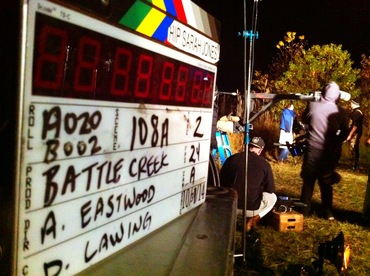 The script was originally set in Battlecreek, Michigan, but ended up in the south, in Mississippi. The script called for the "perfect town," and they found it. Anthea said, "Everyone was so great to us. The key grip came up and said, 'I love the script.' Everyone was happy to be a part of it. Each person felt something towards it. That's why I love independent film." They all spent 2 and a half to 3 months in Mississippi. "We brought our 7 cats and dogs! My husband, Stacy Poitras, was the On Set Dresser," said Alison. They all lived in the same house in Canton, Mississippi in the Governor's Mansion. "We had the Fall Mississippi experience. It was a family affair. It was intimate."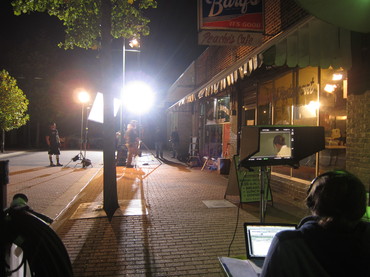 They worked with Casting Team, Amber Horn and Danielle Aufiero. "They do a lot of indie films." First thing was finding the mother. "It is an amazing role for a woman in her 40's. Paula Malcomson, the Northern Irish, actress, (Ray Donovan's wife, Hunger Games' mom, Deadwood's Trixie), got the role of Talulah. " Alison said that it was nerve-wracking because they were only 3 weeks away from shooting before they found Bill Skarsgard, a Swedish actor, (The Divergent Series: Allegiant's Matthew), to play the role of Henry. Eastwood jokingly mentioned that she "shares histories," with Claire van der Boom, who plays the character, Alison, in "Battlecreek," as they "have the same acting and voice coaches." Van der Boom is best known for her role as Stella in HBO's, "The Pacific." Also, in the cast, but not in town for the festival, are Delroy Lindo as, "Arthur," and Toby Hemingway as, "Cy."
"Battlecreek," made it's World Premiere at the SBIFF. It tells the story of Henry, a loner and a night-owl, who has been sheltered and controlled by his alcoholic and delusional mother, living in a small town in Mississippi. One night, a young woman's car breaks down and she wanders into the diner where Henry is. Both of their lives forever change. "Battle creek," is a well-crafted, engaging drama about following your heart, letting go of the past, finding personal freedom, and love.
It is no easy undertaking to make an independent film! "It is a journey," as Anthea and Alison relayed. "Fortunately, I had the best film school ever watching my father embrace each person and knowing everyone's job matters,"Alison said. I, also, noticed in the film credits that Alison's brother, Kyle Eastwood, wrote and performed a number of the songs in,"Battlecreek." In the list of thank you's in the credits, first listed was her father, Clint Eastwood. While on the subject of family, in attendance at the red carpet with Alison was her mother, Maggie. It is wonderful to see family and friends all a part of this production.
Kudos to "two Catalina girls" for an amazing accomplishment! As someone said, "Any of you getting involved with Independent Film, Buckle Up!"
Alison Eastwood is a Featured Speaker on the SBIFF Women's Panel Saturday, February 13th, at 11:00 at the Lobero Theatre in Santa Barbara.
Photo credits: Sally Fay and A. Pope