As an avid open ocean diver, H. Fisk Johnson III, the fifth-generation leader of SC Johnson ― has been especially affected by what he calls one of the biggest issues of our time: marine pollution. Namely, the way the plastics that many companies use to package their products — SC Johnson included — end up in the world's oceans.
At the Our Ocean Conference in Bali, Indonesia on October 29, along with Dame Ellen MacArthur and the United Nations Environment Programme, Johnson signed onto the New Plastics Global Commitment. The commitment promises to make 100 percent of SC Johnson's plastic containers either reusable, recyclable or compostable by 2025 (presently, 90 percent of the company's plastic packaging is designed to be recyclable, reusable or compostable). Additionally, SC Johnson announced in October a commitment to increase its use of post-consumer recycled plastic in its packaging from 10 million kilograms to more than 30 million kilograms by 2025.
Indonesia produces more marine plastic pollution than anywhere else in the world, after China, with nearly 26 million Indonesians currently living below the poverty line who rely on plastics such as bags, cups, water bottles and straws. They have no real infrastructure to handle that plastic, so it's usually dumped, stored in piles near the home, or buried and, come the rainy season, the plastic is washed down rivers and into the ocean (in amounts often measured by advocates as truckloads of plastic per minute).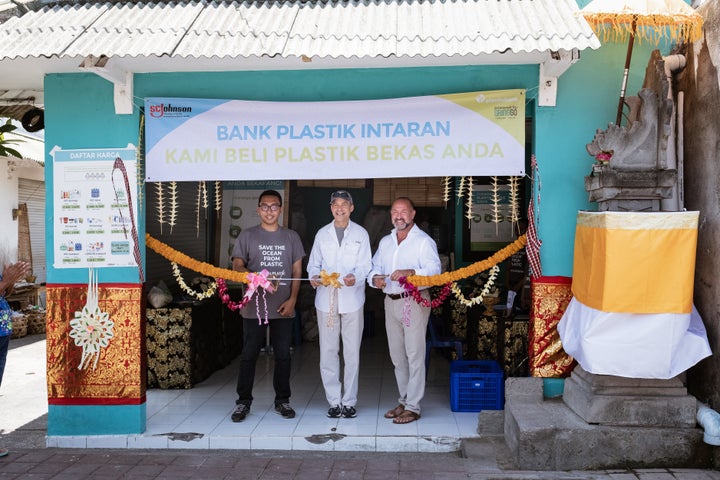 Concurrently, Johnson also announced his company's partnership with Plastic Bank to build a network of eight plastic collection facilities throughout Indonesia that would offer local collectors a way to trade their recyclable plastic for cryptocurrencies on IBM's blockchain, money that they can then use toward goods and services.
Johnson double-majored in physics and chemistry at Cornell, where he earned a PhD in applied physics, making him unusually suited as a CEO to understand the nuances of plastic chemistry and how it interacts with the environment. It's especially pertinent experience now that SC Johnson generates $10 billion in sales of its household products such as Windex, Glade, Ziploc, Shout and Pledge, most of which are either made of or packaged in plastic.
We sat down with Johnson to talk about his environmental efforts and why he feels personally and professionally responsible for combating marine pollution.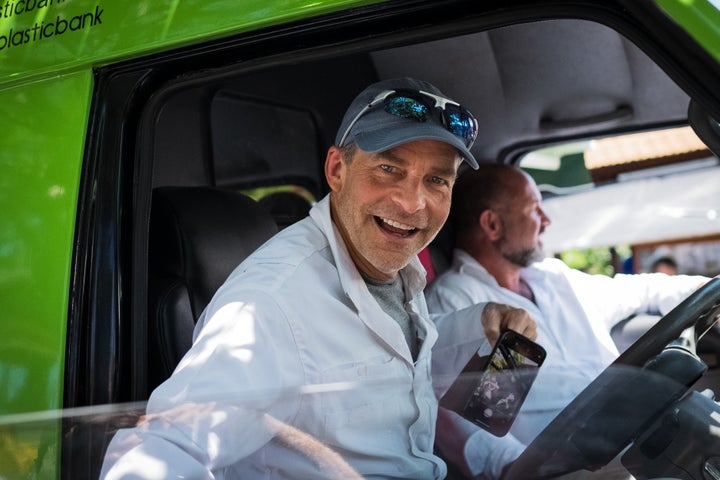 This interview has been edited and condensed for clarity.
Why are you personally motivated to join Plastic Bank and the other members of the global community that make it their life's work to reduce plastic pollution?
I would argue that plastic waste and the things that go into landfill from plastic products is our biggest single environmental issue. The partnership with Plastic Bank is an important step, as it provides social benefits as well as helps to protect the environment. My dad was a passionate environmentalist and often said that what really matters is whether you live up to the expectations of your children. And that is really the philosophy that we have operated on as a company. It's about doing the right thing for the next generation. I want my daughter to have the same opportunities that I've had to see the world that I've seen.
What was the watershed moment when you realized that marine pollution was a really big issue and that you had the ability and responsibility to make a change in the industry?
We've been trying to do this for a long period of time — there wasn't a watershed moment — and it goes back probably 15, 16, 17 years. I've been diving all over the world for 40 years now and, during this time, I've seen ocean conditions get worse and worse. I think it's necessary to get all sectors involved to work together to solve this really important problem.
What are some examples of SC Johnson's recent environmental initiatives of which you're especially proud?
Sustainability is embedded in our business. We are committed to taking care of our environment and reducing our footprint. Today, our Windex bottles are made from 100 percent post-consumer recycled plastic. We don't say it on the bottle, and I'm not sure it would actually be that meaningful to most people buying Windex, but it's 100 percent PCR plastic. We sell a Ziploc garbage bag made out of 100 percent recycled plastic film, the very first of its kind in the U.S. and we are working hard to make curbside recycling of plastic film in the U.S. a reality. We promote reuse of Ziploc brand bags and we sell compostable Ziploc bags online. We also sell the concentrates of our cleaning products online and are looking to expand these options as all of our home cleaning bottles can be refilled and reused.
Do you foresee these products becoming more widely available?
We've done test markets, we've tried three or four different ways over the last decade or more, trying to get concentrates to work, and it's just been a hard road to go down to get people to change their behavior to where they're willing to take a small bottle, put it into a trigger bottle, fill the rest up with water and go from there. We've gone into a number of test markets with those and we've tried different messages and different ways to incentivize people, and we've struggled to find the one that will make it appeal more broadly to people. We haven't given up. I honestly believe the time will come when it gets more traction.
What has been the consumer response to these recycled and compostable products?
The number one thing people look for when buying something off the shelf is quality. They want a product that works, and if the bottle looks off, then it doesn't look like it has good quality. The reason we're able to put 100 percent PCR into our Windex bottles is because the type of polymer in the plastic is chemically recycled. But it only works for some of our products. You need stability. You can make a pretty good-looking bottle that's 30 percent post-consumer recycled plastic and polyethylene. But if that bottle doesn't look beautiful and pristine on the shelf, then it doesn't sell.
You would be blown away by the subtleties we're talking about. It's incredibly subtle. We've got to figure out a way so that when that bottle looks discolored, it's more of a badge of honor. "I'm doing something that's right for the environment when I buy that slightly uglier-looking bottle." But in today's world, you would lose the war at the shelf.
How would you want to address the critics who say SC Johnson produces too much plastic, that its products are partly responsible for much of the issues that you're working to solve, such as marine pollution?
I'd ask them the question, what are those things that shoppers would be willing to buy at scale that use less or no plastic? Because I'd like to know the answer to that question. This is what we've been trying. Take compostable Ziploc bags. We sell them online, but scale matters from an economic standpoint.
The concentrates are a different example, because it's not an economic issue or necessarily a scale issue, it's a consumer behavior issue. Does it make a big difference in the amount of plastics going into the waste stream? It makes a huge difference because it's a little concentrate bottle, which is easy for us to do, and made with 100 percent recycled plastic. And it's easier to ship, so there are energy savings, too.
We use plastic in many of our products ― it is a highly versatile material that is lighter and more efficient than many alternatives, and it requires less energy to manufacture ― but that's why we want to be part of the solution.
Currently, 95 percent of our products are recyclable or reusable, but we want to do more because we want to help recover plastic equal to the amount we put in to the world. Through initiatives such as Plastic Bank, we can help neutralize our environmental impact and, at the same time, do some good in communities that have excessive plastic pollution.
Do you feel that being the CEO of SC Johnson, one of the world's leading manufacturers of household cleaning products and products for home storage, air care, pest control and shoe care, as well as professional products, makes it especially tricky when it comes to contributing to the conversations around environmental sustainability and ecological consciousness?
In my mind, there's a role for everybody in these things. There's a role for government to establish the right kinds of regulations. Civil society can help bring attention to important environmental issues and help bring this important issue to the forefront of people's minds. The problem is there's so many environmental issues, and the solution to one doesn't necessarily help solve another, and might make things worse for other issues.
That's part of what the Ellen MacArthur Foundation has put together, a coalition of organizations that have joined around a single issue — in this case, it's plastic marine pollution.
Business can't do it alone. This is an incredibly complicated issue. I think we've proven that to ourselves over the last decade and a half, and no individual sector of society can tackle this problem alone. But what Ellen has done beautifully here in Bali is she's brought all these sectors of society together to bring attention to this issue, and that's a great thing.
The Plastic Bank is a good example of a company pulling resources together to rethink previous solutions. Tell me a little bit more about why you've partnered up with them.
The thing that got all of us excited about Plastic Bank is not only did it hit the ocean plastic piece, but the element of "social plastic" was really outstanding. Not just the fact that it helps people who live in basic poverty, but the blockchain means that it's also not cash based, which means it can be freer of corruption, it can be fair. We decided to jump on the opportunity to do something and we'll see where it takes us.
How will this partnership with Plastic Bank impact SCJ's production lines in the years ahead?
We predict the collection facilities [in Indonesia] are going to collect 800 metric tons of plastic, but we're still in the early stages of determining future expansion plans. By working with Plastic Bank we can help increase the recycling rates in impoverished communities while addressing the challenges of poverty and helping to protect the ocean. Plans are underway to use the ocean plastic collected and incorporate them into our products ― we should be able to disclose those details in the spring of 2019. Are we going to get much traction for it? No, but we're going to do it anyway, because I think it's good to do.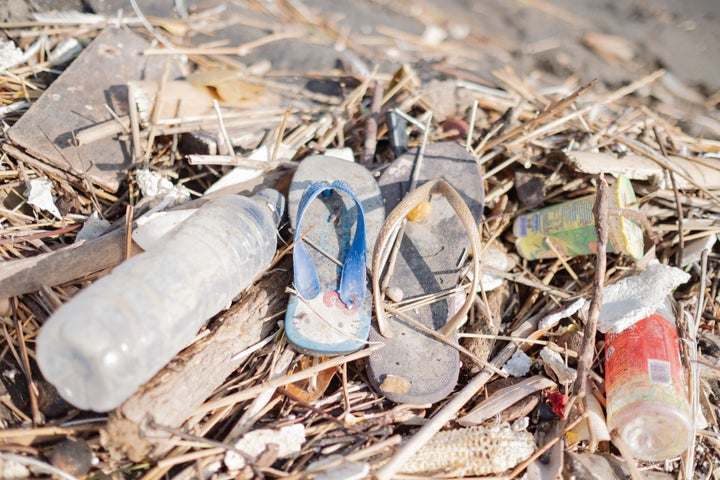 This article was paid for by SC Johnson and co-created by RYOT Studio. HuffPost editorial staff did not participate in the creation of this content.