SC Johnson is declaring war on that conventional wisdom.
The family owned company on Thursday became the first major player in the household chemicals industry to list 100 percent of the ingredients used to create fragrance in one of its lines of scented products, the Glade Fresh Citrus Blossoms collection of wax melts and air fresheners. That includes the chemicals ordinarily glossed over with catch-all phrases like "natural ingredients" or "essential oil."
Its goal, in part, is to create a new standard of transparency that would challenge upstart competitors, who sell themselves as greener alternatives, to disclose every single component in their fragrances.
"It's important to lay it all out there for the scrutiny of the world what goes into our products if consumers are going to trust us," Herbert Fisk Johnson III, the company's chairman and chief executive, told The Huffington Post on Wednesday. "In the absence of information, people tend to think the worst."
On the face of it, the plan seems like a radical, if straightforward, way to woo shoppers who are increasingly spending money on products they deem ethical. But, by publishing the ingredients used to mimic the scent of fresh citrus blossoms, SC Johnson is gearing up for a multi-pronged battle against tight-lipped fragrance producers and a 30-year-old right-to-know law in California that the company says exempts many of its competitors from revealing chemicals in rival products.
The move will likely shake up the fragrance industry, which guards the ingredients used in the essential oils it sells to consumer-goods companies like SC Johnson as trade secrets. But as technology enables rivals to easily decode the compounds, that may be a moot point, Johnson said. Revealing that rose oil, for example, contains 101 different chemicals was "inevitable," he added.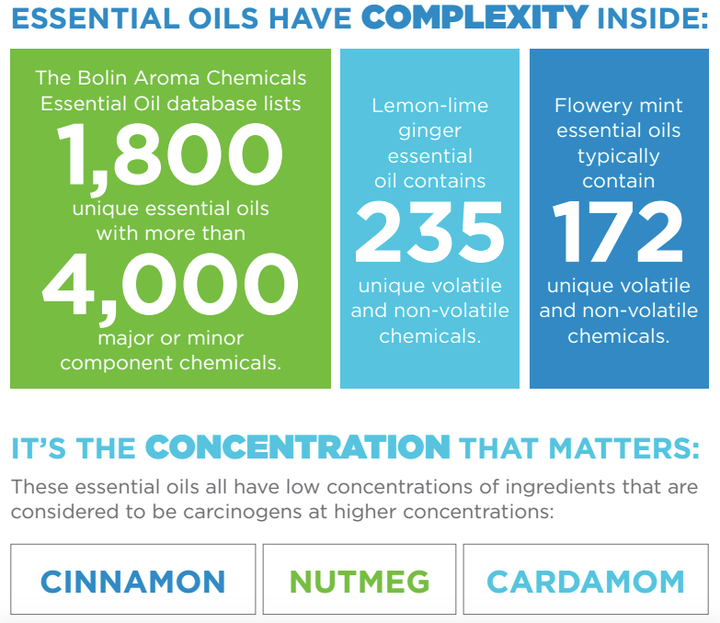 "I can't really speak for the fragrance houses, but I think they would say -- because we've talked to them -- that they have intellectual property concerns," said Johnson, whose great-great grandfather Samuel Curtis Johnson Sr. founded the Racine, Wisconsin-based company in 1886. "In today's world, with the methods available to analyze what's in products and what's in fragrances, it's easy to do that, so I'm not sure about the validity of that concern."
It wouldn't be the first time SC Johnson has challenged its suppliers. Under the leadership of Johnson's father, Samuel, the company eliminated chlorofluorocarbons -- chemicals, used as aerosol propellant, that erode the Earth's ozone layer -- three years before they were banned in the United States. Suppliers, and even some employees, were not happy.
"He was giving a speech in front of a bunch of people and the CEO of a major chemical company stood up in the middle of his speech, interrupted him, and said, 'You're going to ruin this industry,'" Johnson recalled. "But my dad was very principled and we just went ahead with it anyway. You look back on that decision today, in light of the strong laws that came in, and that was a very prescient decision."
Back then, SC Johnson was ahead of new regulation. Now, it's dogged by an old one.
Johnson faces a challenge in the form of Proposition 65, also known as California's Safe Drinking Water and Toxic Enforcement Act of 1986. The law, originally meant to force businesses to warn the public of exposure to artificial and harmful chemicals, is the reason for labels that say when products contain chemicals "known to the State of California to cause" cancer and other ailments. However, chemicals that occur naturally in foods are exempt.
"People have a fundamental right to know what's in the products we give them, and for that matter, what everyone else gives them."
But identical chemicals derived from other sources require a warning label. By being transparent, the company is courting a warning label that makes shoppers think it has something to hide.
"If we just list essential oils, there's no warning. If we list the ingredients in the essential oils, there's a big warning," Johnson said. "If you put a product with a big warning label on it, it's not going to sell."
To be sure, informed shoppers may avoid SC Johnson's Glade products anyway. The Environmental Working Group, a nonprofit consumer advocate, warns against using any air fresheners and ranked some Glade products with an F, the lowest possible grade.
"The ratings indicate the relative level of concern posed by exposure to the ingredients in this product -- not the product itself -- compared to other product formulations," the organization said in a statement. "The ratings reflect potential health hazards but do not account for the level of exposure or individual susceptibility, factors that determine actual health risks, if any."
Still, Johnson said "natural" is too often conflated with "nontoxic."
"The fact is that nature has some of the most toxic and carcinogenic materials known to humankind," Johnson said. "There's nothing that correlates 'natural' to 'better.'"
The biggest challenge for the company now may be getting people to question the one thing that modern marketing has deemed infallible: nature.
"This is a first step in a long road ahead of us, but we feel really strongly and passionate about taking this step," Johnson said. "People have a fundamental right to know what's in the products we give them, and for that matter, what everyone else gives them."
Related