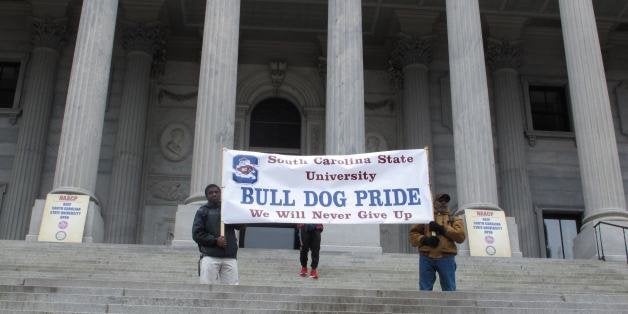 CHARLESTON, S.C., Feb 19 (Reuters) - South Carolina lawmakers have moved closer to ordering the state to take control of its only public historically black university, which has been dogged for years by troubled finances and dwindling enrollment.
Budget writers in the House of Representatives voted late Wednesday to oust South Carolina State University's president and trustees and move oversight of the school's finances to the state.
"We're gonna fix it," said Representative Phillip Lowe, a Republican member on the House Ways and Means Committee.
Lawmakers stopped short of advancing a proposal to close the university for two years in an attempt to fix its finances, a plan endorsed by some legislators who criticized the lack of accountability at a school facing millions in debt.
That plan drew protests from hundreds of alumni, students and members of the National Association for the Advancement of Colored People, who rallied this week in the state capital of Columbia.
Protesters decried the state's treatment of a school they said had provided opportunities for generations of black students who otherwise would not have had the chance to go to college.
"South Carolina State has been underfunded since its existence," said Vernell Brown, president of the school's alumni association.
South Carolina State was founded in 1896 to educate black students shut out of other colleges and universities in the state due to segregation. Fewer than 3 percent of the approximately 3,000 students at its campus in Orangeburg are white.
The school was the site of the 1968 Orangeburg Massacre, when police killed three people and wounded 27 after firing into a crowd of students protesting segregation at a bowling alley.
Last week, students and alumni sued the state in federal court, charging that South Carolina was violating the U.S. Constitution by maintaining a "dual system of education based on race."
The lawsuit said the state had duplicated programs offered by South Carolina State at heavily endowed institutions such as the nearby University of South Carolina, making it impossible to attract enough students to meet its operating budget.
The move by lawmakers on Wednesday must be debated by the full legislature, leaving the university's fate far from assured.
School supporters said the fight over its future has hurt recruiting and fund-raising efforts, but they took some comfort in lawmakers backing off the plan to shut it down.
"I believe most of the lawmakers want the school to stay open," said Michael Allen, president of the school's alumni chapter in Charleston.
(Reporting by Harriet McLeod; Editing by Colleen Jenkins and Eric Beech)
Calling all HuffPost superfans!
Sign up for membership to become a founding member and help shape HuffPost's next chapter
BEFORE YOU GO