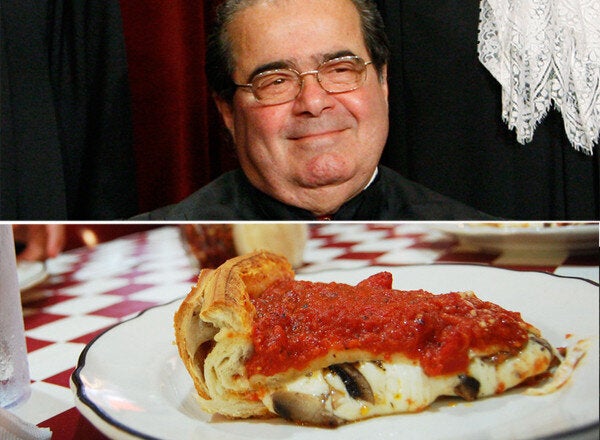 "I do indeed like so-called 'deep dish pizza.' It's very tasty," the high court's most outspoken conservative said after a moment's hesitation. "But it should not be called 'pizza.' It should be called 'a tomato pie.' Real pizza is Neapolitan. [from Naples, Italy] It is thin. It is chewy and crispy, OK?"
Chicagoist took issue with Scalia's deep-dish pizza opinion, arguing that the Neapolitan founding fathers of pizza "could not have envisioned modern technology, New World inventiveness or the American appetite for excess."
Scalia probably thought he was doing his duty as a loyal New Yorker when he decided to attack the fat cylinders of dough and marinara sauce that Chicago calls pizza. But in the process, he unintentionally insulted the people of his birthplace, Trenton, N.J.. All agree that the best pizza in Trenton -- a more significant matter than it sounds like it would be -- comes from a joint called DeLorenzo's. But unlike its peers in New York and Chicago, DeLorenzo's does not call its magnificent pizza "pizza." What does it call its thin, chewy, crispy disks instead? Tomato pies -- the term Scalia oh-so-innocently suggested as a new name for Chicago-style deep dish. So even if Scalia meant just to disparage Windy City pizzaioli, he ended up offending the entire population of the capital of New Jersey.
CORRECTION: This post originally associated the Kent School of Law with the University of Chicago, when it is a part of the Illinois Institute of Technology.

Related
Popular in the Community