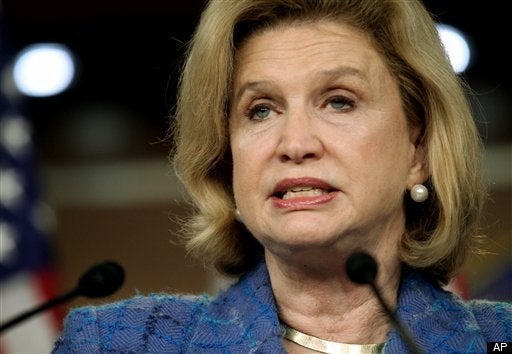 WASHINGTON -- Leaders of the key women's-rights groups joined congressional Democrats at the Capitol Thursday to warn that Supreme Court Justice Antonin Scalia had issued "a wake-up call" when he said the U.S. Constitution does not protect women from discrimination on the basis of gender.
The groups promised to relaunch a decades-old push to pass an Equal Rights Amendment, a movement that fizzled out in the early 1980s.
The equal protection clause of the Fourteenth Amendment to the Constitution proscribes laws that "deny to any person within its jurisdiction the equal protection of the laws," but Scalia recently told an interviewer that "nobody ever thought ... it meant" protection for women.
Lawmakers said Thursday that Scalia's statements suggested that his presence -- and influence -- on the Supreme Court could fundamentally threaten women's rights should a relevant case come across the docket.
"If he can convince four others to follow him, you could overturn the progress of the women's movement for the last 40 years," Rep. Carolyn Maloney (D-N.Y.) said. "That's quite a wake-up call."
As House members read through the Constitution inside, National Organization for Women President Terry O'Neill flipped through a pocket-sized Constitution to read the Fourteenth Amendment.
"A man in power like Antonin Scalia insists the word 'person' does not apply to half of the population of the United States," O'Neill said. "As long as there are men in power in this country who keep women down, we need an explicit guarantee of equality in the constitution."
Lawmakers and advocates said that guarantee should come in the form of an Equal Rights Amendment. A version of such an amendment has been around for decades, and fell just three states shy of ratification after being passed by the House and Senate in 1972.
The amendment could have a better chance now, said Sen. Robert Menendez (D-N.J.), its sponsor in the upper chamber.
"If we look at the political realities of the number of women in this country, they can clearly create a powerful movement for ratification in the states," he said.
Rep. Gwen Moore (D-Wis.) said timing is particularly important as Republicans set their eye on budget cuts that would threaten programs such as Social Security, which more women than men depend on as a safety net.
"The need to clarify this is very important as you look at women at the lower end of the economic spectrum" she said. "We're going to see this Congress tinker with the safety net in a way that will have a have a disparate affect on women."
Popular in the Community