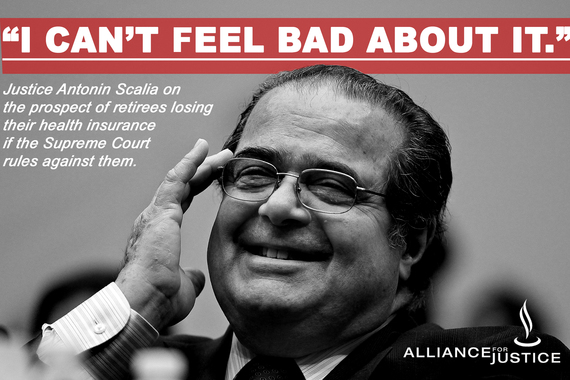 In Apple Grove, West Virginia, there are some retirees from a chemical plant whose Christmas wishes probably include this: They want to keep the health insurance they were promised.
The United Steelworkers union negotiated a series of collective bargaining agreements stipulating that retired employees "will receive a full company contribution towards the cost of [health] benefits." The union believed the benefits were guaranteed for life. The company contends it could take away these benefits whenever it chose--which it did in 2007.
The retirees challenged that action. The retirees won in the lower courts, and now their case is pending before the Supreme Court.
The agreement never says the retiree loses the benefit after so many years or must pay a portion of the costs. It also doesn't say benefits earned by retirees over their work lives end with the expiration of any given collective bargaining agreement.
In that same blog post, Gerard quotes Freel Tackett, the lead plaintiff in the suit and one of those who helped negotiate the agreements, as follows:
"We have several people who passed away," as they awaited the outcome. "We just don't know how many of them died as a result of not going to the doctor when needed or not getting medication they needed" because they couldn't afford the insurance.
Is there anyone who simply wouldn't care what happens to these retirees? Apparently, yes. During oral arguments, Supreme Court Justice Antonin Scalia offered up the functional equivalent of "Bah, Humbug!"
You know, the nice thing about a contract case of this sort is you can't feel bad about it. Whoever loses deserves to lose. I mean, this thing [the duration of the health benefits] is obviously an important feature. Both sides knew it was left unaddressed, so, you know, whoever loses deserves to lose for casting this upon us when it could have been said very clearly in the contract. Such an important feature. So I hope we'll get it right, but, you know, I can't feel bad about it.
Justice Stephen Breyer was quick to disagree:
Well, you know, the workers who discover they've been retired for five years and don't have any health benefits might feel a little bad about it.
Listen to the comments of Justice Scalia and Justice Breyer:
This is nothing new for Justice Scalia. Last year, he referred to the Voting Rights Acts as a "perpetuation of racial entitlement."
And tilting the scales of justice to favor corporate wrongdoers is nothing new for this Supreme Court.
I don't actually expect Scalia to be visited by three ghosts on Christmas Eve. But perhaps this time the other justices will show him how to care.
Support HuffPost
The Stakes Have Never Been Higher
Popular in the Community