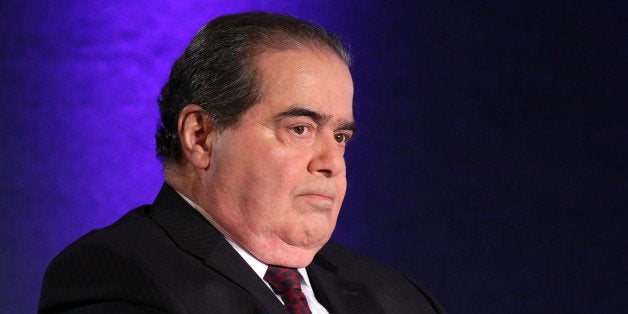 A federal appeals court based in Virginia cited the words of conservative Supreme Court Justice Antonin Scalia when it struck down the state's ban on same-sex marriage on Monday. In its ruling, the court embraced the language of a dissent Scalia authored in the Supreme Court case that struck down state sodomy laws.
In a 2-1 ruling upholding the ruling of a lower court, the U.S. Court of Appeals for the 4th Circuit ruled that Virginia's same-sex marriage ban was unconstitutional, in part, because history and tradition were not justification for infringing on the rights of gay citizens.
The appeals court pointed to Scalia's dissent in the Lawrence v. Texas case in 2003, in which he warned that striking down the anti-sodomy law would only call into question laws that are based on moral choices. In ruling that the "historical and traditional status quo is therefore not a compelling interest that justifies the Virginia Marriage Laws," the court pointed to Scalia's Lawrence dissent, in which he admitted that "'preserving the traditional institution of marriage' is just a kinder way of describing the State's moral disapproval of same-sex couples."
A significant number of federal judges in Idaho, Utah, Ohio, Virginia, Kentucky, Texas, Oklahoma and Michigan have cited Scalia's dissent in the 2003 Lawrence case or his dissent in last year's ruling on the Defense of Marriage Act (DOMA) when they struck down gay marriage bans.
The U.S. Court of Appeals for the 10th Circuit in Denver also cited Scalia's dissent in the Lawrence case when striking down Utah's gay marriage ban last month, pointing out that he said there couldn't be a justification for banning same-sex marriage based on inability to procreate, given that "the sterile and the elderly are allowed to marry."
Calling all HuffPost superfans!
Sign up for membership to become a founding member and help shape HuffPost's next chapter
BEFORE YOU GO
PHOTO GALLERY
Gay Marriage In The United States