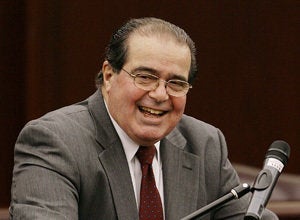 On the eve of today's 221st anniversary of the U.S. Constitution's adoption, U.S. Supreme Court Justice Antonin Scalia told conservative lawyers in Chicago that the University of Chicago Law School -- where he used to teach -- has lost its edge and gone liberal.
Back in the days when Scalia -- the court's most vocal supporter of adhering to the text of the constitution -- used to teach at the school, which was then more associated with conservative economist Milton Friedman. The courses had more rigor and the school had a more conservative ethos, Scalia told 500 members of the conservative Federalist Society of lawyers at the Union League Club Tuesday.
After Scalia left the school, it hired now-Democratic presidential nominee Barack Obama and started offering classes like Obama's popular "Current issues in Racism and the Law."
Popular in the Community