During my Teach For India Fellowship, I taught in a government school in Mumbai. As a new teacher, I benefitted from an immense support system that was designed to help me become a better teacher and make progress with my students. I attended trainings and conferences, observed other Fellows' classrooms, and had a program manager who observed mine. I received critical feedback on not just my lesson planning but also on finding my identity as a teacher and connecting with my students.
These professional development opportunities made a difference to my practice, and most importantly to my students. But such opportunities are rare in India, where the nation's 6.5 million elementary school teachers have limited -- if any -- access to additional training or support, and where teachers serving low-income communities receive the least development of all. Comparing my own ongoing training to that of the other teachers in my school, I was struck by the inequity of the situation, and I wanted to find a way to improve it.
Around the same time, Shaheen Mistri, the founder and CEO of Teach For India, was looking for a way to expand the program's impact by sharing its practices more broadly with teachers across India. The seeds for Firki were sown.
Firki was launched this year as a free, bi-lingual (English and Hindi), open-source, online teacher-training portal; which focuses on the skills every teacher needs regardless of the content areas they teach. Its courses concentrate on building strong relationships with students, classroom practice and management, preparing and planning lessons, and -- most importantly -- encouraging teachers to think about and critique their own practice over time. All of the content is contextualized to the challenges faced by teachers in government or low-income private schools in urban environments.
The first version of Firki was released in August and was tested in schools in Delhi, Mumbai, Pune, and Hyderabad. We anticipated a few potential technical glitches, but nothing prepared us for the challenges that we encountered.
Access to infrastructure was a huge barrier. Even though we were in the country's major cities, many schools did not have functioning computers or stable internet connectivity. Power cuts were the norm, and for hours each day the schools were without electricity. When teachers did manage to secure a computer, they were limited by their lack of technical skills. They struggled to open a browser, scroll through the content, and type their reflections.
Most importantly, teachers felt very alone trying to work their way through a new tool and unfamiliar ideas. Learning from Firki was proving to be a daunting task for the teachers we most wanted to reach.
Perplexed, we asked Teach For India Fellows to help guide and assist other teachers in their schools in using the portal. And soon things began to change.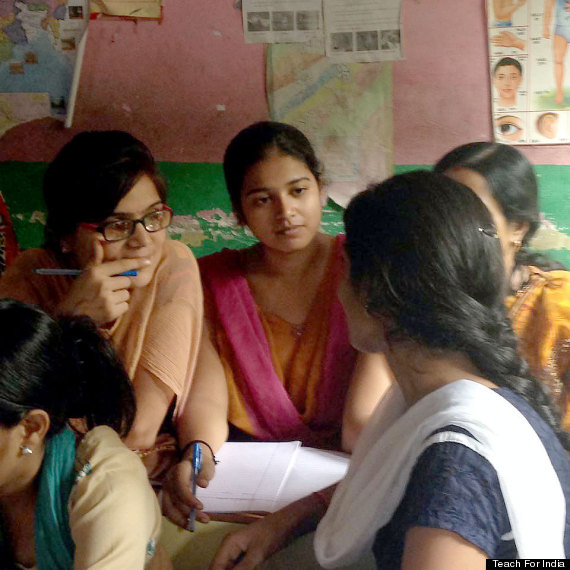 The Fellows began by offering tutorials after school. Groups of teachers assembled in a small room where a Fellow projected Firki on a wall using their personal laptop, a mini projector, and mobile internet. They watched videos of teachers innovating and pushing student learning in schools very similar to their own. Soon, they were reading, learning together and sharing stories about their own classrooms.
We began to see small, but important, changes. Teachers form Kilbil School in Pune created their own tracker to drive their progress on Firki. Teachers in Gangotri Public school in Delhi hung up charts of student dreams in their classrooms to create a collective sense of ownership and purpose. And teachers in Madina Mission School in Hyderabad worked on community outreach projects to support and build stronger relationships with their students.
In developing what we hoped to be a powerful teacher development tool, we discovered that we had much to learn from Firki. While technology could be a great enabler, it was clear that the human element of learning from, sharing and reflecting with one's peers is fundamental to deeper learning experiences. It was also evident that successfully driving change at a large scale happens through collective impact.
These insights have shaped our approach for Phase 2. We are now working to create a programme that leverages our best technology as well as the irreplaceable human component of the learning process. We are exploring partnerships with government bodies and other organizations working with teachers and schools in both the non-profit and private sectors.
For every child to have the opportunity to attain an excellent education, we need our teacher education to empower our teachers with belief in the potential of every child, to offer best-in-class pedagogical practices, and to enable them to take ownership of their own development journey.
Teach For India wants to work towards a collaborative effort involving both government and private stakeholders to transform teacher education in India, and Firki is our commitment in this direction. What role can you play in the endeavor to help all teachers be the best they can be?
REAL LIFE. REAL NEWS. REAL VOICES.
Help us tell more of the stories that matter from voices that too often remain unheard.