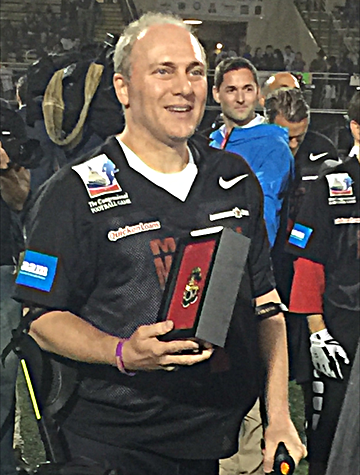 Maybe you noticed: Of late, Washington has been or is mired in a strange limbo of gridlock, chaos, and shock. The collective and simmering rancor has left this native Washingtonian reminiscent of the days when Republicans and Democrats actually liked each other.
In these halcyon days, there were legendary deals sealed not with Twitter wars and push-polling but at the Old Ebbitt, legislative markups both red and blue lined at the Hawk & Dove, and dinners at Dominiques… at least that's the way it seems in this age of take-a-knee back-and-forth.
Yet on a rainy fall night a couple of weeks ago, while out on Hotchkiss Field at Gallaudet University, an elite group of congressmen, Capitol Hill Police, and former NFL players left their party affiliations in the locker room.
They came together to honor the memory of John Gibson and Jacob Chestnut. As Capitol Hill police officers, in 1998, both Gibson and Chestnut heroically defended the people's house and selflessly sacrificed their lives doing so.
The Congressional (Flag) Football Game is a biennial bipartisan event to honor the Capitol Hill Police and members of the armed forces. This year, the NFL roster included former Redskins players Ken Harvey, Santana Moss, Gary Clark, John Booty, and Herschel Walker. Congressional participation included Joe Kennedy (MA), Carlos Curberlo (FL), Tim Walz (MN-Captain), and Jeff Denham (CA-Captain).
The teams were sectioned into the "Machines" (lead by Walz and Denham) and the "Guards" led by Capitol Hill Police officers Jim Davis, Ron Potter, and Larry Bell.
Under cloudy skies and the constant rain, the champions took the field for a surprisingly energetic game. While you may think the Machine Team had an advantage over the Guards, what with former pro players Herschel Walker and John Booty, the guards managed to win the game 7-0 with a touchdown in the first quarter.
Ah, but the highlight of the event came slightly before halftime. That's when Rep. Steve Scalise made a grand entrance. He gave jerseys to Crystal Griner and David Bailey that said "thank you," and the Guards gave Scalise and the team captains each a badge signed by all officers.
As Rep. Scalise left the field in his wheelchair, I felt compelled to shout out "You look great Steve." He turned his head, smiled, and said "thank you."
For a man who has had his foundation so tested, all I sensed was gratitude and joy in his eyes.
For a moment, my mind raced back to the Washington of my youth, a time when we could work and support each other. A time where R & D made people think of research & development not two letters who kept people from communicating.
So, thank you Rep. Scalise.
This DC native can't remember having that feeling in a very long time. The event took me back to my childhood when I remember Sen. Howard Baker and Sen. Robert Byrd gathered in the dining room of my grandfather, Tommy "The Cork," in the spirit of cooperation.
So I call on you Rep. Scalise to take that spirit forward.
Many of us in Washington DC (and no doubt other cities across the nation, and maybe even some non-city-dwellers) lament the lack of its presence and I now think you are the best hope to bring it back.
For from great tragedy can come the greatest of hope. Maybe some sunshine comes from all that rain.
Related
Popular in the Community