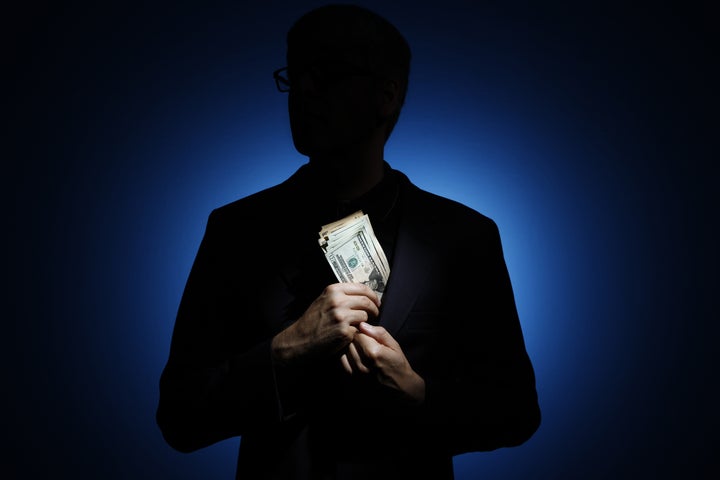 William and Robert Tierney ran or were involved in nine different PACs that collected small donations solely to enrich themselves, prosecutors with the Southern District of New York allege in a criminal complaint. The supposed PACs collected $23 million from 2014-2017 and routed the vast majority of the funds through a series of shell companies that either directly enriched the Tierneys or continued the fundraising scheme, the complaint says.
Most of the so-called PACs' fundraising appeals allegedly targeted conservatives with promises to support law enforcement, oppose Planned Parenthood, advocate for pro-life policies and promote smaller government. But prosecutors say they did none of those things.
"The defendants, as alleged, capitalized on the sympathy and activism of those who sought to support awareness of various causes near and dear to their hearts," FBI Assistant Director William Sweeney Jr. said in a statement.
The charges brought by the U.S. attorney's office in Manhattan are so far the most high profile effort by federal law enforcement to crack down on operators of scam PACs. Scam PACs have emerged over the last decade as a new field for fraudsters to trick people, often the elderly, into giving up their money. This phenomenon emerged as campaign money boomed following a series of deregulatory court decisions and a declaration from the Federal Election Commission that it did not have the legal authority to crack down on scams.
In July 2015, then-FEC Chairwoman Ann Ravel wrote a column for Roll Call explaining that "the law doesn't give the FEC the tools or the authority needed to address scam PAC activity."
In fact, prosecutors say, this article caught the eye of William Tierney, as it mentioned one of his supposed PACs. The complaint details an email in which he expressed concern to an unnamed co-conspirator that perhaps the PAC should spend more on politics to throw regulators off the scent.
But prosecutors say the co-conspirator dismissed the concern: "The reality is that to these people there will be little difference between 0% and 5%."
Scam PACs almost always operate in a similar fashion. The founders take a cause or a candidate popular with elderly donors, say former Alaska Gov. Sarah Palin (R) or former Florida Republican Congressman Allen West, and spend money on telemarketing and direct mail to raise money. Those donations are then paid to the founders and also cycled back into further fundraising. Sometimes the scammers even own the firms doing the telemarketing.
Thursday's complaint against the Tierney brothers, which is based on their subpoenaed emails, phone records and work documents, details precisely how this type of alleged scam works. Prosecutors allege as follows:
The Tierneys set up six PACs ― Grassroots Awareness PAC, Americans for Law Enforcement PAC, National Campaign PAC, Voter Education PAC, Action Coalition PAC and Protect Our Future PAC ― and controlled three others called Life and Liberty PAC, Republican Majority PAC and RightMarch.com PAC. All were registered in other people's names. For the PACs the brothers founded, a third, unnamed co-conspirator signed on as the treasurer using a middle name. (FEC records show the name Ann Mattson.)
Each PAC promoted advocacy on a particular issue that might attract small donations. Grassroots Awareness PAC claimed to be "dedicated to raising awareness and advocating on behalf of children with autism spectrum disorder and other important health issues affecting Americans." Americans for Law Enforcement PAC said that it "builds support nationwide for local law enforcement." Voter Education PAC supposedly promoted "individual liberty, smaller government, traditional values, economic opportunity, a strong national defense and energy independence." National Campaign PAC, Action Coalition PAC and Protect Our Future PAC all targeted abortion opponents.
To obscure the involvement of the alleged profiteers, each PAC paid money to a series of phony shell companies, which prosecutors say William Tierney referred to as "Stealth LLCs." In some cases, these were simply LLCs created to look like consulting firms that actually paid money directly to the scammers. In other cases, William Tierney told the telemarketing firms he worked with to create separate LLCs for each PAC they worked with to obscure the payments.
William Tierney allegedly provided an entire memo to the telemarketing firms detailing exactly how they should create these LLCs to "establish our privacy goals." The LLCs should be set up on different dates and by different people who should "not [be] someone easily discoverable on Google as being related to your company or each other." They shouldn't have a name that could identify them as related to the telemarketing firm or the PAC they would work for, he allegedly instructed.
Prosecutors say William Tierney ultimately pocketed $3 million from the scam. His brother Robert allegedly received $600,000, while the co-conspirator allegedly took in $250,000.
HuffPost could not immediately determine contact information for the Tierneys.
Calling all HuffPost superfans!
Sign up for membership to become a founding member and help shape HuffPost's next chapter