 LAS VEGAS -- If you're one of those people who has shoeboxes and shoeboxes of old photos sitting in your attic and basement, Mitch Goldstone of ScanMyPhotos.com has a warning for you.
"Get your photos scanned. If you don't scan them, the risk is really elevated. Fire, flood, hurricanes, all the natural disasters -- I just hear horror stories from people."
And the natural disaster that destroys the most Polaroids?
"Kids like to turn those old pictures to art," Goldstone told me in an interview in Las Vegas, at the Eureka Park section of the Consumer Electronics Show, cordoned off especially for growing tech start-ups. "Clipping, writing, using crayons and all that."
Goldstone has a reason to scare you into scanning, of course: He is the founder of ScanMyPhotos.com, a website that specializes in digitizing old photos for safe computer-keeping, in what he says is the simplest way possible. For $245, ScanMyPhotos will send you a pre-paid box into which you can stuff as many pictures as possible. (Typically, that's about 2,000 photos, Goldstone said.) Then, ship that box off to Goldstone, where his machines scan the photos into digital prints within minutes.
Once completed, ScanMyPhotos.com sends back your originals, as well as a DVD of your photos (or thumb drive for $15 extra), allowing you to post those old gems to Instagram, Facebook, Twitter or your external hard drive, saving those memories before disaster strikes.
Since it was founded in 2007, ScanMyPhotos.com along with Goldstone have digitized more than 100 million photos, and the company has signed partnerships with The Weather Channel and the United States Postal Service to advertise the service more broadly. In fact, ScanMyPhotos.com made a commercial with the Postal Service, describing the mission statement of the company while also pitching the continued importance of the service:
ScanMyPhotos.com actually doubles as a success story of a company committing to digital. Goldstone's original company was a brick-and-mortar photo processing store founded in 1990; in 2007, realizing that the industry was going under, Goldstone retooled to handle digitizing old photos from anywhere in the country, rather than only those in a three-to-five mile radius of his store.
One hundred million photos later, that seems like a savvy business decision.
Granted, ScanMyPhotos.com isn't for everyone. Goldstone concedes that $245 is probably too pricey for a family that only wants to preserve 10 photos or so -- for them, the purchase of a cheap flat-bed scanner will probably suffice. For families with thousands of legacy photographs, however, individual scanning can be incredibly tedious, and safeguarding those memories could be worth a couple hundred dollars.
"I want to unlock all of those photos so that people can share them online," Goldstone told me. He urges his customers to record audio tracks for their photo DVD, to preserve the memories behind the pictures before it's too late.
And what about Goldstone, who already has survived one shift of photography, from physical to digital? What will happen to his business when all of the Polaroids in the world have been safely archived on Flickr, Instagram and Picasa?
"I'll be long gone before that happens," he laughed. "There are over three and a half trillion images that still need to be digitized."
If you own some portion of those images, he said, don't wait: A toddler is always one crayon away from destroying them forever.
Related
Before You Go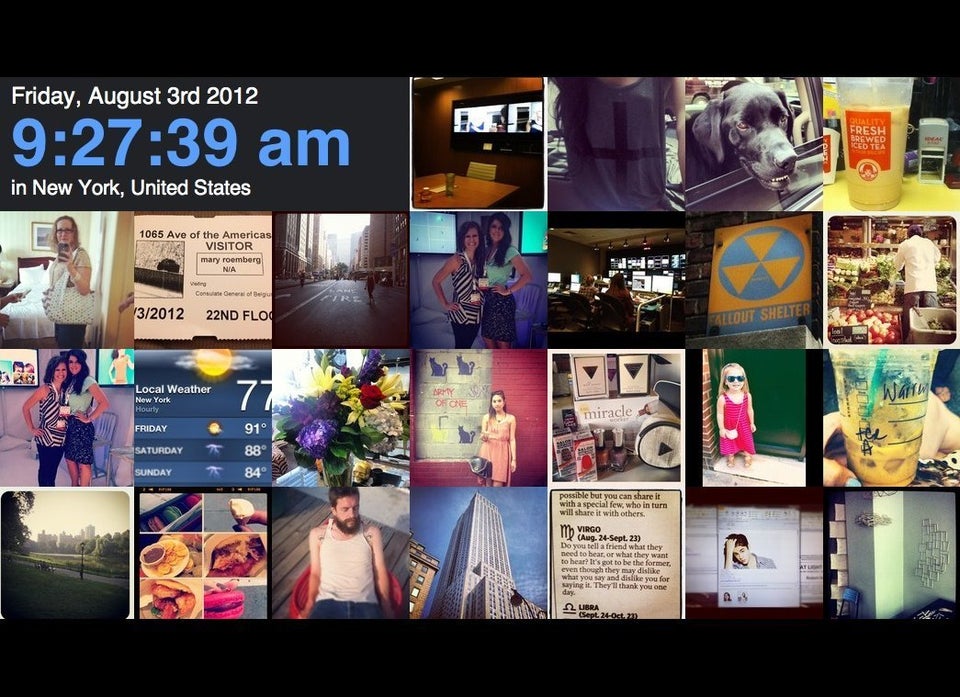 This Is Now: Instagram Photos From Around The World