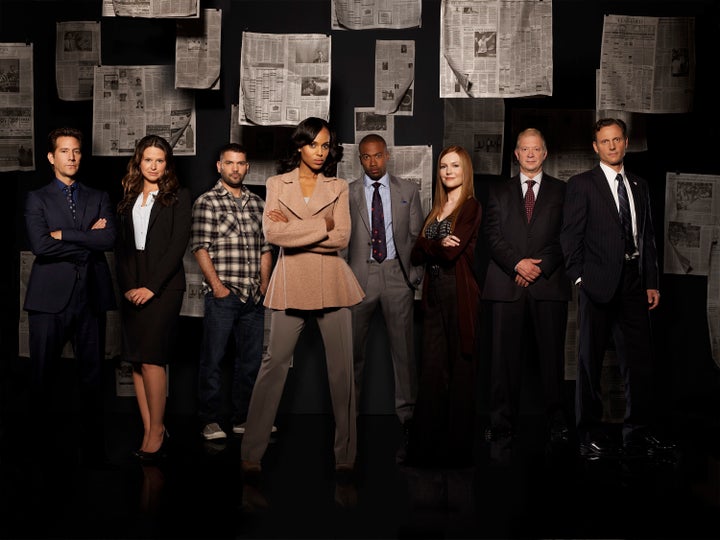 Ever wonder who handles big, headline-grabbing crises for politicians (Bill Clinton's Monica Lewinsky scandal), public figures (Michael Vick's dogfighting drama) and mega corporations (like BP after their Gulf oil spill disaster)? Look no further than Washington, D.C.-based crisis communications consultant Olivia Pope (played by actress Kerry Washington).
The leading lad in ABC's new drama series, "Scandal" (premieres Thurs., Apr. 5, 10 p.m. ET on ABC) is inspired by real-life consultant Judy Smith. All-star fixer Pope has worked for the White House and is completely behind-the-scenes, only dealing with cases that require the strictest of confidentiality.
From creator Shonda Rhimes and executive producers Smith and Betsy Beers, "Scandal" focuses on a fictitious crisis management firm headed up by Pope, whose team is a mixed bag of morally ambiguous but super talented lawyer, hackers and investigators (played by Henry Ian Cusick, Columbus Short, Darby Stanchfield, Guillermo Diaz and Katie Lowes). Their clients run the gamut from wealthy party boys to D.C. madames to, yes, the President of the United States Fitzgerald Grant, a.k.a. Fitz (Tony Goldwyn), Olivia's old boss.
And for fans of Shondaland shows "Grey's Anatomy" and "Private Practice," there are plenty of familiar faces here, too -- "It's the repertory company!," Betsy Beers said with a laugh -- including Fitz's chief of staff Cyrus, played by Jeff Perry (you know him as Thatcher Grey); the vice president, played by Kate Burton (that's Ellis Grey); and a client or two (JoBeth Williams, who played Addison's mom on "Private Practice," pops up). But star Columbus Short says there's no comparison: "This is her best shit ever."
When I visited the "Scandal" set to watch the first three episodes and chat with the cast and creators, the stars seemed as excited for people to finally see the show as they are proud of their work, right down to the smart and very chatty fast pace. "I'm from New York. I've been taught to speak slowly my entire life," Katie Lowes said. "I finally have a job where people are encouraging me to speak even faster!" But just because there's fast-talking action set in the White House, don't jump to compare it to that other acclaimed show.
"I've seen every single episode of 'The West Wing' at least five times," Shonda Rhimes admitted. "So ... I did know what we were facing."
Keep reading for more on "Scandal" from the cast, creators and EPs, and to watch our video chat with even more scoop from star Kerry Washington.
On Judy Smith, the real-life inspiration for the show and Olivia Pope:
Shonda Rhimes: "She walked out of the room and I turned to Betsy and I was like, 'Oh my god.' Because I suddenly saw 100 episodes of television. I saw all the things you could do."
Kerry Washington: "I'm very inspired by Judy ... she has become one of my absolute she-roes. She does it all. You hear these stories of places she's been and things she's done, and has also managed to be married and have a family. To me, Judy is larger than life. Her life is extraordinary. And she terrifies all of us. [Laughs.] So if I'm able to capture even a little bit of that, then I'm good."
On basing things on "real life":
Shonda Rhimes: "I like to say that some of it is inspired by. It's not necessarily a particular person or case that Judy's told us about. Sometimes it's about a case, but she tells us how she handled the case. And some of it's just stuff I made up in my head, and I call Judy and go, 'What would happen if this crisis happened?' And then Judy can sort of talk me through."
Judy Smith: "Before the pilot, we spent a lot of time together -- like a year -- and they got to know what I do for a living. Shonda clearly has a sense for what I do. They've taken this high-stakes, chaotic, hectic feel of crisis communications and have done a great job of dramatizing it for television. It's incredible. My day-to-day stuff ... you can't obviously get it in an hour. But the beautiful thing about 'Scandal' is it allows you to look at any crisis; it could be an entertainment crisis, a sports crisis, a political crisis, a legal crisis -- it could be any crisis."
Betsy Beers: "We're also always very, very clear to make sure everybody understands that Judy, in fact, did not have an affair with the President. [Laughs.]"
Henry Ian Cusick: "Being a non-American, it's been not only educational, but there's something kind of sophisticated about American politics. It's kind of like a curtain. And having Judy Smith talk about it ... you're like, 'Oh. Does that shit really happen?'"
On this being Shonda Rhimes' third show currently on TV:
Shonda Rhimes: "'Grey's' has done well, 'Private' has done well ... my children are in school. 'Grey's' is 8, 'Private' is 5 and the network was really supportive. They let me write the show I wanted to write, and make the show we wanted to make. I got to enjoy myself ... I felt really strongly when we got our episode order that, instead of going, 'We're doing seven [episodes] but are hoping for 13' -- given that I'll be doing 54 episodes of television this year -- we could look at these seven like you would a British miniseries. 'Let's 'State of Play' this and have a really great seven episodes that's a complete and total story.' So, yes, it does have a beginning, middle and an end."
Betsy Beers: "But we do leave just enough out there. Nothing is ever fully resolved."
Columbus Short: "With all respect to 'Grey's,' this is her best shit ever."
If Shonda Rhimes calls you in, is it just an instant "YES"?
Jeff Perry: "Ohhhh yeah. But because I recur on 'Grey's Anatomy,' when the casting process started, it was not a consideration that I could be on it, because there's audience connection to any of her recurring characters on any of her shows. But we played and sent it to the network, and they said, 'Eh, maybe.' And then we played some more, with a different suit and a different haircut and a different speed. It was a cool note actually -- they said, 'More Rahm Emanuel, less lovely professor.' [Laughs.] So there was an audition process."
Kerry Washington: "I keep saying it over and over, but I feel like the luckiest broad in showbiz. I don't quite know how this happened, but I do feel like every time I read a new episode, it is Christmas morning. It is ridiculous."
Watch: Kerry Washington Talks "Scandal,"
Playing Olivia Pope, What Gave Her Nightmares & More
On playing with a lot of moral gray area:
Tony Goldwyn: "I always find the moral gray areas really interesting to explore, and [Shonda] doesn't make a judgment about the characters. Fitz is a real ethical ... well, as you get to know him better, he's like bi-ethical. [Laughs.] He's desperately in love with a woman who's not his wife, and has violated his marriage, and gets himself in a mess with Amanda Tanner ... and at the same time, what emerges from him is this other tremendously ethical point of view, professionally, in terms of his attitude towards politics and being a leader and telling the truth. And not being willing to play the dirty games that other people are willing to play."
Henry Ian Cusick: "[My character, Stephen Finch] is somebody who's trying to get his life on track, and I thought that was really interesting. He's human, so he's doing the best that he can, and he's trying to work through some stuff. "
Kerry Washington: "In real life, nobody is all good or all bad. Sometimes on TV they are -- but not on our show."
Katie Lowes: "The basis for me playing this character was her moral compass. How could she go into a job with her role model and end-all, be-all, and then watch her do what she did. And then do something that I so don't believe in. I do, in my gut, believe after Episode 1 that Olivia Pope is an amazing person, and I think Quinn is around as that moral compass. I think that that's her skill set. Every character offers a different skill set to the show, and I think her's is always measuring the client, and putting herself in their shoes and being able to tell if we're doing a good thing here or a bad thing."
Darby Stanchfield: "I get such a kick out of this with Abby -- she contradicts herself. All the characters are a little flawed. There's good and there's bad, much like life. Abby says, I think in just about every single episode, 'I don't judge.' But the first thing she does is judge everything!"
Guillermo Diaz: "I feel like Huck is Olivia's watchdog. We find out later on that she rescued him. He's ex-CIA, and he was in a really bad spot, and she saves him and brings him into her office. Huck is very protective of her, and he's a very 'by any means necessary' type of guy."
Columbus Short: "You guys haven't seen anything yet. [Episodes] 102 and 103 were just like ... if you're a horny guy, you just got blue balls, OK? It like 'ch-ch-ch' to the top of the rollercoaster, and buckle up because Episode 104 is going down. [Laughs.] In a world where lawmakers and politicians are so corrupt, and what is their moral compass, I think it's all relative to each character. Harrison seeing the hypocritical behavior of these politicians, his morals lie with Olivia Pope. Does he question it? Yeah. His moral compass is dictated by the job, but there's also a loyalty to Olivia Pope herself."
On setting a show partially in the Oval Office:
Shonda Rhimes: "I sat down with the writers on the first day and I was like, 'We're not trying to imitate 'The West Wing.'' This show is not 'The West Wing' and it's not supposed to be 'The West Wing.' So we just sort of threw that out the window and said, 'We have to do it the way we want to do it.' And I've seen every single episode of 'The West Wing' at least five times, so ... I did know what we were facing."
More scoop on upcoming episodes:
Shonda Rhimes: "We have a dictator who comes and says his wife has been kidnapped in the United States, and he wants Olivia to get her back safely without getting police involved. We did a plane crash, which was really interesting for us, because that's a very different kind of crisis, and how they handle that is really interesting. Episode 6 is a flashback episode to the campaign. You get to discover some roots to many of the mysteries that have been building up, and also you get to see Olivia and Fitz, how they get together for the first time. And then Episode 7 [the Season 1 finale}, I can't tell you about. [Laughs.]"
Tell us: Are you excited for "Scandal"?
"Scandal" premieres Thurs., Apr. 5, 10 p.m. ET on ABC.
Related
Popular in the Community