Everything is definitely not handled. 
In case you thought "Scandal" might be slowing down in its old age (isn't Season 6 about the time when shows air a musical episode, or something?), Thursday night's season premiere propelled the series into a brave new world with a slew of bombshell twists that left Olivia Pope and her gladiators reeling. 
SPOILER ALERT: Do not read ahead if you have not watched the Season 6 premiere of "Scandal" titled "Survival of the Fittest."
The premiere, which was filmed six months ago, but aired on Thursday night due to Kerry Washington's real-life pregnancy, opened with the former first lady and forever badass Mellie Grant (Bellamy Young) losing the presidential election to Francisco Vargas (Ricardo Chavira). Much like her real-life counterpart, Hillary Clinton, Grant believed she would become the first female president, but projections of her victory were overblown by pollsters and the press.
However, Vargas' moment in the sun was short-lived when the new president-elect was assassinated during his acceptance speech, leaving his vice presidential candidate — and master manipulator — Cyrus Beene (Jeff Perry) in control of the White House. Yep, that's right. The vice president-elect likely orchestrated the murder of the PEOTUS on election night.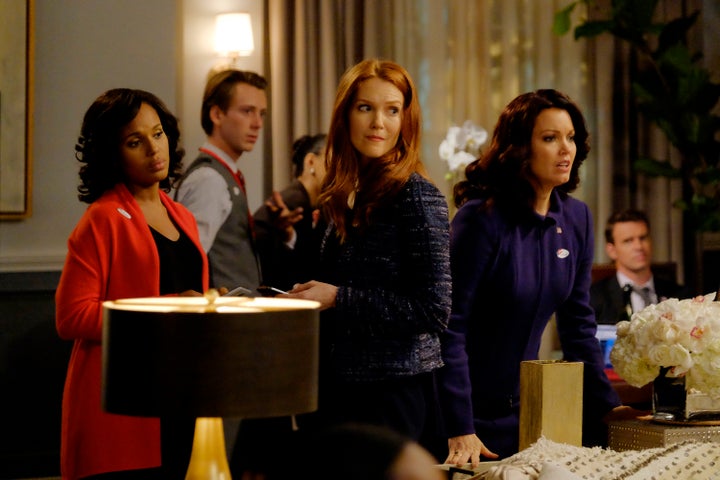 The episode was originally meant to air on the eve of Donald Trump's inauguration, but the premiere, along with the return of "Grey's Anatomy" and "How to Get Away with Murder," was pushed back a week due to a "20/20" special about the Trump family.
In retrospect, given the subject matter ― a controversial presidential candidate narrowly beating his female opponent only to be gunned down on live TV ― it was probably a wise choice to delay. 
ABC entertainment president Channing Dungey assured reporters during a TCA press tour panel earlier this month that the election results and subsequent assassination twist were a purely "fictional story" and if the series resembles our current political landscape, it's purely by coincidence. 
"Here's the thing: It is a fictional story about fictional characters in a fictional world, that very much builds off of everything we did in Season 5," Dungey said, according to TV Line. "That's an inciting incident that's about plot. Because what the episode is about is something completely different. It's about Cyrus' complicity, or not, [in his running mate's murder]. So while I feel like, 'Sure, there's a tiny bit of an eerie something,' the story we're telling is a very different story. Again, it's a fictional story in a fictional universe. And it's a great story for 'Scandal.'"
"That's a very weird similarity [to Trump/Clinton], but the similarities end there, in terms of who's a part of what party, in terms of Vargas being a Latino governor ... On the surface there are a few similarities, but really, when you look at it closely, there are not."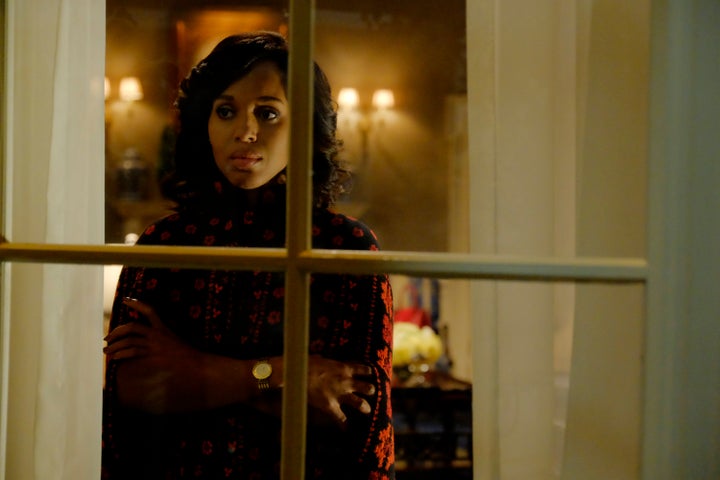 Series star Kerry Washington echoed Dungey's statements in a post-mortem interview, but also admitted that because of the outcome of the election, "Scandal" has to work harder at unintentionally mirroring reality. 
"I think it's important that people know that the episode was written a long time before the outcome of this past November. I think that's important," she told Entertainment Weekly. I don't know. It doesn't get lost on me every day that for years the culture of this show was that the things we say and do are outrageous and unfathomable, and now we're having to change plot lines and reconsider air dates because it's too close to what's actually happening or could be misconstrued as such. That is a reality that I am consistently trying to wrap my head around."
"Scandal" airs Thursdays at 9 p.m. on ABC.
REAL LIFE. REAL NEWS. REAL VOICES.
Help us tell more of the stories that matter from voices that too often remain unheard.
BEFORE YOU GO
PHOTO GALLERY
Kristen Bell Red Carpet Photos