Ever since Season 2 of "Scandal" ended with Olivia Pope (Kerry Washington) running straight into a media frenzy over her affair with President Fitzgerald Grant (Tony Goldwyn), we've been counting down the days until the chic crisis manager made her fall TV return. (These summer reality show stars' wild style can't even compare to Olivia's minimalist sensibility.)
Thanks to this teaser clip, we can expect the head gladiator to remain true to her signature all-white attire. But not everything is as it seems, according to costume designer Lyn Paolo. Read on as Paolo explains the backstory to one Olivia's most memorable style moments, what it takes to suit up her fellow gladiators and more.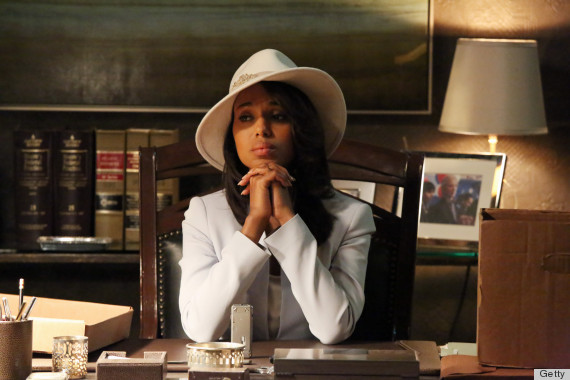 In last season's finale, Assistant U.S. Attorney David Rosen (Joshua Malina) left Olivia a box full of evidence pertaining to the mole. But it was the white hat inside that really caught our attention. She was giving us Diana Ross in "Mahoghany" once she put it on.
I wanted it to have that sort of late '70s/early '80s wide-brim fedora style. We found a company in LA who custom-made the hat for us. It was a kind of lot of work to get the brim just right. It took three or four times to get it adjusted with the lighting and framing of Kerry's face. It wasn't what I initially had in mind, though I really like it now. It's really become an iconic piece, and in fact, Shonda [Rhimes] has a copy of the hat in her office.
Olivia pops up in the Season 3 sneak peek sporting yet another standout white piece, a Burberry Prorsum Double Duchess Caped Trench Coat from the Spring 2013 collection. How did you choose that look?
That was a tricky moment because obviously with the last season, everybody now knows Olivia's name and she's out there tied to the president. And in the scene that they used for the promo, she sees the president and I just wanted it to feel as though she was in a suit of armor. She was so hurt and conflicted, and she needed to know who put her name out there. Their relationship had ended somewhat badly and we didn't know if they were going to get back together. So I wanted her to be completely closed off. And the way Shonda refers to the cast as "gladiators in suits," I just felt that it needed to be stronger than a suit this time with all of the emotions in her.
We actually talked at length about whether she should wear the coat open but I said, "No, let's keep it closed." It had that cape... I actually saw it in a magazine and literally said, "We had to have that coat!" We shipped it in from London because we couldn't find it in the States.
I thought that being in complete white again -- even the purse is white -- and you can see from the body language and how buttoned-up she is, that this is a very difficult moment for her.
How does Kerry Washington keep all those whites so pristine?
Kerry Washington is a magician. And before I knew her on the pilot, I was really worried that we should have double or triple of everything just in case something happened. And now it doesn't even occur to me [laughs]. I know how she does it… she sort of floats through things. She never seems to get even the tiniest speck of dirt on herself. Unlike myself, I'm sitting here in a white shirt and I'm already grimy. She manages to wear things for 18 hours a day and she always looks brand new.
I feel as though Olivia Pope is living in Kerry's world. Her Vanity Fair cover white bathing suit was actually an homage to Olivia. But Kerry has an amazing style and it's current. She's worked very hard to develop relationships with designers and she has an innate sense of style. I think the title is well-deserved, and I don't feel any pressure because I dress Olivia Pope and Olivia Pope doesn't get very stressed. So I'm feeling pretty good.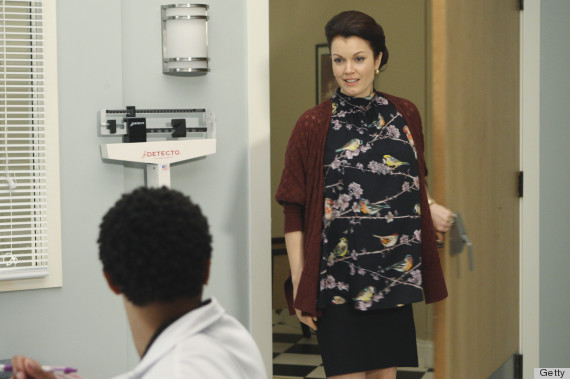 Olivia's style always seems to overshadow Melody "Mellie" Grant's (Bellamy Young), but her Season 2 maternity fashion definitely stole the spotlight.
It was challenging finding first lady pregnancy clothes because there's not a lot out there. We took things that weren't pregnancy clothes, altered them and turned them into pregnancy clothes so that she would be a bit more conservative, yet fashion-forward. There was Tory Burch, Armani, Prada and Karen Millen. But after she had the baby, it was right back to the shift dresses. We did do a little padding so that the she looked like she didn't jump right back into her clothes.
I think there will be a really big style evolution for Melody this season. As she grows stronger, her costumes will be a bit stronger, too.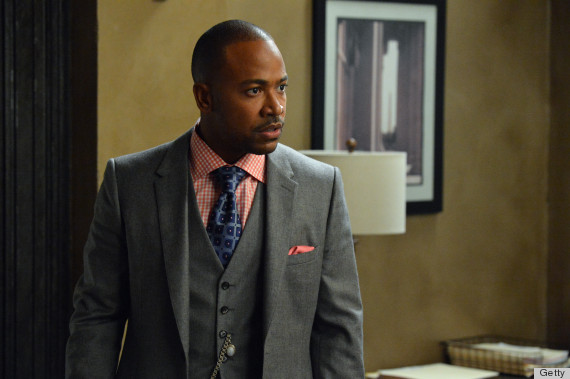 Harrison Wright (Columbus Short) is one well-dressed man! His suit and tie combinations are impeccable. Where do you seek inspiration for his style?
I'm a huge fan of how British men dress, so when I'm in London I love how all the men are walking around and they're not afraid of color, texture and accessories. That's who I base Harrison on. I see a little of it here in New York, but you just don't see it as much except maybe a little in the Wall Street area. But in London even the young men when they're going out for drinks with their friends will get dressed like that. What's wrong with wearing a pink shirt? It's sort of unfortunate that people aren't as daring here.
I love Paul Smith and all of their suiting. He wears a lot of it. And I'm madly in love with the Brooks Brothers line and how they're reinventing [the brand].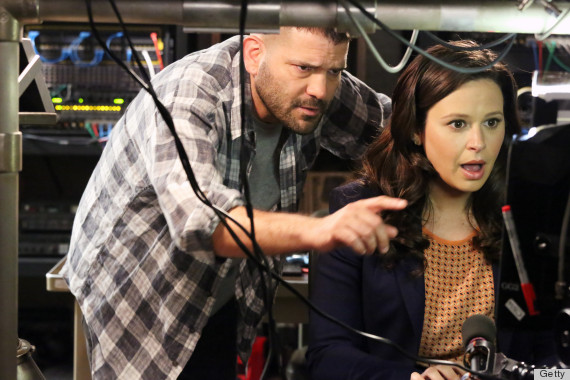 Huck, the brooding hacker and former CIA agent, is on the complete opposite end of the style spectrum with his casual attire. Do you find it challenging to style this character?
Huck is so wound up internally and emotionally that my initial perception of the character with Shonda (even before I met Guillermo Diaz) is that I wanted him to be grunge-ified. I don't think Huck cares about what he wears but I didn't want him to look like he didn't care. So I chose all these pieces where we washed and aged everything. I just throw it all together and I really don't pay attention to color. Generally nothing matches for him. He'll wear colors that don't work together but that sticks to how he's such a damaged gentleman.
There's no doubt that "Scandal" made an impact on the runways, but did you find any inspiration in the Spring 2014 collections for the TV show?
I was in love with Jason Wu, and I went behind the scenes to Brooks Brothers to see what they were doing. So that's why I'm kind of in love with them. I have to say that in Paris, and I only watched on video, but boy the Dior event was stunning! I'm loving what they did. I'm sort of hopeful. I already know that there will be Dior moments for sure on "Scandal." And some of our old friends, too. A lot of Ralph Lauren, and we're sticking with our Prada purse. There's actually a storyline about the Prada purse. I just hope that the fans love what we do this season.
Is there a designer that you'd love to work with more?
We are incorporating Alexander McQueen this year because that's actually one of my favorite designers. I wear a lot of their clothing. I hope to have a closer relationship with them going forward. But it changes each year depending on what everybody is doing. One year it might be perfect for Olivia, Melody or Abby but another season it'll change completely. I love what Prada did with all of the gingham this year personally, but it won't work on the show.
It's a tricky balance between fashion and sticking to the script because I would love to have a show where I can just buy or borrow whatever was on the runway and do sort of a "Sex and the City" kind of show, but that's not what we're doing. So we have to remain true to the fact that Olivia does what she does for a living, as well as the rest of the people on the show.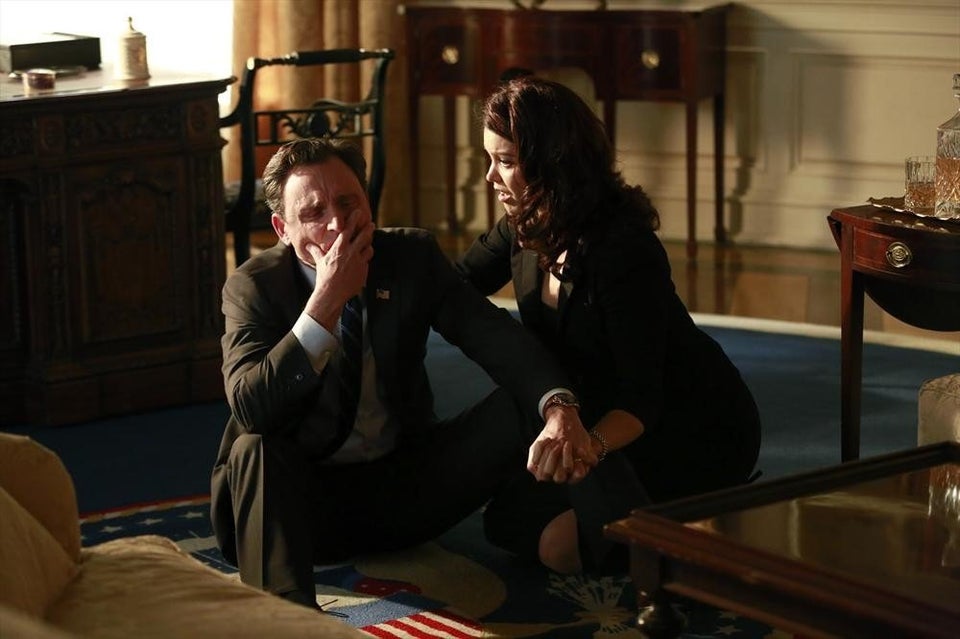 'Scandal'
Related