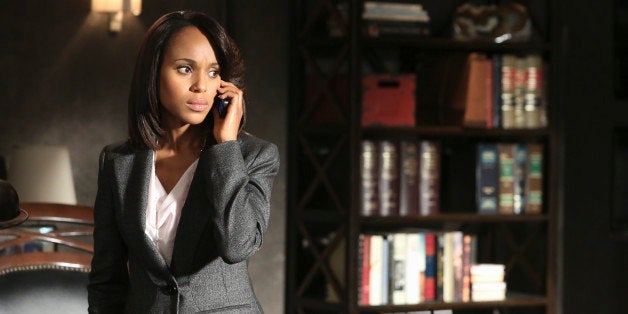 "Scandal" has some daddy issues! Warning: Spoilers Ahead
In another episode filled with flashbacks, viewers learned more information about the Gladiators and their history with one another, this time focusing on Olivia and Huck's past.
Among the many things gathered from this episode, it was revealed that Huck (played by Guillermo Diaz) had once saved Olivia (Kerry Washington) from a brutal mugging, but the most shocking part was when he learns that Olivia's father is the one responsible for taking his family away. The big reveal led Huck to attack the one person who he has sworn to protect against anything: Olivia.
The moment when he attacks her and throws her up against the car, I don't think he knew what he was doing until a couple of seconds after it happened. I think there is some embarrassment now, and he's thinking, "What the hell have I done?!" But at the same time, part of him feels like she deserves it a bit because that was a pretty big secret to keep from Huck -- that her father was the one that put him in this hole that kept him from seeing his wife and child again.
Huck's storyline wasn't the only one with major developments. Jake, played by Scott Foley, was revealed to be alive -- though barely -- when he was dropped on Olivia's doorstep bruised and battered within an inch of his life.
The lightning fast show is only in its second episode of the season, but has already been packed with plot twists and shocking moments, and according to TV Guide's interview with Foley, has no intention of slowing down.
"I got to say this arc they've taken with Jake, the transformation of who he was and who he is becoming now is so interesting," Foley told TV Guide. "It's a little different from what everyone else is going through. Huck's gone through it, and we've seen the flashbacks, but not in the same aspect with regards to the Olivia relationship. I think it's really interesting. Huck was reprogrammed more than Jake. Jake was more punished than reprogrammed. Because of Olivia, because of her relationship with the president, they were able to get him out on time. Any real long-term damage maybe they'll deal with something down the road. Like dirt! He can't be around dirt. [Laughs] No, we don't see any repercussions from that other than wounds and battle scars from the physical trauma they would constantly put him through on a daily basis."
For more insight into the show and to see Foley and Diaz talk about their characters and the love triangle brewing, click here.
"Scandal" airs Thursdays at 10pm EST on ABC.
REAL LIFE. REAL NEWS. REAL VOICES.
Help us tell more of the stories that matter from voices that too often remain unheard.
BEFORE YOU GO
PHOTO GALLERY
Critics Picks 2013-2014