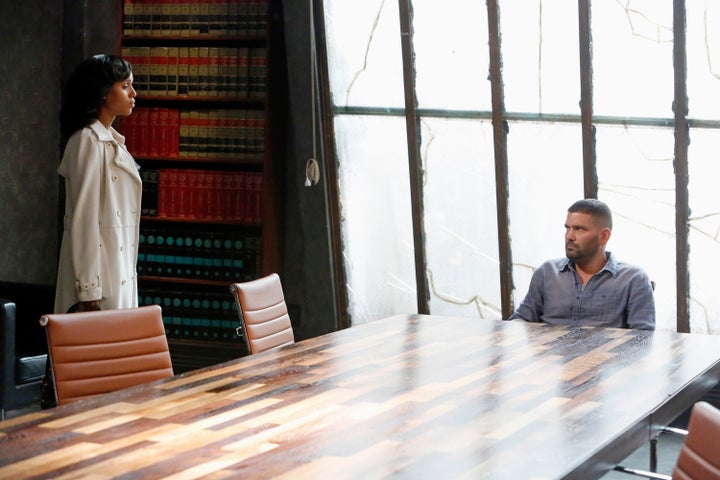 In the midseason finale of ABC's "Scandal," viewers who had been shocked to find out that Huck (Guillermo Diaz) was behind the assassination attempt on President Grant (Tony Goldwyn) learned that it was actually all a set-up.
What will Olivia Pope & Associates do? Can they clear Huck's name? Why did Becky do it?
What can we expect in the winter premiere?
There is so much going on at this point. One thing I can say is there are some really, really dramatic scenes and people are going to want to close their eyes. It's really intense.
Huck has been taken under the Patriot Act, which was the cliffhanger of the last episode, so I think at this point in the series, Olivia Pope [Kerry Washington] and company is pulling together -- even though there are some tensions -- to try to help him. Although he's been taken under the Patriot Act, anything could happen. We're still digging to figure out who hired Becky so it gets further into that.
A lot of stuff happens in this episode. It isn't one of those episodes where there is a setup for the next thing -- a lot of action happens. It's scary, intense and you're going to want to close your eyes.
What's next for David [Joshua Malina] and Abby after that sex scene in the winter finale?
[Laughs.] Well, they are by no means over. It continues to be really complicated and there is still high tension between the two of them. It's really interesting because not a single word was passed between the two of them, so you don't really know where they stand.
Actually, we did a table read and that scene wasn't in there and then Shonda [Rhimes, creator of "Scandal"] said, "I think we need this scene." She wrote it in one night and she sent it to me and I had a million questions. After we got done shooting it, I said to her, "To me, that was like 'Mona Lisa' writing. It was like a 'Mona Lisa' painting where everybody sees something different." We did it exactly how she wrote -- slap, fingers in the mouth, everything. So what's ahead for Abby and David? Anything is possible because so many people saw different things -- some people think she stole the voting card from him or that she raped him. From what we [recently] shot, what happens with David and Abby is incredibly unpredictable. My jaw was on the floor when we got that script. I was like, "Are you kidding me?" I had no idea, no clue [what was going to happen].
People have really been wanting Harrison [Columbus Short] to tell Abby the truth about everything with David and all. Do you want that to happen?
[Laughs.] Columbus and I talk about it all the time. He's like, "Darbs! What's going to happen when Abby finds out?" I think it's interesting because Harrison is the only one that Abby really trusts in terms of men in her life. He's the one she goes to. She asks him questions when she's ignorant about something. It's been really sweet the way the writers have developed their brother-sister relationship. So all I can say is that if that ever happens, Abby will blow her top. It would inconceivable to her to be betrayed by the one guy that she trusts. It's definitely possible.
There are some fans who think Abby and Harrison should be together.
I've heard that! It's interesting because so far, for me, the connection for them has been so much more of a sibling kind of relationship and a best bud. We're out in the field; we're camping out in a car; we're dealing with this and that; we're putting a little act together to get keys to break into an apartment ... So I wouldn't say the tension has gone there yet, but with Shonda Rhimes, anything's possible and we all know that. We understand that anybody could hook up. It's just one of those shows.
Shonda's history definitely does indicate that.
Totally. We've all watched enough "Grey's Anatomy." We know. [Laughs.]
"Scandal" airs returns on January 10 and airs Thursdays at 10 p.m. EST on ABC.
PHOTO GALLERY
Midseason 2012-2013
REAL LIFE. REAL NEWS. REAL VOICES.
Help us tell more of the stories that matter from voices that too often remain unheard.
BEFORE YOU GO