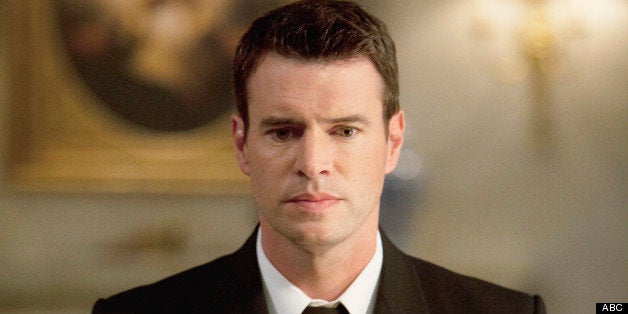 "I'm thrilled to join such a talented, enthusiastic and professional group of people," Foley said in a statement. "Shonda and company have created a troupe of layered complex characters and to be able to be part of that is both exciting and humbling."
Last seen being thrown into the solitary confinement hole that drove Huck (Guillermo Diaz) insane, Foley's character, Jake Ballard, spent most of Season 2 romancing and surveilling Olivia Pope (Kerry Washington) on the orders of Rowan (Joe Morton), the head of covert government agency B613 and -- as was revealed in the closing moments of the Season 2 finale -- Olivia's father.
Since Foley's been tapped as a regular next season, we're guessing he won't spend too much time in that hole -- but will he be the same man once he comes out, or will he be a shell of his former self, as Huck was?
Jake clearly cares about Olivia, enough to disobey direct orders to save her life, and before the Season 2 finale, Foley told HuffPost TV that Jake has likely been hoping for a way out of B613. "Everybody who we know who's been in B613, from Huck to Charlie [George Newbern], they all seem to want out, they all seem to be in a position where they don't like their job. And maybe Jake's in the same position -- if they want out, why wouldn't he? They seem like they loved their jobs at one point," he observed. "I think Jake has, to a degree, taken matters into his own hands in regards to what both Fitz and Rowan have asked him to do, and I think we'll see the consequences for that, and that may or may not end Jake as we know him."
As for his hopes for Season 3, Foley admitted that he would love to see a showdown between Jake and the other B613 agent who cares for Olivia -- Huck. "I think that'd be interesting, to have the two of them sit down and hash it out. Who loves Olivia more, Huck or Jake? Fitz [Tony Goldwyn] needs to go back to his wife and calm down," he laughed.
Are you looking forward to seeing Foley return to "Scandal" next season?
PHOTO GALLERY
Summer TV Guide
Calling all HuffPost superfans!
Sign up for membership to become a founding member and help shape HuffPost's next chapter
BEFORE YOU GO