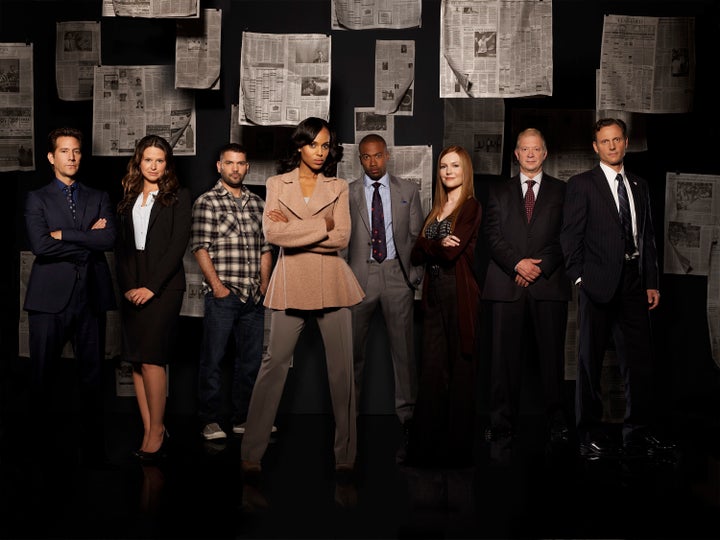 After winning the gold medal for one of her races at the London Olympics, runner Allyson Felix name-dropped ABC's "Scandal" as one of her favorite shows in a TV interview and was instantly Twitter-invited to their L.A. set by the show's cast. But will creator Shonda Rhimes be writing her a part for Season 2 (premieres Thurs., Sept. 27, 10 p.m. ET on ABC)?
I hit the set today to chat with the cast, and in between oohing and aahing over Felix and her three gold medals on display, they teased a few ideas for what they'd have her play on the show, then gave scoop on some confirmed guest stars for "Scandal" Season 2.
"We were all saying how great it would be if Allyson Felix could do some sort of guest spot on the show," Guillermo Diaz (who plays Huck) said. "She could totally play Kerry [Washington]'s sister!"
"Allyson Felix is amazing ... I think we would look good together," star Columbus Short (who plays Harrison Wright) said.
"She would be a great love interest on the show for somebody," Darby Stanchfield (Abby Whelan) agreed. "And we have these great walk-and-talks ... we do our 'Scandal' pace, but we could do run-and-talks or sprint-and-talks."
In addition to hanging out with the cast, we know Felix also met with boss-lady Shonda Rhimes, who tweeted:
But until Rhimes writes it, it's all just talk. Here are some amazing guest stars who are actually confirmed for "Scandal" Season 2 ...
"Ann Cusack is playing a national security agency chief this season," said Jeff Perry who plays Cyrus Beene, the crafty chief of staff to President Fitzgerald Grant (Tony Goldwyn). Cusack tweeted about the guest spot for Episode 3 (and possibly beyond) earlier this week:
Also in Episode 3? "We're having a great guy named Norm Lewis who's on Broadway right now in Porgy and Bess," teased Bellamy Young, who is now a series regular playing Mellie Grant, the equally crafty and sometimes scorned First Lady. "I've known Norm forever because I was a singer on Broadway in my last life, and he's coming to do an incredible arc, like Kerry's character's ex-boyfriend kind of thing ... juicy wonderment. I can't wait for that."
(Fun fact: Lewis' Tony-nominated Porgy and Bess role on Broadway is opposite a Shondaland alum, former "Private Practice" star Audra McDonald.)
"And Patrick Fischler is on set right now doing a part that you will ... he's always amazing, but ... it couldn't be a more perfect part for him," Young continued. "And we have Lorraine Toussaint in Episode 2 -- I got to sit on the sofa with her when she had to go from zero to sobbing, over and over again. She's playing someone's wife ... a lot of sad wives on this show! [Laughs.] We've also got Gregg Henry on now as a recurring -- love."
Rhimes has also pulled another Shondaland regular into the "Scandal" universe. "Steven Bailey. He was [Joe] the bartender on 'Grey's Anatomy,' and he's coming to play with us," Stanchfield dished. "And he and I went to high school together! One of the things I adore about Shonda is her loyalty -- she completely promotes from within. When she loves your talent, she nurtures it in a big way."
"I saw Allison Janney recently," Malina said with a laugh. "I'm glad you reminded me. I've gotta tell Shonda because Allison's a big fan of the show and I said, 'Well? Would you come do an episode?' And she was like, 'Hell yeah I would!' That would be a good get! And she would fit, too -- I could see it. It's just a possibility, but she's a fan, so I'm going to try to talk to Shonda and make it happen."
So "Scandal" fans, who would you like to see pop up in a juicy Season 2 role?
Popular in the Community