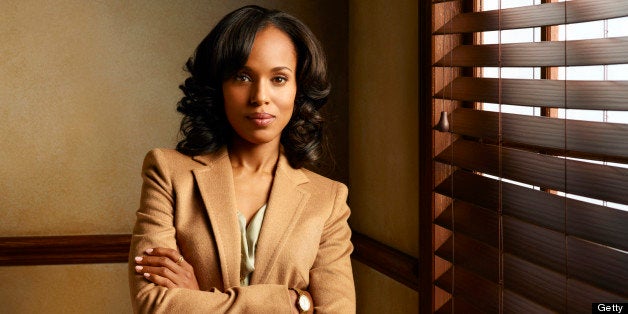 "Scandal" Season 3 is still almost two months away from returning (Oct. 3 at 10 p.m. ET on ABC), and creator Shonda Rhimes remains tight-lipped on what fans can expect from the season premiere -- but she has dropped a couple of hints in various interviews for "Scandal" addicts to ponder in the meantime.
While some viewers aren't thrilled with the idea that Scott Foley has been made a regular for Season 3 -- meaning a lot more Jake Ballard in Olivia's future -- Rhimes told HuffPost TV that she's not too concerned about the fan hate for his character: "I really think it's kind of wonderful because they don't know who he is yet. He's getting in the way of their Fitz-Liv love ... but it's his job. Also, I've been stalking Scott Foley for a very, very long time."
She reiterated that point to TV Guide, admitting, "Jake definitely has a role to play this season that I think is going to be very interesting. At the end of last season, we found out that he's not necessarily a bad guy, although on this show, bad is very relative. We're going to get to see different sides of him as well this season and get to know a little bit more about him."
As for Olivia's other man, we have to wonder, now that Fitz's (Tony Goldwyn) affair is out in the open, will it hurt his chances of reelection? Rhimes told TV Guide that it's not a pressing concern -- at least in the beginning of Season 3: "In Season 3A, the democrats will be having their primary election at some point, so in Season 3B, we will face the election at some point, but I don't know if that's a relevant question at this point." As for a potential Republican challenger for the nomination, Rhimes said, "No comment."
Rhimes was a little less cagey about the evolution of Quinn (Katie Lowes) from meek and mild to a torture pro. "She discovered that she's far more capable than she ever thought she was and she's rocking some new skills as far as she's concerned, so she's enjoying herself. Whether or not the rest of her colleagues at OPA are going to enjoy her in this way is a little bit different. Whether or not Huck is going to be in an emotional position to deal with where she is is also a question," Rhimes teased to TV Guide, telling The Hollywood Reporter, "Does she see it as a dark path? Perhaps not. Is it going to get dangerous? You have to watch and see."
Rhimes also told THR that David (Josh Malina) will find himself "tugged in many directions" in Season 3, now that he's positioned himself as the US attorney. "David brought himself back in a much bigger way. We have to remember that he is beholden to the White House for that position. He has that going for him but he also does still have some allegiance and care for the people at OPA as evidenced by the hat that he gave Olivia," she previewed. "He did some dark things to get where he is now and he opened a door that perhaps he can't close."
Season 2 ended with one mother -- or more accurately, father -- of a cliffhanger, and Rhimes told THR that Season 3 will definitely explore the dynamic between Olivia (Kerry Washington) and her enigmatic dad, Rowan (Joe Morton). "It has a huge impact for him to be back in her life. I love that we left the end of last season with a billion questions to be answered about her father," she said. "All you know is that man is her dad; you don't know what the relationship is or what's going on with them and we get to explore that. It's going to be great."
Rhimes said that she couldn't comment on the overarching theme of Season 3 yet, but recently told HuffPost TV that fans should continue to expect the unexpected, in true "Scandal" fashion: "We're going to dive into a lot of things at the beginning of Season 3. The first episode, much like all of our other episodes, does that thing where you think the show is going to be about this and then they answer something very quickly and then they move onto something else."
"Scandal" returns to ABC on Thursday, Oct. 3 at 10 p.m. ET.
PHOTO GALLERY
Biggest Celebrity Scandals Of The Decade
Calling all HuffPost superfans!
Sign up for membership to become a founding member and help shape HuffPost's next chapter