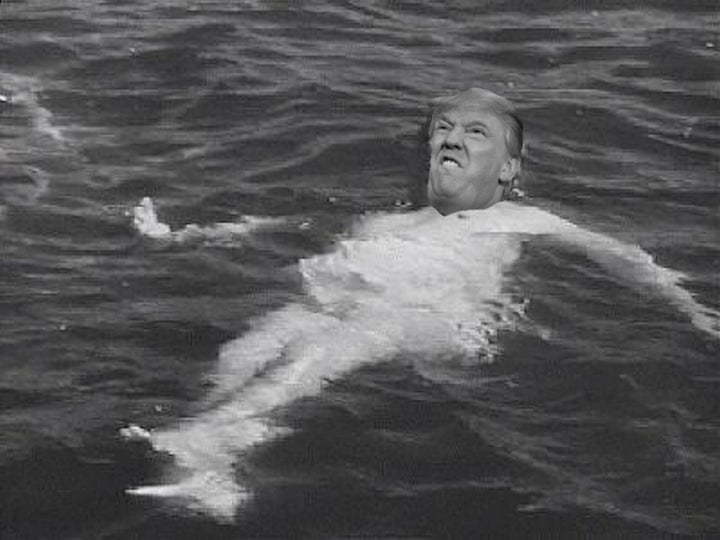 In his first appearance as the "president's" new sycophant-in-chief, Anthony Scaramucci said of Donald Trump : "I've seen this guy throw a dead spiral through a tire. I've seen him at Madison Square Garden with a topcoat on. He's standing in the key; he's hitting foul shots and swishing them, all right?"
How long will it be before Scaramucci tells us that his Dear Leader, outdid Kim Jong Il who, North Koreans are told, shot a 38-under-par 34 golf round, including 5 holes-in-one, the first time he ever played golf?
The Mooch—or should we, in keeping with Sean Spicer's nickname, "Spicy," call him "Scary"?— will also be expected to outdo for Trump the story of Dear Leader's birth atop a sacred mountain with a new star created and winter turning to spring.
And Dear Leader Kim is said never to have used a toilet because his body was so well calibrated he didn't urinate or defecate. Trump will surely demand that Scaramucci come up with a story about him that will outdo that.
And then there is the story that China's "Great Helmsman" swam across the Yangtze at age 72. Mao Zedong wrote a poem about it and other of his amazing accomplishments:
I have just drunk the waters of Changsha
And come to eat the fish of Wuchang.
Now I am swimming across the great Yangtze, ...
A bridge will fly to span the north and south,
Turning a deep chasm into a thoroughfare;
Walls of stone will stand upstream to the west
To hold back Wushan's clouds and rain
Till a smooth lake rises in the narrow gorges.
The mountain goddess if she is still there
Will marvel at a world so changed.
Surely Scaramucci's Great Helmsman will expect a better story about him. Maybe that Great Helmsman Trump swam across the Atlantic—what's that you say? the Pacific's bigger? Who knew?—the Pacific ... both ways ... in two hours ... and then played an 18-hole golf course and got a score of 18: 18 holes-in-one!
Related
Popular in the Community