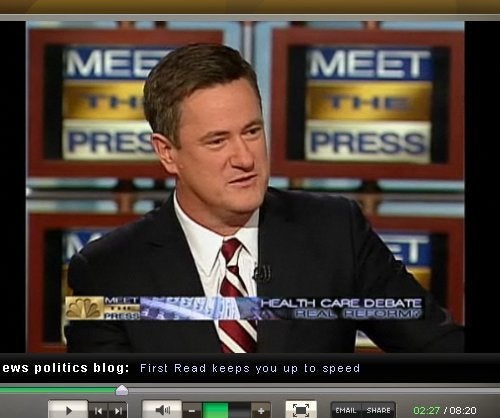 WASHINGTON -- TV's Joe Scarborough, who today dismissed Sarah Palin as a symbol of "anti-intellectualism" with a "dopey dream" of being president, will help headline the launch next month of a new national group dedicated to restoring civility in politics.

Scarborough, a Republican, former Florida congressman and host of "Morning Joe" on MSNBC, will participate in the debut event of "No Labels" on December 13 at Columbia University in New York.

New York Mayor Michael Bloomberg is also expected to take part, along with an array of other self-described centrists, including retiring Sen. Evan Bayh (D-Ind.), Sen. Joe Lieberman, (I-Conn.), former Rep. Tom Davis (R-Va.), Rep. Chris Shays (R-Conn), Los Angeles's Democratic Mayor Antonio Villaraigosa, Sen. Deb Stabenow (D-Mich.), former Gov. Christie Todd Whitman (R-N.J.) and former Rep. Sherwood Boehlert (R-N.Y.)

Mika Brzezinski, Scarborough's co-host, will moderate the panel he is on.

Nancy Jacobson, a leading Democratic fundraiser and wife of Clinton-era pollster Mark Penn, launched "No Labels" last year with major advice coming from Mark McKinnon, who was media advisor to George W. Bush in 2000 and Sen. John McCain in 2008.

The message of the group, encapsulated in a "Declaration" written by McKinnon, is a plea for calm, reason and cooperation. "We are not labels, we are people... We believe hyper-partisanship is destroying our politics and paralyzing our ability to govern... We may disagree on issues, but we do so with civility and mutual respect....

"We have a crisis of governance - a crisis that compels us to work together to move America forward... We must put our labels aside, and put the issues and what's best for the nation first."

Such anti-partisan yearnings are common these days, but what makes "No Labels" potentially significant is its organizational ambition and big-buck backers. The group hopes to set up affiliates in all 50 states and offer support for fellow beleaguered centrists. Jacobson is a prodigious fundraiser with wide contacts.

More important, they group could serve as a natural piece of infrastructure for any independent, centrist candidacy for president.

Organizers stress that the group is "neither a third party nor a stalking horse for any presidential candidate or other candidates."

But Bloomberg's interest in the possibility of an independent bid is well known, and some of the new group's backers are among those advising and encouraging the New York mayor to consider it.

As for Scarborough, he heatedly denies any interest in running -- as a vice presidential candidate on a theoretical Bloomberg ticket.

But he is teasingly vague about what he might consider doing on his own. He avoided a direct answer to the question earlier this month at Harvard, saying only: "There are so many issues where America is united... I think we're coming up on a very historic time. I'm very happy where I am right now, but you never know."

One thing Scarborough knows: he's outraged by Palin's attacks on the experience and bona fides of two Republican presidents, Ronald Reagan and George H.W. Bush. He indignantly called her out in a Politico website column. "This is one Republican," he wrote acidly," who would prefer that the former half-governor promote her reality shows and hawk her books without demeaning the reputations of Presidents Reagan and Bush."

What would happen if Palin ends up the GOP nominee? As Scarborough says, "you never know."

(Huffington Post senior political editor Howard Fineman is also an MSNBC analyst)

Calling all HuffPost superfans!
Sign up for membership to become a founding member and help shape HuffPost's next chapter