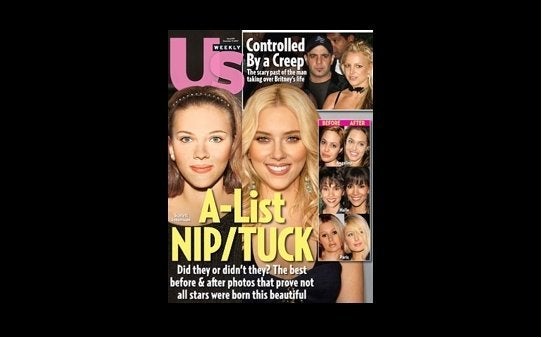 Next week's Us Weekly hits newsstands (in New York, at least) today with a cover story on the ever-present phenomenon of celebrities who undergo plastic surgery. And their cover image, included below, shows two pictures of sex symbol and Woody Allen-muse Scarlett Johansson — one when she was younger, the other more current — in what appear to be nose job before/after shots.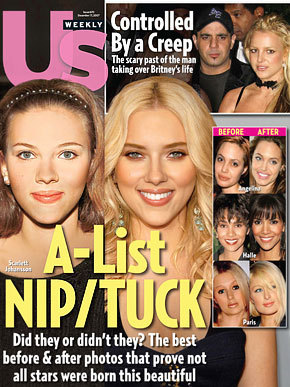 Only problem? ScarJo tells OK! magazine she's never had any work done! Her rep called the story "an outrageous and defamatory fabrication lacking any conceivable basis or proof, despite vehement denials by Ms. Johansson prior to publication," and attributed the disparity to differences in age, make-up, and lighting between the two photos. Scarlett herself told OK!, "I have always been straightforward with the press regarding my body image and I am very concerned that my fans (and perhaps even my employers) will feel mislead [sic]."
So what's a girl to do? SUE! "I feel compelled to take immediate legal action against US Weekly," she told OK!. Threatening legal action before the magazine even hits newsstands...now that takes guts — or, you know, 100% confidence that you've never had a nose job.
Popular in the Community