The "Marriage Story" star, who tied the knot for the third time in 2020, told Gwyneth Paltrow what she'd learned in her most recent relationship with husband Colin Jost.
"When we first started seeing each other, I would never have probably been ready for a relationship like the one that I have with Colin at different times in my life," Johansson said, explaining that she "wasn't comfortable setting my own boundaries."
"I didn't know not only what I wanted, but what I needed from somebody else," she continued, adding that she realized that "there are certain fundamental things in your own personality I needed to share with the other person."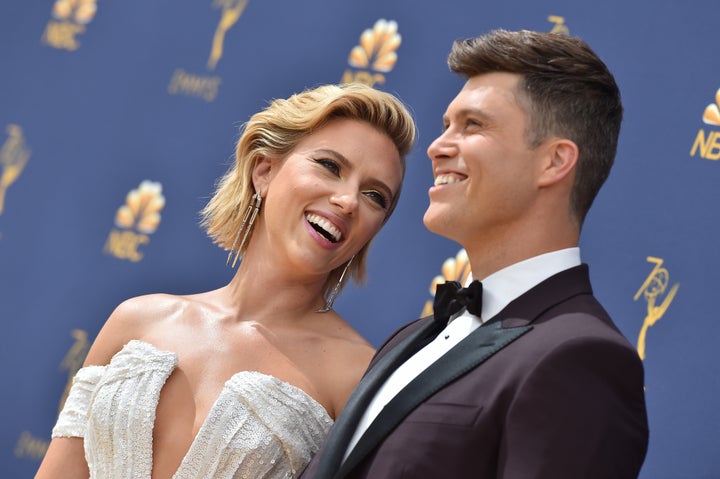 "I never realized, oh, it's really important for me — like, I need to be with a compassionate person. That's like a fundamental characteristic that has to be there," the actor said with a laugh.
"I think that understanding what those fundamental things are that you need in a partner is a must for longevity," she said. "Because all the rest of it's hard, and there's gonna be disagreements or ups and downs, or you're working on different things at different times... But I think identifying those things was a game changer for me."
Paltrow praised Johansson's advice as "very wise" because, as she pointed out, people aren't always taught to "think about those fundamental qualities you absolutely need — like the non-negotiables."
Johansson agreed, saying: "It's not the sexiest thing to examine those fundamental characteristics that are a necessity for you, but I think you know, that's why it worked with Colin and I that time. I was finally able to step back and actually respect myself enough to know what those things were and be OK with it. It was a life lesson."
Johansson and the "A Very Punchable Face" actor got engaged in 2019 and tied the knot in October 2020.
She was previously married to journalist Romain Dauriac and fellow actor Ryan Reynolds, whom she dubbed "a good guy" during the podcast interview.
Popular in the Community