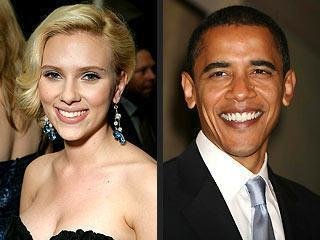 She e-mailed him after some of the Democratic debates, offering her thoughts on his messages and performance. "After the silliness of the last ABC debate," she says of the highly criticized event co-hosted by Charles Gibson and George Stephanopoulos, she wrote to congratulate him on "holding his ground."
His replies have been thoughtful, she says, more than a brief line or two; on the ABC debate, he responded that the questioning was "difficult" and he was being pounded on "one silly question after another."
Johansson is somewhat shocked that he keeps up their back-and-forth correspondence. "You'd imagine that someone like the senator who is constantly traveling and constantly 'on' -- how can he return these personal e-mails?" she asks. "But he does, and in his off-time I know he also calls people who have donated the minimum to thank them. Nobody sees it, nobody talks about it, but it's incredible." She adds, "I feel like I'm supporting someone, and having a personal dialogue with them, and it's amazing."
Calling all HuffPost superfans!
Sign up for membership to become a founding member and help shape HuffPost's next chapter