Scarlett has a formidable mother. Famous in several circles and my bet is that even before Scarlett's mother was famous she was formidable.
Her mother is small. No, she is petite. Petite and formidable.
Artist Scarlett Rouge's mother is Michele Lamy, wife, muse and business partner of fashion designer Rick Owens. Michele had a name and a following long before Rick Owens became a name and a "brand" and was, at just a tad over five feet tall and less than 100 pounds, a force of to be reckoned with. Like that other French sparrow, Edith Piaf, Michele has the soul of a true artist. She's also, in her daughter's word, a visionary. Her style, personality and confident stance in life, are all uniquely her own. After a life as a lawyer, a performer and a fashion designer, she became a restaurateur creating Les Deux Cafés, the hottest, chicest and most "in" place to be in Los Angeles from the time it opened in 1996 to when she closed it in 2003 to move back to Paris. As proprietress, she charmed, beguiled and shocked every name in Hollywood. With kohled eyes and tight fitting Mortica meets Rei Kawakuba dresses, extremely high heels and henna-ed hands she greeted them all. With a kiss on both cheeks, of course. She moved a crumbling 1930's craftsman house next to a parking lot in a crummy part of Hollywood and made it glitter like a movie set throbbing with life.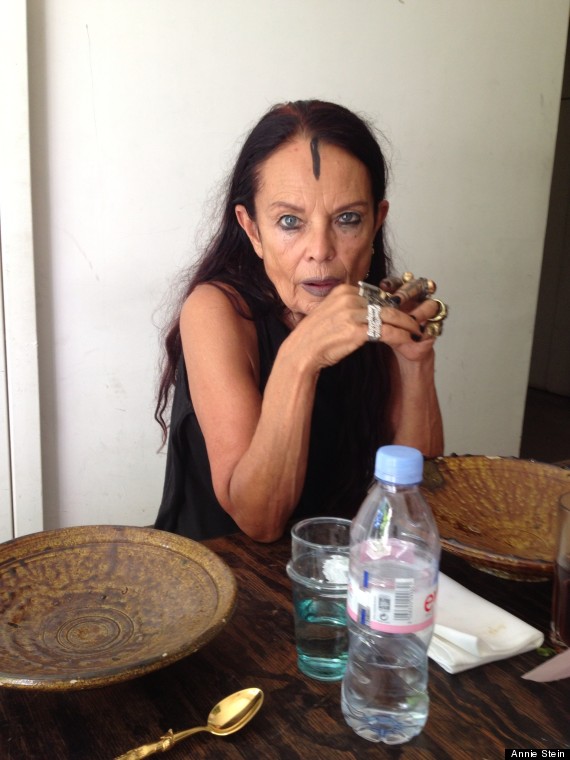 You get the idea that having this woman for a mother could be precarious at best. Let's say, again, for a vulnerable (and aren't they all) young thing, this woman could be a hard act to follow. Or individuate from. How many people do we know or celebrity stories have we heard about, where this does not turn out so well.
Before going to lunch at Michele and Rick's house, a beautiful old building in Paris's pristine 7th arrondissement, that had previously been the headquarters of the French Socialist Party, my husband suggested I might want to write a piece about Michele. I made a huff sound meaning maybe and thank you for being helpful, but instantly felt neutral. Nothing inspired me right off the bat. So much has been written in the last few years about Rick and Michele, but I was open. Open and observant as I walked up the wide concrete steps to what can only be described as a gorgeous door, massive, modern, clean wood. The Wall Street Journal weekend Magazine did an interview with Rick Owens giving a pictorial walk through the house last spring. (WSJ Mag 4/26/13). Classically oversized rooms stripped down to a minimalist dream with concrete, wood and interesting metal work. Artistry meets true beauty.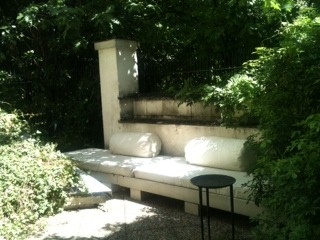 Michele greeted us looking exactly the same as she looked six years ago, the last time we were in Paris and went to the house. Except for gold a capped front tooth she was still a rail with a mass of auburn red hair wearing black from the neck down to her platformed leather boots. Fabulous and radiant, just like the house, interesting, elegant and inviting. Both she and the house have this creative energy one can feel, palpitating and ricocheting all around, tingling, alerting one to take it all in. Inspiration just waiting, begging to be plucked like the juiciest fig.
"Whoa, who painted that?" I said stopping to take in the giant painting paneled across the width of the wide salon/living room wall.
"Scarlett. That's one of Scarlett's," Michele said with a touch of pride thrown into her nonchalant tone. Scarlett, who I just said hello to in the kitchen? The Scarlett who was in Italy the last time I was here, but whom I vaguely remembered to be an artist?
Wow, well there is nothing vague about it; this Scarlett is defiantly an artist!
Just over thirty and built like her mother, she is not swathed in black from the neck down. Instead, she wears a simple coral Rick Owens dress and canvas sneakers with embroidered colonial scenes that she bought for five euro's. Scarlett has the distinction of being the only one in the family, extended included, to wear anything RO, as she calls it, in colors! Her look is clean, simple, nothing screams look at me, not even the sneakers. Her beautiful well scrubbed face has her mother's sharp features and glorious bone structure.
"WOW Scarlett" I called out heading right back into the kitchen where she was helping two handsome heavily tatooed young men, part of Michele's creative crew, set out lunch. Inspiration had arrived. And her name was Scarlett. And right behind her came her little beagle, Eating Disorder, (because he eats everything) or E.D., if you will! Like his owner/mom, he too divides his time between Paris and Los Angeles.
Scarlett Rouge was destined to be an artist. Her father is artist, Richard Newton, and Michele, as Scarlett calls her, is a visionary. As a young girl, she lived with her parent's downtown, in the midst of the LA art scene, and what she calls the "Hollywood freak show." Her nannies were either painters or drag queens. One did not exclude the other! Shortly after her parents split up Scarlett began living between Lyon, France with her aunt, and LA, where her mother's world was a constant whirlwind of bohemian and artistic activity. Scarlett says she grew up craning her neck looking up at her mother who sat high on the pedestal her daughter, at a very young age, had placed her on .While some little girls grow up wanting to be pretty to please their pretty moms, or smart to please a brainy mother, Scarlett grew up wanting to be interesting to her mother. Editorial comment here: that sure beats praying for big boobs.
Fascinated by this mother /daughter duo, I sat through lunch observing them both (while my own 17-year-old daughter sat fascinated by the tatted assistants.) No mini-me goes on there. Michele presents herself to the world as a work of art. Part of her artistic talent is in the style with which she shows herself to the world. The make up; darkly outlined eyes, brown lipstick. The gold capped teeth and henna tattooed fingers ladened with rings, thick silver sculls, and heavy set gold bands inlaid with massive stones. The form fitting black, layered in different lengths (all Rick Owens) and those very high black suede platforms boots, all create the canvas that is Michele. With wisdom and a great gold toothed smile she shows her work of art to the world. And to some she offers her open, extremely warm heart as well.
Radiant in her coral RO dress, canvas flats, and beautifully unadorned face, she is like the sun, simple, self contained, keeping all of her secrets inside.
Watching the two of them, taking in their gestures, intonations, movements, noting the subject matter each choose to talk about was a fascinating exercise. Seeing what each choose to have speak for them and reveal, how they coexist in this setting, and the dynamic that is created by them in this room, this house, this time and place in the world they both share, is what inspires me. They are two grown women one feels, who respect each other and allow each other to be completely themselves in this very creative environment.
Scarlett's painting dominates the first floor and bids one to stop and look. There's a story or two going on that makes the canvas come to life as it holds your attention. Movement shapes and characters in vivid colors. I walked in for a closer look. As much as I wanted to park myself out in the garden that was like a page, if not an entire spread, out of Architectural Digest or Elle Décor, the painting in front of me begged in-depth inspection. It felt good, exciting, and at the same time, peaceful, to be in the presence of this work.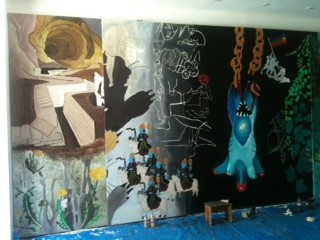 In her early 30's, Scarlett is in the process of breaking through as a talented artist and formidable woman in her own right. She's a graduate of Cal Arts, where she studied with heavy weights who helped hone her technique. Working at her moms juice bar on funky Hollywood Blvd, honed her street cred and broadened her insight into humanity, or a fragment there of. Scarlett says it educated her to the American Tourists addiction to junk food, which she did not sell, leaving her with fruit juice and healthy sandwiches to benevolently hand out nightly to the junkies, prostitutes and pimps in the neighborhood.
After lunch we traipse down the stairs and up half a block like we are a parade, Michele leading, her auburn hair curling out past her shoulders, winging out with the breeze signaling us straight ahead at a clipped, though, wobbly, pace in those platforms. We were going into see the newly acquired building where Scarlett has her temporary studio. Another large piece is in the works. It is an amazing space and Scarlett's work in progress is also amazing in scale. More stories, more figures, more characters and symbols and more colors that wake me, shake me, and soothe me.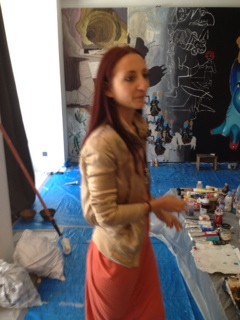 I thought I heard Michele say the title of Scarlett's new painting was "Fighting for Peace." Looking at the painting, the irony of its name made sense. The piece was for an upcoming show in Paris at the end of September, so Scarlett cut her social hour short and got right back to work. With E.D. sprawled out on the floor near her like the mascot or the muse!
As a mother of a 24-year-old and 17-year-old daughter, I know first hand how much we want them, in our heart of hearts and with all of our might, to be bigger and better in ways than we would or could ever be. We try so hard in our own way to give them enough so they can do that. When it starts to happen, when we see them emerging in their own style and fashion, and in their own timing, it is a mother's true moment of joy. Joy and pride. I feel that in Michele with Scarlett, her daughter, comrade in arms, sister in art, collaborating partner in her creative community, there is now this overflow of joy from Scarlett's work that is very real and very sweet to witness.
As for Scarlett Rouge (www.ScarlettRouge.com) she has the best of two worlds. Firmly a part of her mother's vibrant and sometimes hectic creative community for six months and then back to LA and the calm and quiet of her Mid-City studio for six months.

This past weekend I attended a lecture given by noted art collector's Susan and Michael Hort. During their talk they both praised the LA art scene and called it an exciting place and time for emerging artists. Listening to them, I thought of Scarlett and her work. How fabulous that she has one canvas shoe-ed foot in Paris and the other in LA, and that no matter where she is, she has both feet planted firmly on her own ground, emerging as her own formidable self.
ScarlettRouge.com
Upcoming shows;
Collaborative show at Fiac in Paris, October.
Paratissima in Turin, Italy, November
Solo Show, Artissima, Turin, Italy, November
Popular in the Community