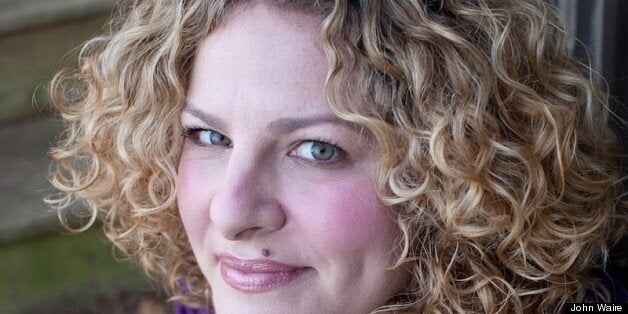 Here's our big confession: we want to be "Scary Mommy" blogger Jill Smokler. She's just the right combination of sarcastic and honest and loving. She makes the idea of being scary endearing.
That's why we're thrilled to announce that Jill will lead our next Stress-Less Parenting workshop, kicking off May 9. While our previous workshops have offered practical how-to guides on such topics as improving kids' diets and simplifying school mornings, this time, we're out to get over any notions of perfect parenting and just have some fun.
After all, that's what Jill is all about. Whether on her website or in her latest book, Motherhood Comes Naturally (and Other Vicious Lies), the mom of three proves we have plenty of company when it comes to our real or imagined parenting fails and our periodic secret urges to stick a Post-it on our heads saying "I Quit." And then she'll tell us to cut ourselves some slack already.
Motherhood is the best and hardest job out there. Our "bosses" are irrational and unreasonable, there are no days off no matter how sick we are and our days are filled with unrealistic demands. It's pretty much impossible to succeed at the job, at least for more than a few moments a day. Yet when we inevitably don't succeed and act like -- gasp -- human beings, instead of picture-perfect mothers, we feel like utter failures.

This month? Let's stop. Let's stop competing with the mother we think has it all under control. Let's stop being hard on ourselves for serving mac and cheese for dinner several times a week. Let's accept that we all need a few minutes of peace and that our kids will survive being plopped in front of the TV so we can take a much-needed shower. Let's focus on the perfect moments, instead of the lack of perfect days. Let's go easy on ourselves, for a change... I have a feeling we all could benefit.
Jill will bring the same humor and candor to this workshop that have won her legions of fans since she started her Scary Mommy blog five years ago. She'll offer a fun challenge for each week, starting with one designed just for Mother's Day. Later on, she'll invite us to share our own deep, dark parenting secrets too (anonymously of course) and dare us to show our Facebook friends how truly scary we can be. We can't wait to get started!
If you haven't signed up for our Stress-Less Parenting Club newsletter yet, go to the purple box on the right side of this page to get Jill's weekly challenges sent straight to your inbox.
Related