When I recently called Baz Luhrmann's Gatsby a 100+ minute commercial, I had not yet seen Scatter My Ashes at Bergdorf's, which in its unabashed self-promo actually scoots Gatsby back a bit into the story-telling realm for which it was intended. Scatter My Ashes, written and directed by Matthew Miele, is indeed at such a promotional level for Bergdorf Goodman and the industries it represents -- fashion and retail -- that, because it happens to have been done so well, I was left with an urge to shop, to go specifically there and shop, and if not there, pretty much anywhere in NYC.
This filmmercial's redeeming grace? Humor -- dry, smart, snarky and truthy. For all its costuming, for all its transformative powers, fashion cuts a straight path through to our souls. How we present ourselves by our wearables inextricably ties us to every formative dream and desire as well as every last denial, which is as much to be learned from as honored. Our collective love of fashion somehow manages by this to be deeply honest and profound, and reflective of our selves and our times. What or how anyone wears anything is a form of fledgling courage, and to dress exactly as one wishes to is a life journey in and of itself. Scatter My Ashes deals wonderfully with that personal connection, as the film is presented as a shared intimacy.
And Scatter's tangential message? Just as profound: In the words of Carl Sagan (a quote I have used before and will use again and again) we are such "...an interesting species. An interesting mix. (We) are capable of such beautiful dreams, and such horrible nightmares." If we could eliminate slave-labor manufacturing and the shareholder stranglehold that is the undergarment of every shred of quantity over quality, we'd really have something there. Thing is, despite the ugly that does exist, whether fashion related or not, we already really have something. Scatter is a 93-minute acknowledgment of that very human oxymoron. Tears shed at the Met's "Savage Beauty" was one aspect of that, the frayed fairy wings my daughter wore for two years straight is another. The fact that Miele chose to wind down his film with an obvious bit of social commentary, via a comedic Barbra Streisand pooh-poohing sneeze-inducing fragrances and tossing her coat over a mannequin's head as she danced her way through darkened rooms at Bergdorf's, is another.
Scatter My Ashes at Bergdorf's follows the objects and the humans that drive the venerable entity that is Bergdorf's, both elements equally personality driven, where gowns and windows have as much life and charisma as do the personal shoppers, owners, clients and designers who call this place Fashion Home. That a group of fashion-loving Midwest residents, most of us Indianapolis-based, saw fit to pool our common interests and pre-order enough tickets to make this single screening happen, and for the fact that we were as moved as we were by the carefully orchestrated soundtrack that accompanied the montage of crafted and inspired beauty is proof that, despite old New Yorker cover illustrations (that coastal image with the void in between) and random, ignorance-based disdain for those not residing in globally approved, coastal cities, we here in the so-called Heartland wear, love, shop, follow and collect with as much affinity for the fashion realm as any Park Avenue doyenne.
I noted one reference, when the windows were being discussed, that fellow New Yorkers were considered as one appreciative lot and audience and the rest of America was pooled into a cultural "other." Mailing address notwithstanding, sure, it is a realist's take; light years and miles can and do separate. I for one am aware that I might be to some less a product of a city that precedes me as an identity and have always sensed I must rather rely more on the sum of my deeds -- I'm still working on that. But Indiana does boast a legacy of highly driven types who knew they needed to let their works speak for them, whose legacies spoke volumes indeed and still echo in the minds of designers today: Norman Norell, Bill Blass, Halston and Stephen Sprouse all sport rock-solid ties if not entire family backgrounds to this Hoosier state. I suspect they honored as much as worked around this jointly held commonality, as any Midwesterner might when taking on the world. A year ago, the Indianapolis Museum of Art presented us with a breathtaking exhibit, "An American Legacy: Norell, Blass, Halston and Sprouse." Like any of these historic fashion exhibitions, it was a moving experience to walk among the still beings, dressed in garments that marked our times in ways that still catch our breath. The divinely clothed mannequins have long since been relegated back to their protective, unseen environments, and I await the day when the IMA can boast a permanent fashion exhibit, for the obligation to this legacy is as deep as it is valid, here, there, any and everywhere.
Bergdorf's, NYC, and any Street or Avenue lending place to the various outlets where designers' dreams become the stuff on our backs: There was a "bag" lady of sorts mentioned in Scatter, who pulled bill after bill from a bag in order to buy a costly fur coat, who came to personify the Bergdorf mantra that one never knows who the next customer might be. Yes, relative to your 10-carat, hedge-fund brides and celebs, I suppose I and my immediate neighbors might be construed as another aspect of that presumption. But to assume in favor of anyone is generally golden. Even in fashion, there is good reason to put a more positive spin on what is in the end a much bigger picture. Scatter My Ashes at Bergdorf's has my vote as a go-see, screw the void.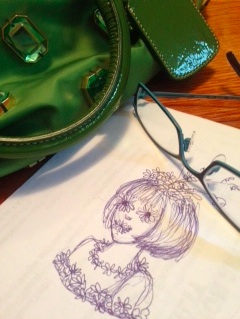 photo & illustration by kimann
Related