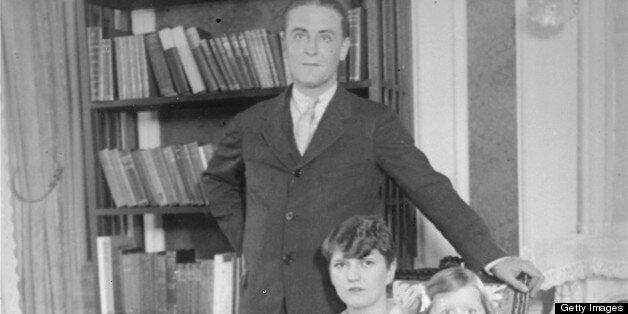 Why does the magic endure? Zelda and Scott Fitzgerald, those star-crossed celebrities of the Jazz Age, still appeal to our collective imagination some 90 years after the peak of their fame. In the roaring 1920s, she was the quintessential flapper, and he America's bright new literary star, their names synonymous with the adventures and follies of an entire generation.
In the wake of the fracturing nationalisms of the Great War, young Americans inherited a world that seemed stodgy, violent, and bizarrely puritanical. In the summer of 1920, the 19th amendment gave women the right to vote; only seven months earlier the 18th amendment had enacted the prohibition of alcohol. Scott and Zelda, embodying the confidence and conflictedness of their time, tested the new limits of liberty, while being acutely aware of how fleeting such freedoms might prove.
Better than any writer of his day, Fitzgerald chronicled the sad but always partying young men, while celebrating the newly free-spirited young women. In the public mind Zelda and Scott became interchangeable with the reckless yet somehow idealistic characters of his fictions, from This Side of Paradise to The Great Gatsby.
Lately, the Fitzgeralds have again been on the collective mind. First, there was the 2008 film of Fitzgerald's story of reverse ageing, The Curious Case of Benjamin Button, which starred Brad Pitt. Then came Woody Allen's glancing portrait of the couple in Midnight in Paris, which casts the Fitzgeralds as a charming but silly pair, inebriated in their very approach to life. In our cultural moment, people again throw roaring 20s parties, whether in real life or on TV shows such as the CW's The Vampire Diaries. Even The Vaccines, Britain's indie band-of-the-moment, give a shout out to Scott in their brilliant celebration of celebration, "Wreckin Bar (Ra Ra Ra)," a track from their 2011 debut.
And, of course, there's this summer's most anticipated film, Baz Luhrmann's The Great Gatsby, starring Leonardo DiCaprio, Tobey Maguire, and Carey Mulligan. The movie seems certain to renew debates about how and why to read Gatsby, while revitalizing the lore and legacy of American literature's most famous couple. Soon we'll be studying a new Daisy Buchanan, trying to discern glimpses of the real-life Zelda in the latest rendering of Fitzgerald's enchantingly blasé and fatally careless heroine.
For all that's been written about one of literature's greatest real-life love stories, much remains unknown about the Fitzgeralds' story. In their earliest days they were at once brilliant and pathologically silly. As they grew older - and began to pay a steep price for once having been so young, so foolish, and so oddly sure of themselves - their commitment in the face of adversity proved imperfect, but deeply poignant. In the most basic sense, they never gave up - not on each other, not on their touching, almost naïve belief that a turn of the wheel of fortune might allow them to "come back" or maybe just "go back." I've tried to capture some of their unyielding romanticism in my new novel Beautiful Fools, The Last Affair of Zelda and Scott Fitzgerald, an imaginative take on what might have happened during a trip they took to Cuba in 1939 -- the last time they ever saw each other. Like most great affairs, theirs is made up of hundreds of smaller stories that combine to give us a sense of their messy, fascinating lives, and their great love. What follows are a few scenes from a 20 year marriage, one that still inspires fear, envy, awe, and ink.
Popular in the Community