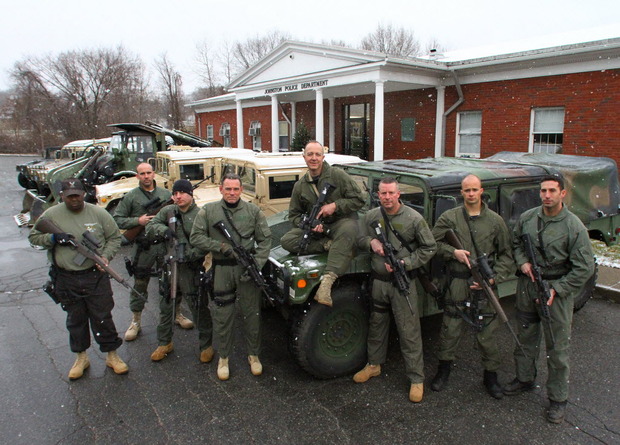 (Credit: Providence Journal/Glenn Osmundson)
Welcome to Johnston, Rhode Island, population 28,769 (as of 2010). The town hasn't seen a murder since 2004*, and has had all of four since 1999.
The town of Johnston has received more than $4.1 million in military equipment over the past two years through a U.S. military surplus program that has supplied its Police Department with 30 M-16 rifles, 12 humvees, and military night-vision equipment, among others tools.


Supporters of the $2.5-billion surplus program see many valuable uses for municipal police departments. Johnston Police Detective Raymond Peters says the program is helping equip a SWAT team capable of becoming a "world-class hostage rescue team."
Terrific! Now all Johnston needs is for someone to take some actual hostages. But until that happens, they always use all this spiffy new equipment on people who grow pot. You know, the sort of people who according to neighbors, "never bother anybody or anything."
2 Freightliner tractor-trailers and several other trucks; 30 M-16 rifles and conversion parts to transform them into M-4 weapons; 599 M-16 magazines containing about 18,000 rounds; a sniper targeting calculator; 44 bayonets for ceremonial purposes; 5 generators from M1 tanks; and 23 snow blowers. The Johnston SWAT team plans to train with its military equipment Saturday in a town park.
At least the snow blowers sound reasonable. I wonder if they come in camouflage.
(*According to data through 2010.)
Popular in the Community