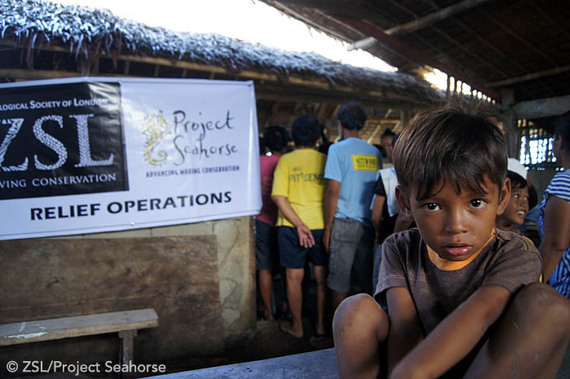 People wait patiently to receive emergency relief packs containing clean water, food, hygiene products, and essential medicine. Photo: Chai Apale/Project Seahorse.
Since 1998, the John G. Shedd Aquarium has been a key partner with Project Seahorse, an international organization dedicated to studying and protecting seahorses while helping people who depend upon them for their livelihoods. We thought it was important to share the update below on Project Seahorse's relief and recovery efforts in the Philippines.
Guest blog by Dr. Amanda Vincent
It's been an incredibly difficult few weeks for the central Philippines. Following a 7.2 magnitude earthquake last month that caused considerable loss of lives and homes, the Visayas region was hit on Nov. 7th by Typhoon Haiyan (a.k.a. Yolanda), one of the very strongest tropical storms on record.
The areas worst affected by these twin disasters include Danajon Bank in Bohol Province, Bantayan Island off the northern coast of Cebu Province, and Panay Island further west. These are places where Project Seahorse, the organization I direct, has for many years collaborated with communities on marine conservation ventures -- places where we have many friends, places we love. Project Seahorse is a partnership of the University of British Columbia (Canada), Zoological Society of London (ZSL, UK) and John G. Shedd Aquarium (USA).
The damage has been extraordinary. Over 2,000 households in Danajon Bank alone were badly affected by the earthquake. Reports from our team of local scientists and social workers indicate that 75-90 percent of homes in two communities on Panay have been destroyed. Bantayan, where Yolanda made her third landfall, has been laid waste. We cannot yet begin to quantify the damage to the marine ecosystems on which these ocean-going towns and villages depend for survival.
Our marine conservation team has now also embraced the responsibility for providing aid. Given that no national or international relief effort has reached these areas, ZSL and Project Seahorse are working with the communities and local government units to provide emergency support in the form of packs containing food, clean water, and basic medicines. As we meet the immediate needs of the worst-affected villages, we will also be evaluating the damage both to the physical infrastructure and the environment. This will be the first step toward rebuilding livelihoods and rehabilitating coastal marine life.
In the meantime, a portrait of these devastated but still-vibrant communities is emerging. Every day our tireless field staff -- many of whom call Danajon Bank, Bantayan and Panay home -- send new photos showing hope and resilience amid the destruction. We've shared a few of them below -- view the full gallery of photos here.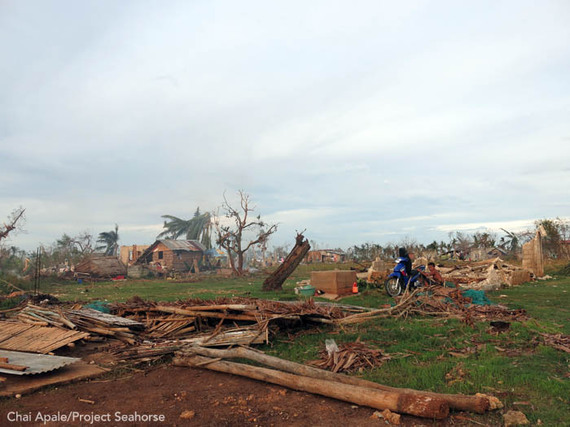 The ruins of Madridejos Town, an area not far from Haiyan's third landfall. Photo: Chai Apale/Project Seahorse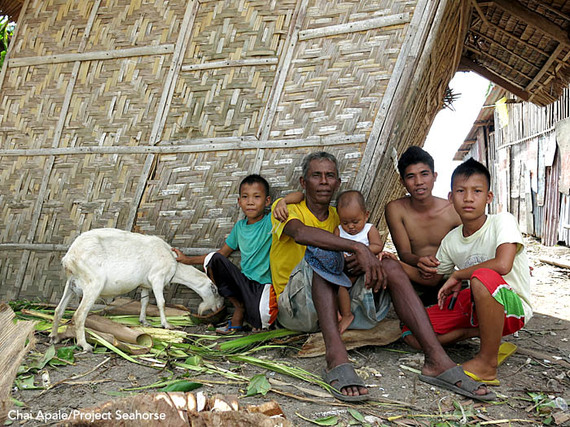 A family sits outside their damaged house in Bantayan Town. Photo: Chai Apale/Project Seahorse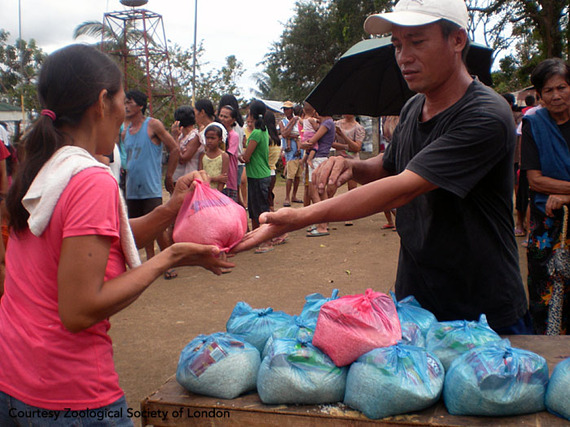 Field staff hand out relief packs to villagers in Panay. The packs contain food, clean water, soap, and essential medicines. Photo courtesy of ZSL
If you'd like to help, please consider donating to the Zoological Society of London's relief and recovery fund. The funds will go towards emergency relief and help to kick-start the longer-term recovery process.
Dr. Amanda Vincent is Director of Project Seahorse, a marine conservation group based at the University of British Columbia, Canada, and Zoological Society of London.
Calling all HuffPost superfans!
Sign up for membership to become a founding member and help shape HuffPost's next chapter