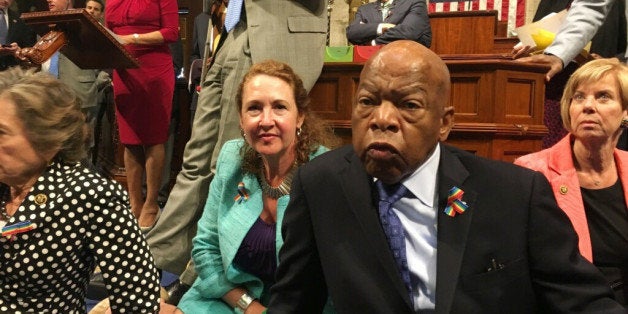 Yesterday the frustrations of a nation bubbled over in a seminal moment of mourning and action. I was there. This is some of what I saw and felt.
After years of "thoughts and prayers" but no actions to end gun violence, millions of Americans had finally had enough -- and hundreds of thousands of us had organized to a place where our many sparks of individual fire lit a torch of collective action. Senator Chris Murphy picked up the torch last week and decided to think, pray and ACT with a courageous Senate filibuster that forced a vote on gun safety proposals. Glued to our screens and calling our Senators, we succeeded in gaining four votes -- but alas no results. Two days later, House Democrats carried that torch with a filibuster of their own -- a protest that became a defiant sit-in.
I was in Washington D.C. at my flagship AFSCME boot camp engaging candidates to answer a call to service with courage when the Democratic Sit-in to Disarm Hate began.
I knew instantly and instinctively that there could be no better example of conviction politics than this organic, historical moment to spark a movement. So once we finished our work, I taxied up to the Capitol to bear witness, watching the periscope feed en route.
I have been to the Capitol thousands of times -- as a Clinton administration lawyer, Capitol Hill staffer and family member visiting my mother, Representative Nancy Pelosi. I've seen House Floor fights, speaker elections, presidential addresses and Electoral College certifications -- and still this Disarm Hate sit-in was an experience unlike anything I've ever seen. From the House Gallery to the House Democratic Leader's Office to the Capitol esplanade, the mood was electric.
Sitting in the House Gallery, I saw Members of Congress tell the stories from the well of the House.
There they were -- John Larson presiding, Katherine Clark and David Cicciline organizing, civil rights icon John Lewis literally sitting on the House Floor surrounded by his colleagues. Scott Peters, Mark Takano, Beto O'Rouke and Eric Swalwell jerry-rigged periscope feeds once the Republicans cut the CSPAN cameras. Wounded Iraq vet Tammy Duckworth snuck her camera in her prosthetics, and used it to record the moment as she sat next to her wheelchair.
Cheri Bustos snapchatted everyone. Sheila Jackson Lee offered many a reassuring hug and "amen" during the testimonials.
And what testimonials they were: every parent's nightmare. Domestic violence. Street crime. Suicide. Assassination. Murder in school, church, temple, clinic, nightclub, office, military base, movie theater, community meeting, the U.S. Capitol itself. Each person killed by gun violence had a name, a face, a family, a possibility snuffed out by a gun wielded by someone who should not have had access to the weapon. Each person killed by gun violence remembered with dignity and respect. Each person killed by gun violence honored by the sit-in even in the raucous moments. Each person killed by gun violence calling us to service for a more safe and equal society.
These weren't just stories told about other people: they were stories about themselves because gun violence touches everyone.
Gun violence survivors participating the democratic sit-in included Bobby Rush, the father of a son killed in a robbery, Debbie Dingell, the daughter of an abuser who knew fear at the barrel of a gun, Jackie Speier, the staffer turned legislator holding up the bullet that was removed from her own body after she was shot, Joe Kennedy, the grandson of an assassinated Senator, and Gabby Giffords, a former Congresswoman wounded during the mass murder of her constituents, who spoke through a letter to her former colleagues urging them to have courage.
Amid cries of #NoBillNoBreak there were angry cries and hushed silences from the members of Congress -- and from the gallery. One by one, members stepped forward in the well with testimony -- part eulogy part religious revival. Several recited letters, scripture and songs -- one, Gwen Moore, read her poetry.
Dozens of Senators including Chris Murphy and Leader Reid came over to lend moral and political support to the effort. Advocates from Sandy Hook to Orlando watched in awe, alternately cheering and praying as the American family experienced this outpouring of grief and, as Nancy Pelosi called it, "truth insistence."
When the House Republicans finally returned to face the colleagues whose bipartisan bill was denied a vote, cries of "shame," "give us a vote," "no bill, no break," filled the air.
There was a tense moment when a Republican yelled "due process" to Joe Crowley who replied that "the kids didn't have due process -- they were slaughtered" and a truly ugly moment when a Tea Party Rep attacked Corinne Brown of Orlando, finger wagging and raging about radical Islam. (Begging the question if that were true, why would he want the killer to have a gun?)
Neither moment could break the sense of solidarity and community.
Through two votes -- on Zika and the fiduciary rule -- Paul Ryan left the Speaker's Chair quickly but the Disarm Hate sit-in continued. Softly, lest we be ejected, the gallery guests joined Democrats in "We Shall Overcome" with lyrics including "we shall get a bill" and the haunting "we are not afraid."
The Members were not afraid. Not afraid of the NRA that released a statement calling John Lewis a terrorist. Not afraid of the gun lobby threatening their careers. Not afraid of the Republican idea of using Capitol Police to arrest the members (there was a counterplan for that -- a human chain surrounding John Lewis). Not afraid of history -- because they know they are on the right side of safety and equality.
Outside, we saw activists from across the country come to support and engage. "We are from Orlando" two activists told Nancy Pelosi. "We have matching rainbow bracelets -- thank you for wearing yours in support of the LGBTQ community" said another.
Parents of killed children, kids riding bikes, advocates waving rainbow flag "Disarm Hate" signs, religious leaders and friends bearing pizza all forged instant community. People came just to be a part of history. As midnight came and a light most fell, chants of "hey hey NRA / you can't beat the PTA" rang through the Capitol grounds.
"We're spending the night," some declared and the Disarm Hate sit-in continued.
Exhausted and exhilarated, the Members stayed. And their supporters remained. In the House Gallery, on the Capitol grounds, win our homes, on our phones, willing the exhausted members to persevere, willing our society to persevere.
And as the sit in continued into its 20th hour early Thursday morning, while most of Washington D.C. heard the patter of morning rain on the windowsill, if you listened very closely you might have heard the whispering of a little boy I know who'd been out protesting with his dad the night before quietly chanting to himself, "No bill, no break. No bill, no break. No bill, no break..." For that little boy and for all America's children, we will not break; we will persevere on our path to a more safe and equal society.
Popular in the Community