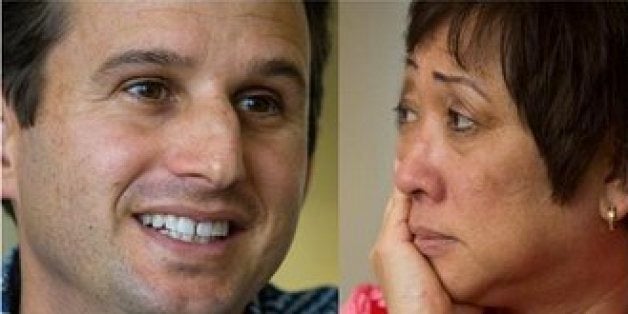 Sen. Brian Schatz (D-HI) says Rep. Colleen Hanabusa (D-HI) can be funny sometimes, but then struggles to find something else positive to say about the woman who is trying to take his Senate seat away.
Hanabusa, for her part, doesn't really have anything nice to say about Schatz except that he chaired Barack Obama's presidential campaign in Hawaii in 2008.
But even that turns into a backhanded slap. "I do credit him for that because I supported Hillary Clinton," Hanabusa said. "The only thing I hope is that he doesn't think Hillary Clinton is too old to run for president."
Both veteran politicians sat down with Honolulu Civil Beat for lengthy interviews last week. And along with their recent accomplishments and the latest from the campaign trail, we were curious about something else:
What do you like most about your opponent?
"Well, I think (laughs) ... I'm not sure, uh, uh," Schatz stammered.
"Let me just say it this way, when we were in the Legislature together we worked perfectly well together," he said. "When I was the lieutenant governor and she was a member of Congress we worked together. We campaigned together lots of times, so I don't have personally a negative word to say about her."
Overall, Schatz was the more complimentary of the two, saying he liked Hanabusa's sense of humor and calling her a "capable legislator." He also said the two have a mutual respect for one another since they both entered politics in 1998.
But, he added, "I'm not sure I'm prepared to give you her talking points."
Hanabusa, however, didn't offer much when it came to Schatz. She told us she actually doesn't pay attention to what Schatz does in the Senate.
"Because he's not a colleague of mine, I don't really ...," Hanabusa trailed off. "They operate very differently from us so I'm not sure that I know enough about what he's done that I would say that I credit him for. I don't watch him. It's not like I sit in front of the television and watch him because they do completely different things than us."
She did say she thinks he can also be proud of his work signing on with the rest of the delegation.
"We're not there to take political positions on things, we're there to represent Hawaii," Hanabusa said. "So I think whenever we see any piece of legislation that comes through that's beneficial to Hawaii that required both houses to do he should take credit for that."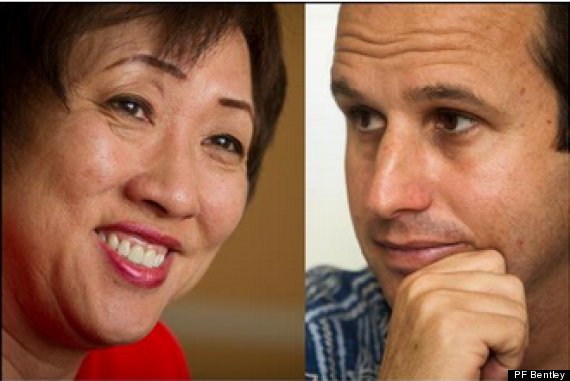 We've already seen a fair amount of sniping between the two campaigns. Behind the scenes, campaign aides have been aggressive in pitching negative stories about their opponents.
The most recent incident involved Schatz's endorsement by the Progressive Change Campaign Committee, which sees him as a champion of Social Security.
But even as Schatz and the PCCC touted the endorsement, Hanabusa's campaign blasted the Washington D.C.-based political action committee for "spreading misinformation" and tainting Hawaii politics with "Mainland special interests."
Both Schatz and Hanabusa promised to keep things cordial in the months ahead, but they didn't rule out messaging that highlight differences between the two.
"We're certainly going to come out of the gate positive, that's for sure," Schatz said. "We will defend ourselves where appropriate, we will clarify the facts where appropriate and we'll draw distinctions when it's appropriate."
He noted that just because Hanabusa has different views doesn't make her a "bad person."
Hanabusa, too, said she intends to stay positive, referring back to a crowded race for the House in 2006 that also included Schatz.
Both lost to current U.S. Sen. Mazie Hirono, but little was said about the candidates not getting along and attacking each other on the airwaves.
"I'm more than willing to say that this campaign should not be negative," Hanabusa said. "I don't think people in Hawaii like negative ads, whether it's done by an independent group or whether it's done by the campaign itself."
Calling all HuffPost superfans!
Sign up for membership to become a founding member and help shape HuffPost's next chapter
BEFORE YOU GO
PHOTO GALLERY
Senate Seats Up For Grabs In 2014