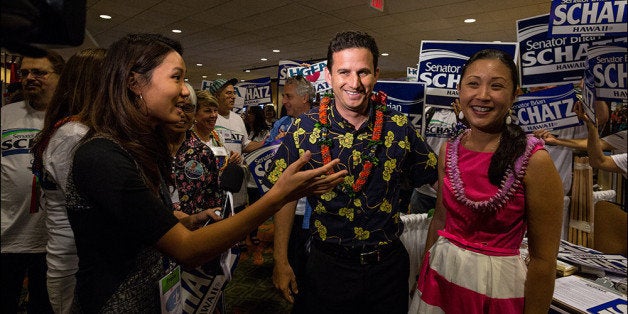 HONOLULU -- With less than two months to go before the first votes will be cast, Sen. Brian Schatz (D-Hawaii) leads U.S. Rep. Colleen Hanabusa (D-Hawaii) by 5 percentage points in the Democratic primary for Senate, a new Honolulu Civil Beat poll shows.
Schatz, the incumbent, has the support of 44 percent of Hawaii voters who say they will pull the Democratic ballot in the Aug. 9 primary. Hanabusa polled 39 percent, with 16 percent saying they were undecided.
This is the fourth time Civil Beat has polled the Schatz-Hanabusa race over the past year, but it is the first time that one candidate appears to be gaining ground. Our previous polls showed the race essentially tied, with a large undecided.
"There has been a movement toward Schatz," said Matt Fitch, executive director of Merriman River Group, which conducted the Civil Beat Poll. "Outside of Hawaii, there has been a pronounced coalescing around his candidacy. Inside Hawaii, there has been some gradual movement toward him."
"He certainly is the favorite now," Fitch added. "We are showing a closer, though widening race at this time than some other very good national pollsters. We respect what they do, but we perhaps have a different model about the ethnic composition of the likely voters in August."
A poll conducted May 9-11 by Public Policy Polling on behalf of Democracy for America, a progressive political action committee that has endorsed Schatz, had the senator up 49 percent to 34 percent. Seventeen percent were undecided.
The PPP survey came after Schatz received several high-profile endorsements, including President Barack Obama and Senate Majority Leader Harry Reid. Civil Beat's latest poll on the Senate race shows that the contest is still relatively close.
We surveyed 840 registered Hawaii voters May 18-19 for the Senate race. Of those, 520 said they were likely to pull the Democratic ballot in the Aug. 9 primary.
The poll included landlines and cell phone users and has a 4.3 percent margin of error.
Our poll was conducted after Schatz had already run three television commercials and had a fourth put forward by an independent expenditure committee that's separate from his campaign. As of the latest campaign spending reports, Schatz had a 2-to-1 advantage over Hanabusa.
Earlier this month, Hanabusa ran ads on the radio. Her first TV commercial ran Friday, after voters were surveyed.
Neither candidate does particularly better than the other when it comes to the gender, labor and military background of voters. Schatz does best among voters earning more than $100,000, among those older than 50, and with those who call themselves liberal.
Hanabusa, who is Japanese American, does best among Hawaiians, Schatz, who is white, does best among whites and pulls nearly all Hispanic voters.
Twenty-three percent of Japanese voters said they are unsure of how they will vote, which might bode well for Hanabusa.
"It as been reported by many people over the years that sometimes Japanese-Americans are a little bit more reluctant to give their opinion," said Fitch. "For example, in the 2010 special election for Congress, Hanabusa was polled tied for second with Ed Case, but we felt she would finish second for the exact same reason. And she did."
Democrat Case, who is white, ended up finishing third. Chinese-Thai American Charles Djou, a Republican, won the special election but lost to Hanabusa in a rematch that November.
"As with every election, in particularly with ever primary, who actually bothers to come out and vote matters a great deal," said Fitch.
Chad Blair is Civil Beat's chief political reporter. You can follow him on Twitter at @chadblairCB.
Calling all HuffPost superfans!
Sign up for membership to become a founding member and help shape HuffPost's next chapter
BEFORE YOU GO
PHOTO GALLERY
Senate Seats Up For Grabs In 2014