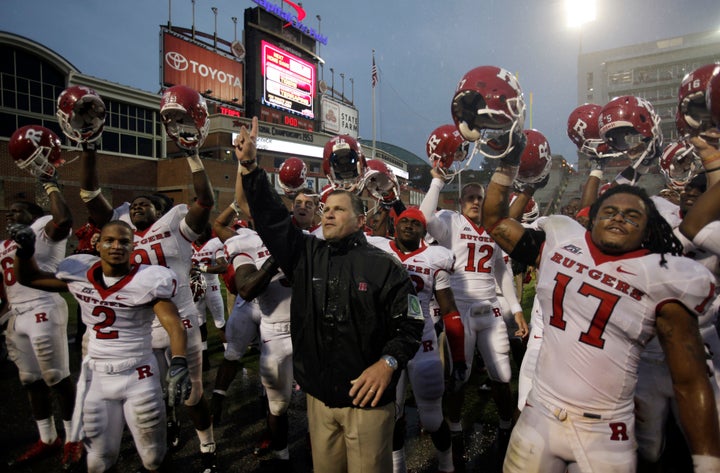 Greg Schiano [grehg shee-ahn-oh]
noun
-- The ninth head coach in Tampa Bay Buccaneers franchise history
-- Former head coach of the Rutgers Scarlet Knights credited with bringing a losing franchise to prominence; had a career 68-67 record at Rutgers and a 5-1 bowl game record
-- Defensive-minded coach whose NFL experience includes work as both assistant and defensive backs coach for the Chicago Bears from 1996-98
____________________________________________________
The Bucs did it again. They managed to make the head-coach hiring process more exciting than the season itself.
I have to admit, after last week's ill-fated attempt to bring Oregon coach Chip Kelly to Tampa, I didn't think the Glazer family could do it. Every report I read stated that Mike Sherman was the only person the Glazers were bringing back for a second interview, so I began the painful process of trying to get excited about an old new coach.
Mike Sherman! He has experience! He runs a tight ship! He, um... He wears glasses!
But then last night, as I was walking around my Paris neighborhood, I pulled out my Blackberry and saw that I had an email with breaking news about the Bucs. The team had agreed to terms with former Rutgers head coach Mike Schiano.
Note to those who plan to travel to Paris: If you are walking in the city and suddenly stop and exclaim, "What the hell?!" people will turn and give you a dirty look. (But, let's be honest, Parisians will give you dirty looks for far less than that, so my best advice is to ignore them.)
Once I got back to my apartment, I attempted to do some research on this Schiano character. And after reading up a bit, and talking it over with friends and family, I've decided that I'm pleased with the hire. Here's why:

1. He has a reputation for being a disciplinarian. Though, from what I've read, Schiano is a very enthusiastic guy who loves football and has fire in his belly, he's also not one to play around. Rutgers alum and Buc offensive lineman Jeremy Zuttah stressed in an interview that Schiano will hold everyone accountable to the same rules. Which implies that certain previous coaches (who shall remain nameless) played favorites in the locker room. And based on the level of motivation the Bucs showed last year, a strict locker room seems overdue.
2. He managed to turn the Rutgers team around. The perennial losers became a force in the Big East under Schiano's watch. Schiano also managed to recruit top players -- including Zuttah and Baltimore running back Ray Rice -- to a program that does not have the long-standing reputation of some of the bigger programs. And while turning around a professional franchise -- and keeping them turned around for consecutive years -- is arguably more difficult than doing the same for a college team, the fact that Schiano has a history of getting the best from his players is heartening.
3. Bill Belichick gave him the thumbs up. Yeah, so Belichick liked Josh McDaniels as a head coach, too. But Belichick said that Schiano's players come out of the program well-coached and tend to make it in the NFL. Watching the Bucs play last season, I sometimes wondered how many of them were slightly less than NFL-caliber athletes. But perhaps they just need to be coached up, Schiano-style.
4. The alternatives were snoozeville. I'm sorry, but I simply could not get excited about Mike Sherman's glasses. I know, I know. They make him look so intellectual. As for Marty Schottenheimer, I've read too many Sports Guy columns to support that hire. And Brad Childress? Brad-effing-Childress? I have no words.
5. I love a good surprise. As the citizens of Paris now know, the news of Schiano's hire caught me off-guard. But after a season of depressing monotony, I believe we Bucs fans can use a little hope, a little excitement. Now, we just have to wait for some good results. And maybe a few more surprises... (Ray Rice to the Bucs, anyone?)
Bucs fans, what do you think about the hire?
Calling all HuffPost superfans!
Sign up for membership to become a founding member and help shape HuffPost's next chapter