I first started hearing voices and experiencing paranoia in my early 20s while at university. I totally lost touch with reality, which was terrifying and made me feel incredibly isolated. I moved back in with my parents, but I spent the next 10 years in and out of hospitals.
When I was 30 I was finally diagnosed with schizoaffective disorder, which affects your mood and thoughts and has symptoms of schizophrenia and bipolar disorder. Having a name for it meant I was able to talk about it and "come out" about my illness to my friends.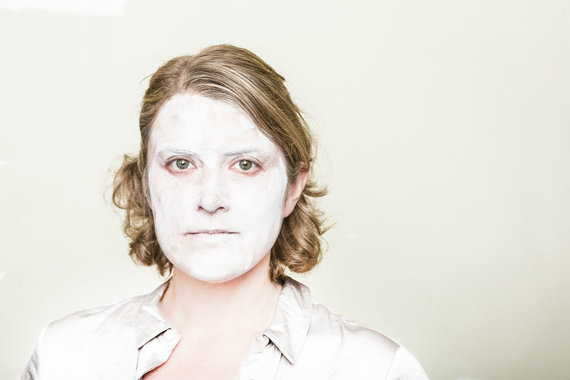 For my makeup for the Rethink Mental Illness' Schizophrenia Awareness Week campaign film, I wanted to portray a kind of invisible face as I feel people with my illness are often hidden or disregarded from the rest of society. We're out of sight, almost like a zombie that has been forgotten about.
Since my diagnosis things have got easier, and I now have an incredibly supportive group of friends and family. Sometimes when I feel I don't want to see anyone, my friends come round and help pull me out of it.
Just because you have a mental health problem doesn't mean you can't function at a high level. After four years out of work I made 500 job applications and got just one interview, which was really frustrating. I decided to go it alone, and today I work as a freelance photographer and film maker, as well as studying for a Ph.D. and teaching art at two colleges. The support of Rethink Mental Illness and my local mental health services mean I can maintain that. I also use the Rethink Mental Illness phone line Advice Service which gave advice that felt tailored to me. I asked them about setting up my own business and they did everything they could to get me the right information -- on employment, on benefits, everything.
I still struggle with my illness, and I had three episodes when I was unwell last year. Sometimes I can have short-term memory problems related to my schizoaffective disorder, and so I have to overcompensate for that and plan ahead. But over the years I have got to know myself and notice patterns in my mental health.
I lost a whole decade to mental illness, and it is incredibly important to me that people who have a mental health condition are treated with dignity and respect. In the future I want to do much more art teaching, because it's amazing when you share experiences. It's those connections you make with other humans that you really miss out on when you're unwell.
Schizophrenia can affect anyone at any time. Rethink Mental Illness is fighting to help thousands of people like Alice get the right support when they need it. You can help by making a donation and supporting our online campaign.
Watch Alice's story via this short film:
If you have a story about living with mental illness that you'd like to share with HuffPost readers, email us at strongertogether@huffingtonpost.com. Please be sure to include your name and phone number.