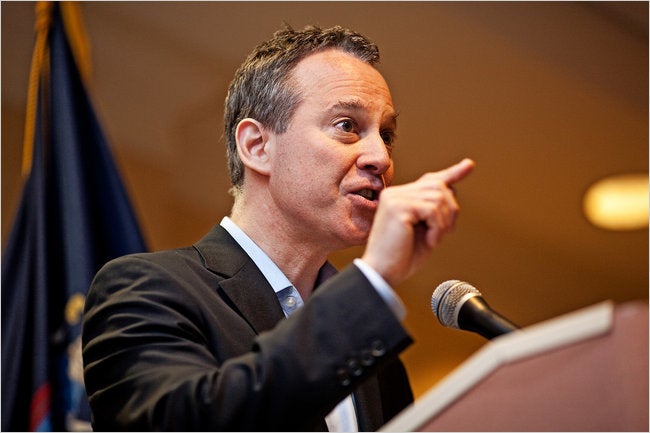 They say a good prosecutor can convict a ham sandwich. By that measure, New York Attorney General Eric Schneiderman has fallen short lately.
As I noted last week, Schneiderman drew a highly unusual scold from a dozen attorneys general from other states in late June over his relentless pursuit of ExxonMobil. For over a year, Schneiderman has driven what he hoped would be a national crusade by the nations' top cops to expose the company for misleading the public about what Schneiderman and green activists claim the company knew decades ago about climate change.
When that allegation could not stick he pivoted to an accusation the company deceived investors by failing to acknowledge climate-related effects on stock value in the long term. As it stands, only Massachusetts AG Maura Healy is still on board with Schneiderman's pursuit of Exxon.
And now we learn that Schneiderman's felony case against state Sen. Robert Ortt (R-Niagara County) was tossed out by a judge in Albany who found there wasn't enough evidence to warrant the grand jury indictment. Schneiderman alleged Ortt failed to report $21,500 in payments local Republicans made to his wife in his state campaign financial disclosure forms.
In yet another case, a different judge rejected evidence Schneiderman wanted to present to back his allegations that former Erie County Democratic Chairman Steve Pigeon tried to bribe a judge. While that case itself will proceed, Schneiderman cannot use what could have been critical evidence. The reason is that Schneiderman's office waited too long to execute the warrants used in raids of Pigeon's home and office.
There is a pattern here. Zealousness (not to mention sloppiness). A measure of zeal is an asset in a corruption-busting attorney general. But in the last three weeks, judges and peers alike have rebuffed Schneiderman, essentially admonishing him to be more methodical and thorough and less passionate when trying to bring cases against either a public official or a public company.
In the case of Exxon, the attorneys general of 12 states [Texas, Louisiana, South Carolina, Alabama, Michigan, Wisconsin, Nebraska, Oklahoma, Utah, Arkansas, Nevada and Indiana] filed an amicus brief urging a federal judge to side with Exxon's request to put an end to what has become a fishing expedition. Schneiderman is proudly close to environmental activists and wary of fossil fuel companies, so he assumes incriminating communications simply have to exist somewhere. Despite Exxon's surrender of reams of documents - from company memos to emails - Schneiderman has not been able to find what he's looking for but his quest continues.
A textbook definition of overzealous prosecution refers to someone instituting legal proceedings against a defendant for criminal behavior with the intention to support an excessive enthusiasm for some cause, rather than with any genuine basis for the suit. Given Schneiderman's unbridled condemnation of Exxon for not sharing his views on climate policy, Exxon's assertions that Schneiderman's dogged probe has resulted in the suppression of free speech cannot be taken lightly.
Similarly, Schneiderman's penchant for prosecution over protocol in his anti-corruption actions against state officials is appropriately raising questions and concerns. As the Daily News's Kenneth Lovett reported, former Attorney General Dennis Vacco, said last week's setbacks for Schneiderman feeds into the suspicion that faltering prosecutions were politically motivated. While Vacco is a Republican who at once represented Pigeon, it was not Vacco but two different judges who put the brakes on Schneiderman.
In the last few weeks, we have seen the system work. Twelve state attorneys general and two state judges expressed disapproval of actions looking too much like trying to prosecute a ham sandwich.