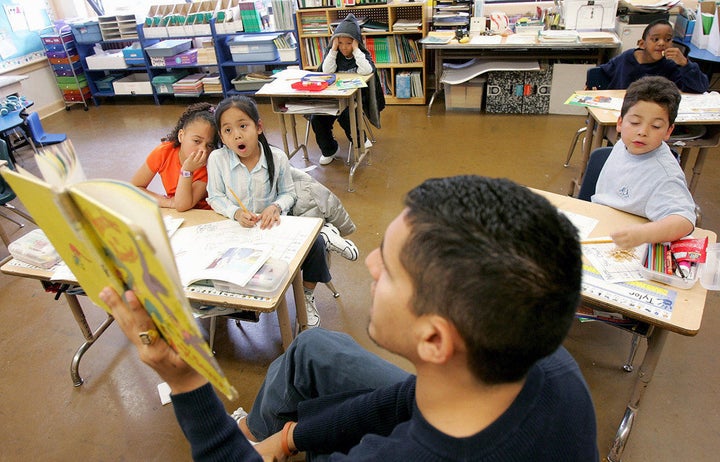 Amidst heavy criticism over a "pro-coal" teaching tool called "The United States of Energy," Scholastic Corporation announced in a statement released May 13 that it will discontinue distribution of the controversial education materials.
In the statement, Scholastic acknowledged that there were problems with its sponsorship policy, which allows nonprofit organizations, government agencies, and corporations to produce material that is then distributed to teachers:
"We acknowledge that the mere fact of sponsorship may call into question the authenticity of the information, and therefore conclude that we were not vigilant enough as to the effect of sponsorship in this instance...Because we have always been guided by our belief that we can do better, we are undertaking a thorough review of our policy and editorial procedures on sponsored content, and we will publish only those materials which are worthy of our reputation as 'the most trusted name in learning.'"
"The United States of Energy" was the result of a partnership between Scholastic and American Coal Foundation (ACF), a nonprofit that provides resources to teachers in an effort to educate young students about coal as a viable energy resource.
According to an blog written by ACF, the curriculum consisted of lesson plans, maps, and other activities for fourth-grade students, and was distributed to over 66,000 teachers in Colorado, Missouri, Ohio, Pennsylvania and Virginia.
The program also offered online materials that linked back to ACF's website, which increased ACF's online traffic from 8,000 to 24,000 site visits per month.
The Campaign for Commercial-Free Childhood (CCFC), who partnered with Rethinking Schools, Friends of the Earth (FoE), Greenpeace USA, and the Center for Biological Diversity (CBD) to launch a campaign against Scholastic, celebrated the decision.
A statement on the CCFC's website emphasized the importance of activism in the fight to rid schools of "industry PR," but insisted that the fight must continue:
"In addition to the American Coal Foundation, Scholastic's InSchool Marketing clients have included the Cartoon Network, Claritin, SunnyD, Disney, and McDonald's. Scholastic also worked with The Chamber of Commerce's Institute for 21st Century Energy, which is completely funded by corporate interests."
"Promoting 'client objectives' to a captive student audience isn't education," Susan Linn, director of the Campaign for a Commercial-Free Childhood, said in a statement. "It's predatory marketing. By selling its privileged access to children to the coal industry, Scholastic is commercializing classrooms and undermining education."
Scholastic's decision to discontinue "The United States of Energy" program and partnership with ACF marks the first time the company has acknowledged a potential conflict of interest within their curriculum.
In 2008, when CCFC launched a campaign to end the distribution of Bratz books in Scholastic book fairs, Scholastic complied with demands and pulled the books but continued to sell other books the organization had deemed inappropriate.
The dolls are considered by critics to exhibit sexuality that is inappropriate for the young demographic they market to. The parents, teachers and advocates that participated in the campaign did not believe the books were educational enough to be sold in school book fairs.
Judy Newman, president of Scholastic Book Clubs, told The New York Times that the company decided to stop selling to books more for financial reasons than to comply with CCFC's demands.
Ms. Newman said she met with a representative from the campaign in Boston earlier this year. But, she said, "I can't be directed by anyone's special interest." She added: "That would almost be censorship."
Kyle Good, Scholastic's Vice President of Corporate Communication, told The Huffington Post that collaborations with other companies have been largely positive.
"We have to look at all the programs," she said, citing initiatives such as Heads Up: Real News About Drugs and Your Body, a program that provides educational resources about the dangers of drugs that resulted from a sponsorship with the National Institute on Drug Abuse (NIDA).
Good used the example to show how partnerships can result in programs that have positive results. "That's why we are reviewing the policy," she explained.
She added that many of the issues being highlighted by advocacy groups to raise the alarm are either untrue or outdated. Good says that Scholastic was falsely accused of marketing Sunny D -- a sugary beverage -- to children, but said that the advertisement was featured in a magazine read only by adults. She also stated that Scholastic has a policy against fast food advertisements, and has not featured any in the past 10 years.
Critics, however, continue to call on Scholastic to end commercial collaboration on curriculum. According to an article on the CCFC website, companies are producing "Structural Education Materials" (SEM), to market directly to school children.
"The usual explanation for the success of SEMs is that desperate teachers in underfunded schools use them as a last resort. Certainly this is true, and SEMs are most prevalent in poorer school districts."
Sponsored education resources, which are packaged as "teaching kits," were found to be 80 percent biased or incomplete, according to a CCFC study. CCFC asserts that the programs usually favor the sponsor's mission or agenda and promotes consumption among children.
As Scholastic evaluates how it will proceed with its policy on partnerships, CCFC continues to ask activists to demand an end to consumerism in classrooms.
In a statement on the CCFC website, the organization celebrated its victory over coal adding:
"It is also a testament to the activism of thousands of advocates for children, education, and the environment...It is our hope that Scholastic will choose to stop distributing all corporate and industry sponsored classroom materials. Children everywhere deserve a commercial-free education."
Calling all HuffPost superfans!
Sign up for membership to become a founding member and help shape HuffPost's next chapter