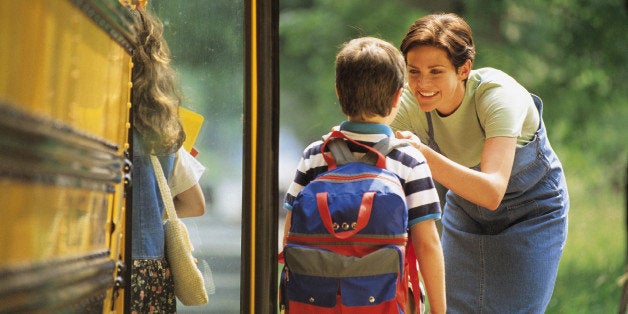 The start of the school year is marked with excitement and promise, but it also can be laced with pressure and anxiety. This happens to kids of all ages. When the latter gets to your children, the mornings can get pretty harried.
Do your mornings start with tears, tummy aches or hard-to-wake teens?
You may be dealing with School Anxiety. Kids' anxiety about school begins with a sense of being out of control of their day because they are in an environment where they have to do what they are told -- do hard work, be quiet, stay still, and listen. They feel powerless.
They then worry that they will feel anxious, uncomfortable, and be trapped all day helpless. It is human nature to resist feeling trapped, so it is not strange for your children to beg and plead to stay home. They are not lazy, they are just "highly motivated to resist."
When our kids have anxiety, we often feel helpless. This makes us feel anxious and CRAZY! I have been there and, I know the way out!
You are not helpless. There is something that you can do about it. Here are 5 ways you can help your children have success this year despite feeling anxious:
Five Ways to Help Your Kids Get Over School Anxiety
1. Help Them Feel Empowered
There are always some place where your kids have choice, even within restrictions of a school day. Anxious kids don't recognize this. All they see is where they're disempowered. Help them see where they do have power. For example, if they are feeling anxious in the classroom, then they might be able to go to the bathroom or, they might be able to seek out an adult they trust in the school.
Motivate them to go! Find something that is important enough to your child that will override their anxiety. When they are feeling anxious or uncomfortable, or they don't want to do something, their number one priority is to decrease that feeling of being so uncomfortable. Anxiety tells them to stay home and not do anything, or that they simply can't do it. Find something that is important enough to them to override that intense feeling to relieve the anxiety.
3. Have Confidence In Them
Point out the skills they've shown while getting through past challenges. They may have finished a book, climbed to the top of the jungle gym, tried something new, or worked hard at something. This helps them begin to trust that they can handle themselves at school, and know what to do to get themselves through the day. Trust is the antidote to anxiety.
The best thing to get over school anxiety is to go. It is very hard for gets to get themselves back to school after being out because of anxiety. They think they have to feel better to go back, but they will better once they go back.
5. Ease Test And Performance Anxiety
Many kids have test anxiety. Taking tests and performing well on them can really make them worry. This comes from guilt of not feeling adequate enough. It's important to take the pressure off by de-emphasizing the importance of perfection, and letting kids know their personal best is fantastic enough.
School Anxiety is recoverable. I've seen kids get over it all the time. Parents often feel helpless but they play a huge role in their child's successful year! To decrease your children's school anxiety, take these steps to help them feel empowered and in control.
If you have had trouble with school anxiety or anxiety about going anywhere, what tips can you give other parents and readers?