Georgia became the first state to implement bullying legislation following the 1999 Columbine shootings. By the report's conclusion in April, Hawaii, Michigan, Montana and South Dakota were the only states that remained without bullying laws.
"Every state should have effective bullying prevention efforts in place to protect children inside and outside of school," Secretary of Education Arne Duncan said in a statement Tuesday. "This report reveals that while most states have enacted legislation around this important issue, a great deal of work remains to ensure adults are doing everything possible to keep our kids safe."
The report, "Analysis of State Bullying Laws and Policies," summarizes existing bullying laws in the 46 states. It finds that in 2010, 21 new bills were passed across the country and eight more passed through state legislatures until April 30, 2011.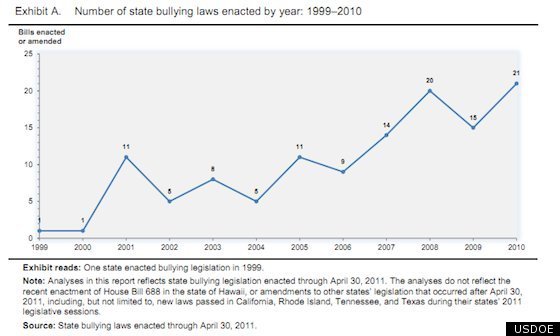 Still, the report found that of the states that have bullying laws, three do not define the prohibited behavior. Forty-one states have created model bullying policies, and the two of the states that do not have bullying laws -- Hawaii and Montana -- have created model policies as well.
A follow-up study will examine how state laws are actually practiced in localities and at the school level.
The Education Department hosted its first annual Federal Partners in Bullying Prevention Summit last year, after which the agency drafted a guidance document, "Anti-Bullying Policies: Examples of Provisions in State Laws," to respond to requests for support and address the gap in information about the country's bullying laws.
Clarification: This piece originally cited Michigan as one of the states without a bullying law, but created a model policy. While this holds true for the purpose of the Education Department's report, Michigan passed a bullying law this week, following the study's conclusion.
Popular in the Community