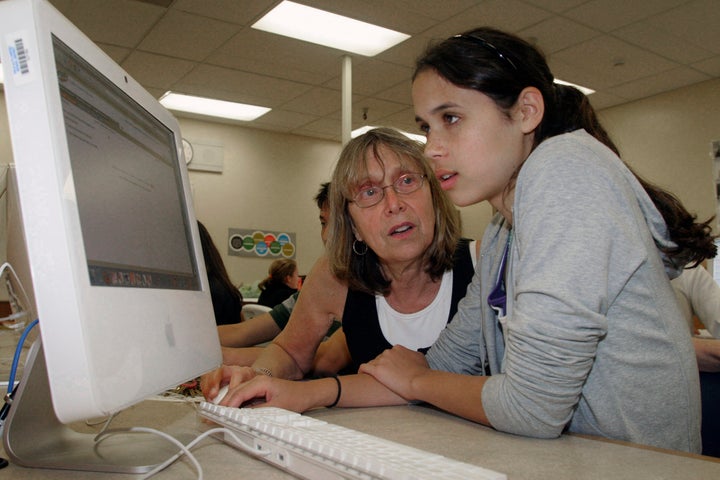 In the latest status update on bullying, schools could now be held liable for students' Facebook and out-of-school harassment.
Department of Education officials say legal action could be taken if schools don't address harassment and if it's determined they "reasonably should have known" about a student's conduct. This is the case even if the school was unaware of the bullying, the extent of which is described in a letter from the department:
"Harassing conduct may take many forms, including verbal acts and name-calling; graphic and written statements, which may include use of cell phones or the Internet; or other conduct that may be physically threatening, harmful, or humiliating. Harassment does not have to include intent to harm, be directed at a specific target, or involve repeated incidents."
The department made the announcement last October, but the initiative received attention last week when President Obama held a bullying summit at the White House and drew attention to the government's newly launched website Stopbullying.gov, where the letter is housed.
In an interview with the Huffington Post, the National School Boards Association -- the only organization to formally oppose the legal measures -- says it doesn't feel it's fair for schools to be liable under a "should-have-known" standard.
Individual schools are better placed to make their own decisions, said Francisco Negron, general counsel for NSBA.
"The appropriate measure is for schools to have tools to fight bullying on-the-ground and intervene proactively, not being subject to legal scares and mandates from Washington. School officials measure all facts, talk to students, perpetrators, the alleged victim -- and understand the context because they're there."
Negron also points out that in a time of deep budget crises nationwide, it's a numbers issue.
"Every dollar spent in litigation are generally classroom dollars -- general revenue dollars."
As yet another way to monitor bullying -- and in response to the White House's bullying summit -- Facebook announced last Thursday new safety features to monitor and report would-be harassers.
"Now, we're adding a unique feature, developed with safety experts, that lets people also report content to someone in their support system (like a parent or teacher) who may be able to address the issue more directly."
Related
Popular in the Community