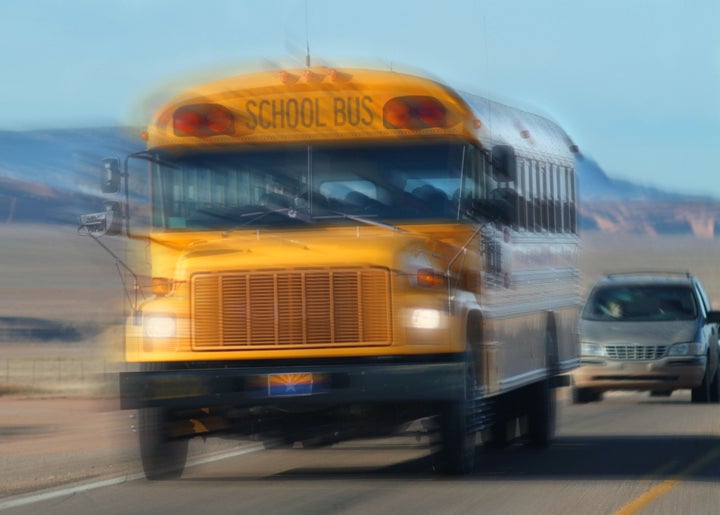 Its armada of 1,273 yellow school buses transports 96,000 students daily. All told, the buses safely ferret their young passengers 100,000 miles per day. That's equivalent to four trips per day around the equatorial circumference of the Earth (each trip around the equator is 24,901.55 miles in distance) or nearly half the distance to the Moon (238,855 miles), according to NASA facts and figures.
Each year the bus fleet travels more than 19 million miles. That's comparable to the distance from the Earth to the second closest planet to the sun, Venus ( which is 23.7 million miles away, although the elliptical orbit of the two planets varies).
While school buses are "the safest mode of transportation for getting children back and forth to school," notes the National Highway Traffic Safety Administration (NHTSA), the trip can be unnerving for bus drivers. That's because each day they encounter scores of speeding and distracted motorists who ignore the flashing yellow lights and illegally zoom right past the stopped buses after the driver extended the stop sign.
It's enough to give even the most experienced of bus drivers gray hairs, given their precious cargo, the mileage they rack up, and dangers seen and unseen they confront each day. "School bus drivers are increasingly reporting more and more heart-stopping near misses involving motorists passing their school buses while stopped with red lights flashing and stop arms extended," according to a 2006 study by the Texas Transportation Institute (TTI).
Under current law, "drivers must stop at least 20 feet from the bus and are prohibited from proceeding until the bus moves or turns off the flashing lights." To combat this, the Montgomery County Council is slated to vote in January on local legislation that allows the police to install automated school bus stop-arm cameras on the county's school bus fleet. Yellow school buses will be retrofitted with a camera that snaps photos of drivers who fail to stop for a bus unloading or loading students. Mounted to the front and rear driver's side of a bus, the school bus stop-arm camera "automatically detects if a vehicle passes the bus within the 20-feet enforced zone."
One manufacturer boasts the system provides "High-quality violation images of a vehicle's license plate and a video that captures the entire violation event." The school zone scofflaws in Maryland will get a photo traffic ticket carrying a $250 fine, but no points on their driving records. Ironically, drivers can currently receive up to three points and a $1,000 fine, if they are pulled over by a police officer for illegally passing a stopped school bus in Maryland.
Montgomery County has been testing the system for more than a year. However, it only issued warning tickets because enabling legislation had not been introduced at that time. To remedy this, officials in Montgomery and Frederick Counties pressed the issue during the 2011 Maryland General Assembly Session. The measure was introduced by Maryland State Senator David Brinkley of Frederick County. It sailed through the state Senate by a 38-7 vote and the House of Delegates by a headcount of 124 to 14. Governor Martin O'Malley signed the bill into law in early May.
In a certain serendipity, both Maryland and Virginia passed school bus stop-arm camera laws this year. Virginia Governor Robert McDonnell signed the "Video-Monitoring on School Buses" bill into law in June and it went into effect in July. Similar laws have been enacted in New York, Connecticut, and Georgia, and in the city of Boston, Massachusetts. Five school districts in North Carolina are currently testing the stop-arm violation cams.
Thirteen children in the U.S. were killed in school bus loading and unloading accidents in the 2009-10 school year, the latest figures show. That's according to the 2009-2010 National School Bus Loading and Unloading Survey, conducted by the Kansas State Department of Education. Five of those school children were killed by a vehicle passing a school bus and eight were killed by the school bus itself. The 13 deaths, by the way, comprise "a decrease of nearly a fourth (23.5 percent) from that of the previous school year, 2008-09, in which there were 17 danger zone fatalities. That followed the lowest total on record: five fatalities in 2007-08."

In Maryland, two school-aged pedestrians are killed every year, on average, during school arrival and dismissal times, according to the Maryland Department of Transportation's State Highway Administration (SHA). What is more, each year, more than 150 school-aged pedestrians, on average, are injured during school arrival and dismissal times in Maryland.
In fact, Maryland drivers are bypassing the stop arms of school buses at an alarming rate, finds a Maryland State Department of Education (MSDE) survey. A total of 7,028 violations of school bus stop arms were recorded on a single day in February, including 1,645 violations in Montgomery County, 845 in Anne Arundel County and 745 in Prince George's County.
No doubt, the school bus stop arm camera will change this behavior. The TTI evaluated and tested the "application and effectiveness of a mobile digital video camera monitoring system in identifying violators of the stop-arm law" in Texas. But the critics are cynical. What's behind the seemingly sudden move to the technology? they wonder. This Orwellian approach to law enforcement is ballyhooed by automated camera vendors and special interest lobbyists, who make generous campaign contributions to elected officials and candidates.
This year enabling legislation was introduced in seven states, including Maryland and Virginia, according to American Traffic Solutions, Inc. (ATS), the private-sector speed camera and red-light camera behemoth in America's largest cities, including Washington, D.C., New York City, and Philadelphia. The company has "more than 2,100 installed (3,000 contracted) camera systems" across the United States and Canada. "Money is the mother's milk of politics" and it also greases the skids to dystopian societies too, that "all-controlling 'Big Brother' state,'' where the camera never blinks, under the auspices of the vendor, the camera critics say.
School bus-stop arm camera or no, passing a loading or unloading school bus is reckless driving! Students are "about 50 times more likely to arrive at school alive if they take the bus than if they drive themselves or ride with friends," notes NHTSA.
Let's make sure they do, by slowing down when approaching a school bus flashing yellow warning lights (a telltale sign the bus is preparing to load or unload passengers), by then stopping at least 20 feet away from a school bus with its stop-arm extended, by paying close attention at bus stops and for children walking to and from bus stops, and by waiting for the stop- arm to retract and the red lights to stop flashing before moving your vehicle. That way no photo tickets will follow you home in the mail.
REAL LIFE. REAL NEWS. REAL VOICES.
Help us tell more of the stories that matter from voices that too often remain unheard.