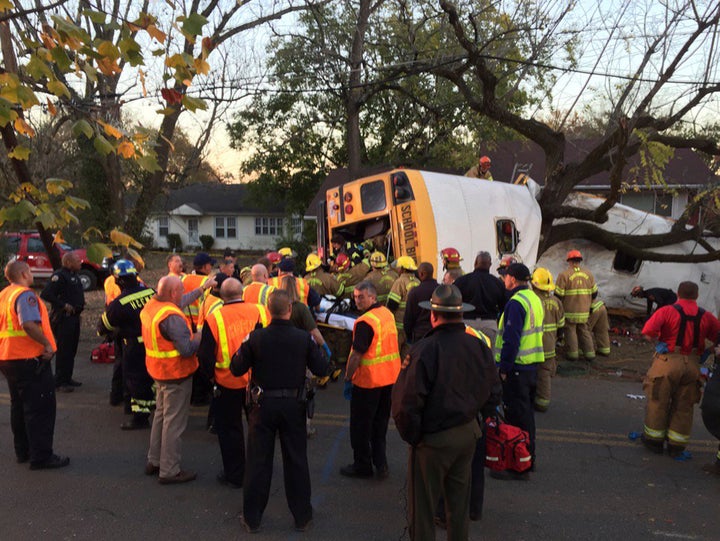 In Chattanooga, Tennessee, in November 2016, a school bus carrying Hamilton County Schools elementary students flipped over and crashed into a tree, killing six children. All the children were between the ages of 6 and 10.
The driver, Johnthony Walker, was found guilty on numerous criminal charges for his role in the crash. But a local activist group is also pointing fingers at another party ― the private company that contracted with schools to operate the buses.
On Friday, the group, called the Stand Up for School Bus Safety Coalition, sent a letter and report to more than 250 school districts around the country warning them about the company's track record. The company, Durham School Services, is owned by National Express Group. NEG is the second largest bus contractor in the country, according to the safety coalition, operating in 32 states.
With school safety under intense scrutiny following the February mass shooting in Parkland, Florida, advocates say this is a simple way to take a step in the right direction.
"This is part of the local and national conscience right now," said Eric Adkins, a Chattanooga community member who is involved with the coalition.
The group says Durham School Services has not made the proper changes to improve safety in the wake of the tragedy, and that its negligence helped contribute to the crash. Indeed, prior to the crash, DSS had received multiple complaints about Walker's behavior. The Federal Motor Carrier Safety Administration also criticized the company in a post-crash investigation for its negligence.
Still, DSS continues to provide service for Hamilton County Schools, the school district confirmed, along with hundreds of others around the country. A spokesperson for the district said it is working to facilitate a face-to-face meeting between the company and the coalition in coming weeks.
Included in the group's letter to districts is a new report written by a Wayne State University professor, which crunches data showing that National Express Group has a worse track record for safety than other major school bus companies.
"You have a fairly strong result and that result is just certain companies perform better," Professor Michael Belzer told HuffPost.
The trend of school districts outsourcing transportation to private companies, as opposed to district-run transportation, is worthy of scrutiny, Belzer said.
A spokeswoman for DSS told HuffPost the company has made several changes since the crash to improve school safety, and that the presentation of data in the report is misleading. She says the company has already acted to address the recommendations the report provides.
"Durham Schools Services is safe, National Express is safe, we are a safe company," spokeswoman Kate Walden said.
The company disagrees sharply with the activist group's characterization of it.
"The data is flawed, so they'll be sharing school districts with flawed data," Walden said.
But coalition members say they hope school districts will heed their warning and demand accountability from DSS.
"We wanted people to know the lives of children should not have died in vain," Adkins said. "This is not the first school bus related accident that has occurred and it definitely will not be the last."
Popular in the Community